When last writing about Prospect Capital Corporation (NASDAQ:PSEC), the stock traded right above Net Asset Value (NAV) with fears of another capital raise. After reporting Q4 results last week, management calmed the fears of another capital raise due to strong liquidity. The dilemma remains on whether to invest now and collect the high monthly dividends or wait for a capital raise that might never happen.
Prospect Capital is a leading provider of flexible private debt and equity capital to sponsor-owned and non-sponsor-owned middle market companies in the United States and Canada. It trades as a closed-end investment company that has elected to be treated as a business development company (BDC) under the Investment Company Act of 1940.
The stock continues to yield nearly 12% after possibly the smallest monthly dividend increases in the market. The company continues to raise the monthly distribution by a fraction of a cent.
Transaction Highlights
After origination records of more than $750M in Q4, the company has naturally seen a slowdown in demand during Q1. The push to complete transactions prior to year-end considerably impacted the deals left to start the year. The public stock offerings at the end of the year were demand driven and the slowdown in demand will eliminate the need for further capital at least in the next few months.
Per the earnings call, the March quarter only has $141M of originations through February 8th. The company claims a pipeline of $400M in potential opportunities, so even if all those were closed in Q1 the deal flow would've dropped dramatically from last quarter.
Since the last article, the company has only announced a $25M deal to fund a recapitalization of Nationwide Acceptance Corporation via debt and equity financing and the REIT transactions listed below. Nationwide is a specialty finance business that operates in 22 states and purchases loans originated by more than 800 active used car dealers.
As mentioned, the company also expanded its diversified yield investment business into the real estate marketplace with three new investments aggregating $50M. Prospect has invested in two multi-family residential properties along with an industrial property that has a tenant with ten years remaining on the lease.
In total, Prospect now has a portfolio of 106 companies with robust credit quality. None of the loans originated in over 5 years have gone on non-accrual status while the percentage of non-accrual loans stood at 1.1% in December.
Dividend History
As previously highlighted, the dividend history remains remarkably strong. The company announced the next three dividends for February, March, and April. While the dividend increases will be virtually unnoticeable to investors, the distribution will increase from $0.110025 to $0.110100 by April. The monthly rates yields an incredibly high 11.7% that can only be obtained via very few outlets with the size and trading liquidity of Prospect. The company routinely trades 3-4M shares daily allowing investors of size to easily enter and exit positions as needed.
The following chart compares the dividend to other BDCs over the last two years. Ares Capital (NASDAQ:ARCC), Fifth Street Finance (NYSE:FSC), Main Street Capital (NYSE:MAIN) and Triangle Capital (NYSE:TCAP) have all had better returns in that time period.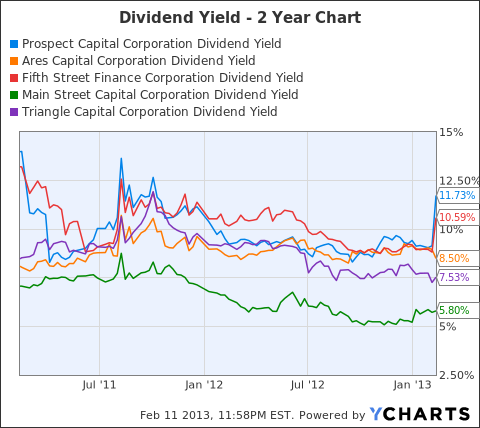 PSEC Dividend Yield data by YCharts
Besides those stocks, anybody following the sector already knows that American Capital (NASDAQ:ACAS) doesn't offer a similarly high dividend yield as that company regularly buys back stock at a current 34% discount to NAV.
Q2 2013 Highlights
Though not highlighted by the company, NAV on December 31st declined to $10.81 per share from $10.88 on September 30th. The NAV did increase by $0.12 over last year.
Net investment income was $99.2M or $0.51 per weighted average share and increased 172% over last year.
The debt-to-equity ratio stood at 29.2% after subtracting cash. The company forecast net investment income for Q3 to be between $0.27 and $0.31.
While the income has exceeded the cash distributions since the original IPO, the company has no plans to issue a special dividend since the money can be reinvested in additional income-producing investments for as little as a 4% excise tax. The company sees this as a cheap cost of capital.
Price-To-Book Value
The stock has rebounded to near multi-year highs around $11.50. Clearly investors wanting to buy this leading BDC face a big dilemma. Either buy now at the highs or wait for a dip. The stock offers a compelling monthly dividend that will constantly slip through the cracks on investors that wait for too long.
The following chart compares the stock price to NAV of the other BDCs over the last two years. American Capital, Ares Capital, Fifth Street Finance, Main Street Capital and Triangle Capital have all had better returns in that time period.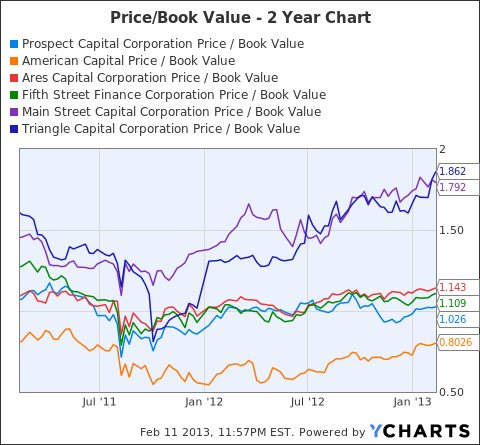 PSEC Price / Book Value data by YCharts
The incredible gap between both Main Street and Triangle trading at nearly 2x book value and the others won't likely last as the economy continues to recover. Prospect needs to gain nearly 10% in value to catch up with the valuations of Ares and Fifth Street.
Conclusion
At the current stock price, Prospect Capital trades at a little above NAV. Patient investors might be able to obtain a better stock price, but investors need to realize that every month passes and you are missing out on a $0.11 distribution.
As highlighted in the last article, the fear over these BDCs appears unwarranted. Investors remain concerned over another financial crisis, even though the last one didn't crush most of the BDC firms as many act. Considering the level of the last crisis is unlikely to be seen in our lifetime, investors should probably invest in these firms before the market realizes the value. Any weakness should be seen as an investing opportunity if investors should even wait that long.
Disclosure: I am long ACAS. I wrote this article myself, and it expresses my own opinions. I am not receiving compensation for it (other than from Seeking Alpha). I have no business relationship with any company whose stock is mentioned in this article.
Additional disclosure: The information contained herein is for informational purposes only. Nothing in this article should be taken as a solicitation to purchase or sell securities. Before buying or selling any stock you should do your own research and reach your own conclusion or consult a financial advisor. Investing includes risks, including loss of principal.