Mitel Networks Corporation (NASDAQ:MITL) is a small Canadian company that provides networking solutions to small and medium sized businesses around the world. Think of them as Cisco's Systems (NASDAQ:CSCO) little brother that lives in Canada. Mitel is coming to the end of a restructuring process that provides a fantastic opportunity to those who are willing.
Fundamentals
Mitel's most recent quarter ended on January 31st. Mitel's earnings come out about a month after the quarter end, so we should see the report in the next couple of weeks. The current EPS stands at $.89 a share. However, the current estimate for the FY 2013 ending at the end of April is $.79 a share. Yes, that is down not up. The reason for this is Mitel is a restructuring story. The estimates for the final fiscal hit pertaining to this restructuring are estimated to end with FY 2013, the end of April.
At a price of $3.49 (Friday's close) and using the future estimate of $.79 EPS, the company is trading at a P/E of 4.42. The annual growth for the next 5 years is estimated at 15.00%. This gives us a PEG of .29. From the PEG we get a "Fair market price" based on growth of about $12.03.
Graham Number
Now that we see Mitel is priced well under its growth price let's look at the Graham Number. I know Graham has many other criteria in selecting a stock. However, at a quick glance the Graham Number alone is an excellent tool to gauge the value of a stock.
Square root of (22.5 x Earnings per Share x Book Value per Share)
Or Square root of (22.5 x .79 x 1.76) = $5.59
From this we get a Graham Number of $5.59. Conservatively, from a value standpoint, this is the most that should be paid for this stock. Currently, the stock trades at 62% of the Graham Number.
Concerns
If you look hard enough you can find something in the fundamentals of a stock that raises a concern. The debt of Mitel is high. Really high - $313 million on a company with a $176 million market cap. Mitel's operating cash flow is $38.9 million. Yes, Mitel is highly leveraged. This leverage is most possibly why Mitel is priced so much below its fair values. Remember, these expenses are expected to end in April. From then on the company is expected to grow at a fantastic rate which will allow Mitel to pay off its debt.
Technicals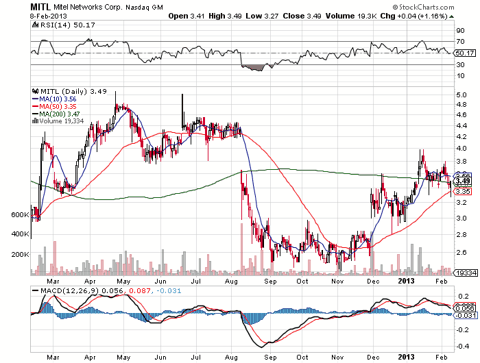 After a huge sell off in August, Mitel continued to sell off to a 52 week low of $2.41 on November 5th; down from the 52 week high of $5.08 on April 24th. Since the low, we see accumulation of this stock and we are currently holding above the 200 SMA. The stock has stabilized and has traded around the 200 SMA for the past 15 trading sessions.
Conclusions
To pick a stock, I first look at the fundamentals of a company. Is the company making money and will it continue to do so in the future at a reasonable growth rate? I also check the Graham Number. If a price is considerably above the Graham Number I move on to the next candidate. I like to see the Graham Number lower than the PEG growth number. It shows me that the stock is still growing. I like it even better if the current price is below the Graham Number, the more conservative of the two. There are other things I look at but these are usually the first two.
I then look at the chart and try to gauge when a good time to buy is. I know I'm not going to buy the absolute bottom, but I'd like to come as close as possible. I also do not want to try and chase the stock as its rising or catch a falling knife.
Mitel is another intermediate to long term investment that has great potential. The PEG and Graham Number both indicate that Mitel is trading well below its proper value, mainly due to the huge debt. However, the debt is taken into account when valued using the Graham Number and still comes in well below this conservative value calculation. Mitel is on track after its restructuring and has great potential growth.
I have expressed only some of the criteria I use to decide if a stock is right for me. I always recommend that one should conduct one's own research before making any investment decisions.
Disclosure: I am long MITL. I wrote this article myself, and it expresses my own opinions. I am not receiving compensation for it (other than from Seeking Alpha). I have no business relationship with any company whose stock is mentioned in this article.