There are not many growth stocks that have been as dependable as MasterCard Inc. (NYSE:MA) has been since the company's initial public offering in 2006. From almost any perspective that I judge growth equities by, especially in relation to large cap growth stocks, MasterCard is superior to almost all. On a performance basis, a fundamental basis and a growth basis MasterCard excels like few others. Just last month the company reported better than expected earnings results, which beat analysts' consensus estimates on both the top and bottom lines. Shares quickly rallied to new all-time highs, capping an impressive one-year run of more than 30%.
The recent positive news on the company should not come as much of a shock to investors focused on the financial services/payment processing sector, as the growth trends overall have been largely positive and the segment a consistent winner for quite some time. However, with shares of MasterCard sitting just below its all-time high of $535.35 recorded last week, is the stock still attractive?
This article will analyze MasterCard, and by extension the company's bigger but equally dependable rival Visa Inc. (NYSE:V), from a growth investor's perspective. The analysis will focus on four main criteria: chart, revenue and earnings per share growth, fundamentals and valuation.
MasterCard is a technology company and payments industry leader, originally founded in 1966 and based in Purchase, New York. The company offers a wide array of payment solutions including payment processing technology, services and security to consumers, merchants, financial institutions and government entities around the world. The company manages and licenses several brand name payment cards including MasterCard, Maestro and Cirrus. Among the payment programs offered by the company are consumer credit and debit as well as prepaid and contactless payment solutions.
The Chart:
Let's take a look at some charts to see just how well MasterCard has done for investors over the years. When looking at the long-term chart of a growth stock investors need to see a consistently upward-trending chart, which is indicative of a positive growth story, anything else is cause for concern on the growth front. For comparative purposes, I have included the performances for the three main competitors that operate in the segment, American Express Company (NYSE:AXP), Discover Financial Services (NYSE:DFS) and Visa Inc.
The first is a seven-year chart of MasterCard, which begins with the company's initial public offering in late May 2006 (included are 50-day, 100-day, 200-day moving averages):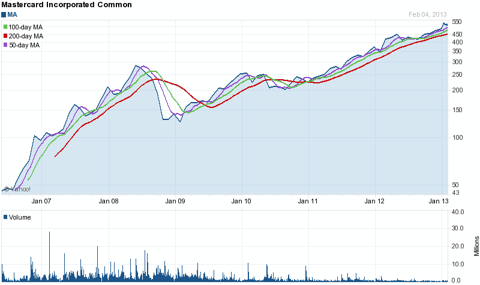 (Chart courtesy of Yahoo! Finance, From May 2006 to February 2013)
Total return from May 2006 to February 2013, unless otherwise noted (all with dividends reinvested):
MA: 1,090% - annualized return of 44.7%
V: 161.4%, - annualized return of 21.8% (from March 2008 to February 2013)
AXP: 29%, - annualized return of 3.9%
DFS: 49%, - annualized return of 7.3% (from June 2007 to February 2013)
S&P: 37.1%, - annualized return of 4.3%
Since its IPO, not even seven years ago, MasterCard has returned well over 1,000%, which easily bests the general indices over the same time period. The stock has managed these great returns through relative trading consistency as MasterCard has obeyed its moving averages very well, faltering significantly only twice in its existence, in 2008 and 2010 (both amidst greater market turmoil). MA's long-term chart is displaying the kind of immense strength that any growth investor needs to see; the trend is upward and has been very consistent.
Now let's take a look at MA's one-year chart to see how the stock has been trading more recently (included are 50-day, 100-day, 200-day moving averages as well as MACD and slow stochastic indicators):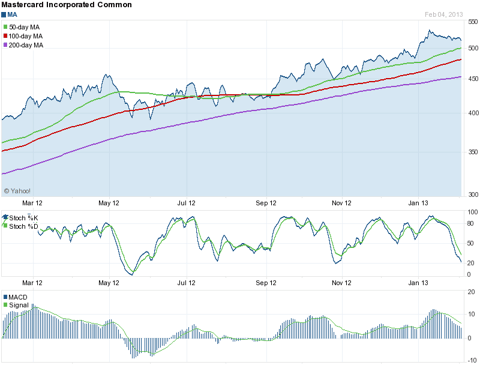 (Chart courtesy of Yahoo! Finance, From February 2012 - February 2013)
One-year total return (all with dividends reinvested):
MA: 47.9%
V: 58%
AXP: 25%
DFS: 48.5%
S&P: 18.2%
Once again, MA has easily outperformed the general indices and it has done so in a rather steady uptrend. MA has not come anywhere close to breaching its 200-day moving average in the last year and the MACD indicates consistent buying and very little selling. Again, MasterCard is displaying strength in the way it trades.
Although lagging behind both V and DFS over the last year, MasterCard has continued to perform well for investors, appreciating almost 48%. Note, MasterCard's most recent one-year total return of 48% is only slightly above its annualized return of 44% over the last 6.5 years.
Now, let's have a look at the growth that has been driving these impressive gains:
Growth:
| | | | | |
| --- | --- | --- | --- | --- |
| Company | AXP | DFS | MA | V |
| Revenue Growth (2012) | 4.74% | 8.2% | 10.13% | 13.38% |
| Revenue Growth (2013)* | 5.6% | 5.9% | 11.7% | 11.1% |
| Revenue Growth (2014)* | 6.2% | 4.1% | 12.3% | 11.5% |
| Revenue Growth (3-yr Avg. from 2012-2014)* | 5.51% | 6.06% | 11.38% | 11.99% |
| EPS Growth (2012) | -4.89% | 9.85% | 47.08%** | -37.82%** |
| EPS Growth (2013)* | 8% | -1.8% | 15.8% | 18.2% |
| EPS Growth (2014)* | 11.8% | 2.7% | 18.5% | 16.1% |
| EPS Growth (3-yr Avg. from 2012-2014)* | 4.97% | 3.58% | 17.15% | 17.5% |
(Numbers from Yahoo! Finance, MSN Money as of 2/6/13)
* Some numbers derived from average analyst estimate in listed fiscal year
** Numbers provided are actual EPS distorted due to one-time litigation/special item charges in fiscal 2011/2012 and were not used in calculating average growth rates, non GAAP 2012 numbers are 17.26% and 24.05% for MA, V respectively
The table above illustrates that although all of the companies are growing/projected to grow revenues and earnings per share for the most part during this most recent three-year time span, MasterCard and Visa clearly offer the best growth. All of the listed growth rates for MA and V are consistently above 10% in revenue and EPS categories (except where otherwise noted).
Looking ahead, both MA and V offer revenue/EPS growth rates that are approximately double those of AXP and DFS. MasterCard is projected to see the best revenue growth in both 2013 and 2014 and Visa is projected to see slightly better EPS growth in the same two-year period.
Fundamentals:
| | | | | |
| --- | --- | --- | --- | --- |
| Company | AXP | DFS | MA | V |
| Market Cap | 68.29B | 19.84B | 64.64B | 104.38B |
| Total Debt | 62B | 20.02B | 0 | 0 |
| Total Cash | 22B | 4.06 | 5B | 2.78 |
| 2013 Projected Revenue* | 33.37B | 8.1B | 8.28B | 11.58B |
| Net Profit Margin | 15.15% | 34.47% | 37.33% | 22.46% |
| ROIC | 3.1% | N/A | 39.4% | 7.5% |
| ROIC (5-yr Avg.) | 2.9% | N/A | 30.1% | 8.9% |
| P/E (TTM) | 15.89 | 8.94 | 23.9** | 43.89** |
| P/E (forward) | 11.64 | 8.86 | 17.3 | 18.54 |
| Dividend/Yield | 0.80/1.3% | 0.56/1.4% | 2.40/0.5% | 1.32/0.8% |
(Numbers from Yahoo! Finance, MSN Money as of 2/6/13)
* Some numbers derived from average analyst estimate in listed fiscal year
** P/E ratios reflect one-time settlement charge in 2012
The first major metric that distinguishes MasterCard and Visa from the rest of the competitors is the lack of any debt whatsoever. Both companies have a very nice track record of quickly paying down any debt accrued (click on corresponding ticker to view 10-year summary: MA, V). When compared to their peers, MasterCard and Visa's lack of debt is even more impressive as both American Express and Discover Financial have staggeringly unhealthy levels of debt; AXP's current debt is 90.78% of the company's market capitalization and DFS's debt exceeds its current market capitalization. MasterCard also has an impressive cash reserve of $5 billion, equal to 7.73% of the company's current market capitalization.
All listed companies boast impressive profit margins above 15%. However, once again MasterCard exceeds all other competitors, with a net profit margin of 37.33%. The all-important 'return on invested capital metric,' a calculation used to assess a company's efficiency at allocating capital to profitable investments, is impressive for both MA and V although MA greatly exceeds all other competitors in this regard as well, with ROIC at 39.4%. MasterCard's five-year average ROIC of 30.1% indicates that above-average return on invested capital is the norm for the company. This shows that management at MasterCard has been consistently and increasingly investing in its business operations very efficiently. Discover Financial is not, and has not been in the past, successful at providing returns on invested capital and this is a worrisome trend.
American Express and Discover Financial generate impressive revenues compared to market cap; both are not too far off from generating revenues of 50% of their respective market capitalizations. MasterCard and Visa lag significantly in this category. MasterCard has a price/sales ratio of 8.82 and Visa has a price/sales ratio of 11.83, both are significantly higher than the industry average of 6.89 and the S&P 500 average of 2.43.
The bottom of the table illustrates two more negative aspects of MasterCard and Visa: the valuation and relatively low yield. Visa currently has the highest trailing twelve-month P/E ratio as well as the highest forward twelve-month P/E ratio, at 43.89 and 18.54 respectively. MasterCard is the second most expensive stock out of the four on a current and forward-looking basis, with P/E ratios of 23.9 and 17.3 respectively. It is important to note that the trailing-twelve month P/E ratios for both MA and V are abnormally high due to a one-time settlement in 2012. Discover Financial is by far the cheapest stock with a current P/E of 8.94 and a forward P/E of 8.86, however this is to be expected as DFS is projected to offer the slowest combined revenue and EPS growth out of all listed companies for the next two years.
Taking a look at both MA's and V's historical P/E ratios, we can see that although both are elevated compared to peers, both stocks are trading at valuations close to where they have traded in the past on a forward-looking basis. MasterCard has an average three-year P/E of 18.66, slightly above the stock's forward P/E of 17.6. Visa has a much higher average three-year P/E ratio of 34.2, which is significantly higher than the stock's forward P/E of 18.54. So, although both stocks appear expensive on a trailing twelve-month basis, they are much cheaper on a forward-looking basis, cheaper in fact than they have traded in the more recent past.
Also worth noting is that MasterCard offers investors the lowest yield, at 0.5%. Visa's yield of 0.8% is the second lowest while AXP and DFS provide respectable yields well over 1%, the latter being the highest and currently yielding 1.4%.
Growth Catalysts:
In the company's latest conference call, MasterCard's President and CEO Ajaypal Bhanga gave some encouraging words on the company's future growth despite what he called a "mixed economic picture" for 2013 around the world. The first major takeaway from CEO Bhanga's guidance was that MasterCard is making serious efforts to increase global expansion.
First up is Canada, where the company announced the launch of the Royal Bank of Canada, RBC Target Co-Brand MasterCard Credit Card Program, which will be available to consumers both online and in Target stores across Canada. The Target Corporation (NYSE:TGT) is actively expanding across Canada and MasterCard's partnership with Target ensures a new channel of growth for the credit card issuer. Management believes that this new card line, in addition to capturing new customers in Canada, will also help to reinforce its already successful partnerships in the region with companies like Wal-Mart Stores Inc. (NYSE:WMT) and The Hudson's Bay Company. As Target expands across Canada, so does MasterCard.
Secondly, MasterCard made headlines a few weeks ago as CEO Bhanga visited Africa and unveiled the company's plans to begin unleashing some of the massive potential hidden within the largely untapped continent. Africa, which remains 80% unbanked and whose population is set to triple in forty years from 2009 levels, presents an enormous task for all credit card companies in the future. To begin making inroads in Africa, MasterCard has partnered with Kenya's Equity Bank, one of the region's largest financial institutions, to issue five million MasterCard-branded debit and prepaid cards over an 18-month period, the main objective being to empower African consumers to use electronic forms of payment instead of cash.
This agreement with Equity Bank of Kenya is just the first step of MasterCard's expansion plans on the continent, whose slogan is "Africa: Navigating the Next Cashless Continent." The company's research into Africa has revealed some potentially lucrative growth opportunities, largely concentrated into three capital cities in Sub-Saharan Africa: Accra in Ghana, Lusaka in Zambia and Luanda in Angola. The MasterCard African Cities Growth Index, results shown here, studied 19 individual cities in depth to determine those with the highest growth potential. The study based growth on the next five years, from 2012-2017, and focused primarily on not-yet-mature Sub-Saharan cities to maximize growth.
Africa's increasing urbanization coupled with the global economy's rather dramatic shift towards emerging markets means cities like Accra, Lusaka and Luanda will become the center of their respective regional economies. MasterCard's attempt at getting in on the ground floor on a city-by-city approach is one that could reap ample rewards for the company as the 80% unbanked continent shifts towards urbanization. While the company has yet to reveal specific numbers with regards to growth, the research MasterCard has focused on its African bet is considerable and the effort already well underway.
Thirdly, MasterCard is aggressively pushing its mobile solution PayPass globally as well. PayPass will play an increasingly integral role in the company's African expansion but there are numerous other growth channels around the world. The company recently announced a deal with European oil company ENI to replace the company's standard loyalty cards with MasterCard-branded credit and prepaid cards in Italy. This new deal pushes MasterCard's PayPass outlets past the 700,000 mark worldwide, which is an increase of 75% from last year's 400,000 outlets.
Shifting towards the company's domestic market, MasterCard is still making significant growth progress. The company recently announced new deals with InterContinental Hotels Group (NYSE:IHG) and Bass Pro Shops to be the exclusive payment brand for both; the latter business MasterCard was able to take from a credit-issuing competitor. MasterCard recently renewed its deal with Shell (NYSE:RDS.A) (NYSE:RDS.B) to continue the company's Shell Co-Brand Card rewards card for consumers. Also, the company signed a new deal with KeyBank to extend exclusivity rights on existing debit and prepaid cards as well as to include new issuance for consumer and commercial credit. And finally, MasterCard extended the company's agreement to be the exclusive card service for U.S. Bank's Fleet and Aviation Card Programs, which makes U.S. Bank one of the company's top 10 commercial card issuers as of 2012.
Another plus is that on February 5, MasterCard announced that it would be doubling its quarterly dividend and be buying back $2 billion worth of its shares. This raise in dividend, which represents an increase of 100% and which will return approximately $75 million to shareholders every quarter, is MasterCard's fourth dividend increase since the company's IPO in 2006. MasterCard has a five-year average annual dividend growth rate of 17.2%. While the dividend increases have not been consistent enough for me to label MasterCard a dividend-growth stock just yet, I have confidence that management will continue to increase dividends in the future.
Guiding Forward:
MasterCard beat expectations when it reported earnings on January 31, 2013 despite tough comps in the last quarter. Growth in the quarter was driven primarily by "volume and transaction growth," according to CFO Martina Hund-Mejean. It is important to remember that in the fourth quarter of 2012, even with challenges like Hurricane Sandy and the fiscal cliff debate negatively affecting consumer confidence and retail sales in the United States, a contracting UK economy and weak business sentiment across the Eurozone, MasterCard still managed to grow net revenue at an impressive 10%, which CEO Bhanga admitted is really 12% after adjusting for currency.
This strong performance from MasterCard amidst such challenging economic circumstances in the most recently reported quarter should give investors ample reason to believe management's guidance going forward, which calls for 11-14% net revenue compounded annual growth rate in the 2013-2015 period and 20% CAGR on an earnings per share basis for the same three-year period.
CFO Hund-Mejean also went on to state "in later years, assuming the world would turn to a more stable environment, we believe net revenue growth could be at the higher end of the range and that could also benefit EPS growth in that particular period." So, consider management's estimate to be a floor for the company's growth going forward, not a ceiling.
Past success is often a useful guide to the future, especially when it comes from management that has performed admirably over long periods of time for investors. MasterCard's management team expects solid revenue/EPS growth during the next three years and I have great confidence in their ability to meet those expectations.
Risks:
A major risk to MasterCard's growth is a general downturn in the global economy. General consumer/business spending trends are important to all financial services/payment processing companies and any serious downturn in that regard can cause a serious pause in the growth channel. Additionally, and as expressed by management in the company's latest conference call, any sudden and unexpected weakness in the Eurozone can cause softness in the future.
Another concern that will always remain a looming dark cloud over companies like MasterCard and Visa is the ever-present threat of government intervention/regulation. While MasterCard and Visa managed to wrap up a seven-year merchant lawsuit centered on the alleged fixing of interchange fees, it should serve as a reminder that the threat of regulation will remain.
In July of 2012, MasterCard and Visa agreed to settle merchant claims for a cumulative $7.3 billion. Aside from payment, the settlement also allows merchants to add surcharges on credit-only purchases, which is another possible but slight negative depending on the adoption rate of the surcharge. This situation is unique because it can also be seen as a positive for investors looking towards the future, in that what was a lingering cloud over both companies since 2005 has now largely been removed.
Another risk is the rate at which popular payment platforms like eBay Inc.'s (NASDAQ:EBAY) PayPal are growing among consumers. As of mid 2012, more than half of all transactions involving PayPal were still done via credit card, so the PayPal success is still driving sales for companies like MasterCard and Visa through sheer volume. However, with the 2012 announcement that eBay has partnered with Discover Financial to launch a physical card of its own, an attempt to bring PayPal growth from being primarily online to in-store as well, one has to wonder how long it will be before PayPal begins taking away more transactions from MA and V than the companies make up in volume. I think the risk is a long-term one for the credit card companies and not so much an immediate problem, as eBay's PayPal faces challenging hurdles in reaching truly widespread adoption, but this is a risk that needs to be considered and monitored going forward.
Conclusion:
Although MasterCard and Visa are among the most expensive companies in the sector, the premium is well warranted as they represent some of the best and most consistent growth, not just in the industry in which they operate, but also among large cap growth stocks in general.
Both companies excel at growing revenue and earnings per share on a consistent basis. In addition, the two companies also have the best balance sheets in the business, supported by increasingly impressive fundamentals. What's really important is that both MasterCard and Visa have delivered solid and consistent growth for years in the face of very challenging economic uncertainties around the world. Imagine what management at both companies can do when given greater visibility in the future!
Not surprisingly, both stocks have outperformed all of their peers and the general indices by a wide margin and I expect the outperformance to continue well into the future, as the growth story for the sector remains very strong. On the heels of strong earnings reports from both companies recently and with projections calling for continued growth above 10%, I believe investors will do well owning either MasterCard or Visa in any long-term growth.
MasterCard is the better investment, in my opinion, because it offers similar revenue/EPS growth, as projected by analysts for the next two years, and is currently trading at slightly better valuations than Visa, at both a cheaper forward P/E ratio and a cheaper Price/Sales ratio. Additionally, MasterCard is stronger fundamentally, with metrics like net profit margin and return on invested capital at much higher levels. Add in the company's smaller market capitalization and higher cash reserves and MasterCard is the undisputed king of credit. With an increasingly bright and global future, I believe MasterCard shares will continue to charge ahead!
Disclosure: I am long MA, V, EBAY. I wrote this article myself, and it expresses my own opinions. I am not receiving compensation for it (other than from Seeking Alpha). I have no business relationship with any company whose stock is mentioned in this article.