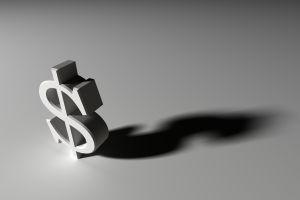 Dell's (NASDAQ:DELL) 50% drop from $18 to $9 finally reversed as the Windows 8 effect began to take effect. Then Michael Dell offered to buy the entire company at $13.65 per share. Are investors saved? Or is Michael taking advantage, taking the long-term opportunity from current shareholders for himself and his partners? I believe the answer just arrived.
Southeastern Asset Management, owner of 8.5% of Dell's outstanding shares, has uncharacteristically released its analysis of DELL. (See Southeastern's letter to the Dell board.) It views $24 as Dell's current value, 75% higher than what Michael is offering. What makes that $24 meaningful is Southeastern's investment approach and skill, the characteristics we need to shadow invest successfully.
Why shadow Southeastern Asset Management?
Note: My 30-year career involved "multi-management," whereby I sought out, hired, oversaw and replaced investment management organizations. Each was chosen to manage a portion of institutional funds based on its particular investment approach ("style") and its ability to carry it out. Of the many firms I hired and worked with, Southeastern was one of the best. The same people I worked with are still running the company.
Southeastern's investment style is contrarian value - i.e., seeking companies whose stocks offer high value because they are ignored, misunderstood or disliked. Its research is intense, seeking to develop a company's valuation from the ground up. Given the research depth and the high hurdles that selections must clear, Southeastern concentrates its portfolios in a few holdings.
The year-end Longleaf Partners Fund write-up describes that approach:
The Fund seeks to buy approximately 20 competitively entrenched, financially strong, well-managed companies whose stocks sell at deep discounts to intrinsic values. A large margin of safety between the price paid for a security and its value should protect capital from significant loss and provide substantial return when the market recognizes corporate worth.
Bonus: Southeastern's management and staff hold sizeable positions in the funds they run. Therefore, we can be assured that what we see is what we (and they) get. Just like it's meaningful to invest in a company where insiders have meaningful stock holdings, so, too, when shadowing a fund manager.
Return/risk ratio appears favorable
Michael Dell is bidding $13.65 for DELL. Today's (Monday, 2/11) close was $13.70. On the surface, that means risk = $13.65 - $13.70 = $(0.05), or -0.4%. And potential return = $24.00 - $13.70 = $10.30, or +75%. Clearly, that's an overwhelming bet-the-ranch-on-it type of investment with those outcomes. But how confident can we be in those numbers?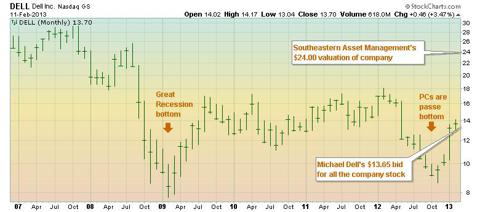 (Stock charts courtesy of StockCharts.com)
First, let's look at Southeastern's $24, since that drives the potential payoff. It is derived from an analysis of Dell's component operations. (The breakdown and explanation is contained in the letter to Dell's board.)
Based on my experience with Southeastern, that $24 price is likely conservative. Contrarian and value managers are willing to take risks when buying out of favor stocks, but they don't like to build optimism into their price objectives. That's not to say they don't adjust their valuations. For example, if Dell's businesses were to grow, Southeastern would raise its price goal appropriately.
Now, let's look at that $13.65 "risk," which we're calling the low end because that's where the bid is. But how sure are we that the bid will hold?
The risk of -0.4% exists only if we can be assured that Michael successfully follows through on his bid. But he could back away, leaving the stock to fend for itself. At worst, that could mean a return to the $9 area, a drop of $4.65, or -34%. Well, that changes things. But how likely is that scenario? Probably low.
First, beat-up companies like Best Buy (NYSE:BBY) and Sony (NYSE:SNE) had similar excursions into the dark side and, like DELL, have rebounded. That doesn't mean a cancelled offer wouldn't hit DELL. Some traders have moved in and any hint of Michael waffling would see them sell. But that temporary hit would probably not result in a free-fall. In fact, if the $24 analysis has caught on a bit, some investors would view the drop as a windfall.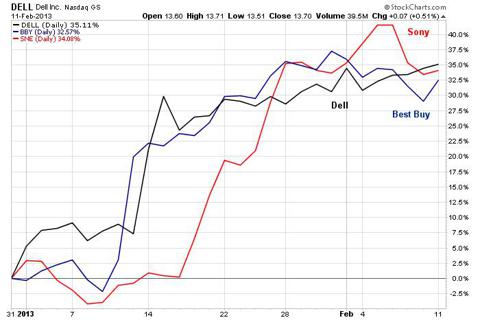 Second, and likely more important, are Michael Dell's desires. As the founder of Dell, his history and identification is with the company. It's hard to see him walk away from the chance to be in control - privately - and earn a large share of the gains he sees coming. The second, big, payoff would come when he took DELL public again with a record of success.
So, why didn't the stock jump on Monday?
I think the answer is twofold. First, Southeastern is not a potential bidder seeking to take the company over. So, that $24 number, while having analytical pinning, carries no immediate weight. The $13.65 bid remains the only one on the table.
Second, Southeastern is not a well-known firm. So, all those articles that just popped up about the Dell board letter probably have many investors asking, "Who?"
The answer lies in knowing Southeastern and its analysis. When I worked with the firm in the past (I am now retired), I knew Chairman/CEO O. Mason Hawkins and President/CIO G. Staley Cates to be highly ethical, skilled, and protective of their investors' interests. The Dell board letter makes it clear that they view Michael Dell's offer to be a lowball one, only acceptable to shareholders because DELL got hammered down by analysts and the media a couple of months ago. Therefore, Southeastern has taken the rare step of making their concerns public, so that other investors can see what is happening and what the outcome might be if the company continues to be publicly traded. Moreover, it is taking the additional, rare step of revealing their analysis. Why? I think it's not only to educate the board, but also to provide a comparison for other analysts to work off of. And therein lies how those two points above could become positive forces.
Start with the second (Southeastern is not well-known). Any analysts and investors viewing Southeastern's analysis and doing due diligence on Southeastern and its funds will become familiar with the firm and its strengths.
Then comes the first (Southeastern is not a potential bidder). If the analysis is correct and the outlook for $24 is reasonable, then that $13.65 bid might not work because of investor reaction - or - another potential buyer ups the bid.
The bottom line
It looks like we have a unique opportunity to shadow invest. Michael Dell wants his company to be taken private. Doing so would allow him (and his partners) to enjoy the gains they are forecasting (but not sharing with others). The timing is good for such a strategy. A stock that plummets and then rebounds sharply has nervous shareholders. Offer a bit higher number, and they will likely grab at it.
However, now we have a white knight of sorts. Southeastern says, basically, that Michael is underpaying, and he knows it. Southeastern then offers its analysis showing that $13.65 is, indeed, a lowball grab compared to the $24 objective price, derived by evaluating each of Dell's components (the approach that Dell's private equity partners have done).
Action that looks promising: Buy DELL
The return, whether by buyout at a higher price or by analysts raising their estimates, could be significant.
The risk only appears significant when looking back to the recent bottom. By combining what's happened to similar stocks and moving the Dell analysis along to the more recent thinking, the risk is likely much less. In fact, any believers in the $24 number would be happy for a dip and ecstatic with anything more.
Disclosure: I am long DELL. I wrote this article myself, and it expresses my own opinions. I am not receiving compensation for it (other than from Seeking Alpha). I have no business relationship with any company whose stock is mentioned in this article.
Additional disclosure: Positions held: Long U.S. stocks