We were quite surprised by yesterday's price action in Asia with the markets hanging in so strongly after news broke not too far into the trading day that North Korea was up to no good again. The rogue nation continues to develop their nuclear capabilities and one has to wonder at what point the Chinese become annoyed with the antics and decide to put a stop to it. It is an ally of China, but China moving to make the Korean Peninsula a more peaceful area would surely draw them closer to their neighbors such as Japan, South Korea and possibly even Australia.
We expect North Korea to move towards the front of the news cycle and maybe even Iran now as the world shifts its focus back towards those showing force and less so on economic issues.
Chart of the Day
Most US indices are at all-time highs. The same cannot be said for the Nasdaq, but its listed companies are still growing into those lofty valuations assigned to them in years past. It is a long process when there is an inflated asset bubble such as that to recover to the high water mark, but as technology becomes an ever larger presence in every day life for a larger percentage of the world's population, the bottom lines of these tech companies grow and so too do their valuations.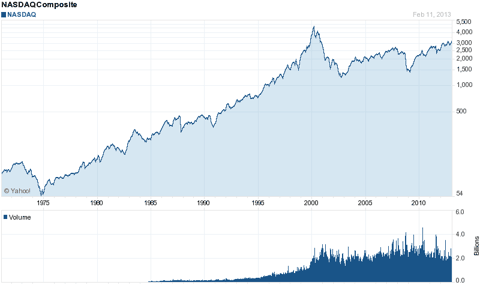 Click to enlarge
Chart courtesy of Yahoo Finance.
We have economic news due out today, and it is as follows:
Treasury Budget (2:00 PM EST): -$2.0 Billion
Asian markets finished higher today:
All Ordinaries - up 0.02%
Shanghai Composite - up 0.57%
Nikkei 225 - up 1.94%
NZSE 50 - down 0.06%
Seoul Composite - down 0.26%
In Europe markets are lower this morning:
CAC 40 - down 0.19%
DAX - down 0.24%
FTSE 100 - up 0.21%
OSE - down 0.88%
Technology
When it comes to internet companies to actually buy right now, we find ourselves liking very few. We do know that among the old line internet companies we prefer Yahoo (NASDAQ:YHOO) and their CEO over other names such as AOL. Looking at the stable of brands, execution and the audience all point to a premier brand with Yahoo and the fact that they are willing to bide their time by having Google sell their ads until they can overhaul their own system shows shrewd business sense. They are maximizing profits today while also looking to the future to maximize profits as well. Turning around this behemoth has not been easy, but the speed with which the transformation has taken place has been stunning - especially when one considers how many tried before and failed. The company is a play on advertising revenue as well as a site creator via add-ons to its portal. Investors like the story here as the shares hit another 52-week high yesterday.
We get that Zynga (NASDAQ:ZNGA) beat on their earnings and that day-traders like the shares, however, we find it hard to get bullish on the company here. Yes, they did in fact post a profit this past quarter and it is looking better moving forward according to the company but their audience is aging and we are seeing many slow their use of the company's games and in some cases drop the use of them altogether. The shift from the desktop to the mobile devices has certainly played a part in this, but so too has the company's advertising strategy for those using the company's free games. Yes the company's data shows a transition towards their mobile platform, however if the early adapters of the mobile platform are unenthused, what does that say about those making the jump now and how they will feel about the experience in a few months?
Down the road it seems that the company will have a hard time competing with random startups as well as the big boys who have ventured into the space which are all reasons we have been bearish on the shares for some time. We understand that the company is looking to venture into the online gaming (casino gaming) world in order to increase sales and hopefully the bottom line, but that is no guarantee and it is hard to see a state in the US getting this approved after federal legislation was passed that banned online betting. After yesterday's rise of $0.24 (7.00%) to $3.67/share on volume of 98.4 million, we would be sellers to book profits if we had a position. Seems like the move has been overdone and the stock is priced for perfection now.
Financials
We have been bullish on American International Group (NYSE:AIG) for some time now and have been proponents of buying on the dips as we like the future for the company and the possibilities the stock holds for investors. Since the company has come back from the brink they have focused on getting back to their roots, the highly profitable insurance business and exiting altogether the derivatives trading business which led to their near downfall (we say near because the company did not file for bankruptcy, but admittedly that was essentially the case with the bailout from the federal government). Hedge funds have been rotating back into financials, and although this is fast money it has been good money to those who had the foresight to purchase positions ahead of the rally. Earnings should continue to improve, and more importantly for investors is the fact that share buybacks and dividends should resume in the near future. We are not buyers here, but for those with shares we recommend holding. It is always best to ride one's winners and with a new 52-week high hit yesterday this is one which still has some gas in it.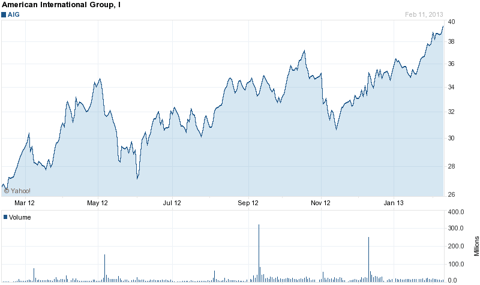 Click to enlarge
Chart courtesy of Yahoo Finance.
The stock is breaking out, and although we are still optimistic, it is cautiously so.
Consumer Goods
Everyone should remember Diamond Foods (NASDAQ:DMND) from their failed bid to buy assets such as Pringles from Procter & Gamble last year after it was discovered that they had accounting issues relating to payments to their growers being booked in the wrong periods and thus forcing them to restate their numbers in 2010 and 2011. It was only the latest accounting issue for a publicly traded company but one which cost the company dearly and ultimately forced investors to abandon the shares while it was all sorted out. It was an ugly road, but the company's shares received their first bit of good news yesterday as BlackRock disclosed a 7.9% stake in the company. News that the money manager had assembled a large stake sent the shares higher by $2.19 (15.20%) to close at $16.60/share on volume of 3.5 million shares. It is a long road back to redemption, but this is a step in the right direction.
Entertainment
We saw some profit taking in Caesar's Entertainment (NASDAQ:CZR) yesterday as shares pulled back by $1.32 (9.49%) to close at $12.59/share on volume of 5.1 million shares. This was after the company's strong move higher on Friday on news that Vegas casinos did quite well and the industry is getting bullish on the possibility of online gaming in New Jersey. We are not going to take a positive view on online gaming here when we just were negative on it a few paragraphs earlier. We would state however that if this was somehow passed we would prefer to bet on the casinos coming out on top rather than a maker of various online games. They would both have their own core competencies to be sure, however the tie ins that the casino operators could offer players would outweigh anything Zynga could, unless of course they partnered with a casino operator in their offering. It is interesting, but we would rather not be taking shots in the dark on something which to us seems a long shot.
Disclosure: I have no positions in any stocks mentioned, and no plans to initiate any positions within the next 72 hours. I wrote this article myself, and it expresses my own opinions. I am not receiving compensation for it (other than from Seeking Alpha). I have no business relationship with any company whose stock is mentioned in this article.