Historical events
A bank rescue announced by the British government on 8 October 2008 as a response to global financial crisis has made it possible that HBOS and Lloyds TSB were financed by the then newly formed Bank Recapitalization Fund.
Following its final acquisition of HBOS in January 2009, the parent Lloyds TSB Group has changed its legal name to Lloyds Banking Group (NYSE:LYG) which is one of the largest financial institutions in the United Kingdom. As of April 2012, the British Government held a 41% shareholding.
The global banking crisis had a strong impact on U.K. banks, especially those who are now united under the Lloyds brand. In particular, Lloyds' takeover of HBOS in 2008 led to very heavy losses, even much larger than the £10 billion ($15.8 billion) initially identified by due diligence. This was mainly due to the fall in property prices and problems with construction loans.
At that time, not only regulatory issues but also a very serious financial situation and the assistance of the British government and central bank created a heavy legacy to the present life of Lloyds.
A Strategy that sets financial targets for the medium and long term
On 30 June 2011, Lloyds Banking Group defined the main lines of its business model and strategy.
Lloyds Action Plan now has four key tasks with concrete targets such as:
- Attractive segments of customers in the U.K. will be reached in order to target a return on equity of between 12.5 and 14.5 percent. In terms of reshaping the business, the following areas were identified as focus:
Non-core assets will continue to be reduced to £90 billion ($140 billion) by the end of 2014.
A prudent risk taking will be introduced and strict controls will be put in place on the risk profile of all new business. Provisions of existing portfolios will be reviewed appropriately.
The international presence will be rationalized from around 30 countries to less than half that number by 2014.
- Further cost saving and investment initiatives will be reached by simplifying the Group for improved agility and efficiency targeting a cost/income ratio of 42-44 percent.
- Lloyds will be the best bank for customers by starting to revitalize Halifax Brand and by investing also in Lloyds TSB and Bank of Scotland. The goal will be to increase operations both through Commercial Banking and Wholesale Banking. Bancassurance will also be an important part of Lloyds' strategy.
- The Group's balance sheet will be strengthened in order to target a core tier 1 capital ratio in excess of 10% from 1 January 2013 when the transition period to Basel III commences. The Group will remain well devoted to stay again self sufficient by reducing gradually and abolishing at October 2012 the present level of government and central bank special funding. Therefore, Lloyds intends to stay committed to being an independent and dividend paying entity over time. By cutting non-core assets and achieving a normal and growing relationship with costumers, the Group targets an improvement in the loan-to-deposit ratio to 130 percent or below by the end of 2014.
For better comparison, every conversion of pounds sterling into U.S. dollars has been made at the buying rate in New York City in effect on 31 December 2011, which was $1.5537 = £1.00.
Financial analysis from 2009 to 2012
The next table shows the consolidated income statement for the last four years. The report for the 4th quarter and full year of 2012 will be known only on the 1st of March. For that reason, to obtain the values ​​in this table relating to 2012, we took the 3rd quarter of the year with an increase of 30%.
CONSOLIDATED INCOME STATEMENT
| | | | | |
| --- | --- | --- | --- | --- |
| | 2012 | 2011 | 2010 | 2009 |
| US$ million | | | | |
| Interest and similar income | 36,177 | 40,887 | 45,586 | 43,873 |
| Interest and similar expense | -22,864 | -21,158 | -26,093 | -29,850 |
| Net interest income | 13,313 | 19,729 | 19,493 | 14,024 |
| Net fee and commission income | 5,074 | 5,506 | 5,143 | 4,989 |
| Net trading income | 19,907 | -0,572 | 24,430 | 29,673 |
| Net Insurance premium income | -15,322 | 3,308 | -16,997 | -21,048 |
| Other operating income | 5,108 | 4,301 | 6,706 | 8,530 |
| Total income | 28,079 | 32,272 | 38,774 | 36,167 |
| Government Asset Protection Scheme Fee | | - | - | -3,884 |
| Payment protection insurance provision | -4,191 | - | -4,972 | - |
| Other operating expenses | -17,435 | -20,276 | -20,618 | -20,950 |
| Trading surplus | 6,453 | 11,996 | 13,185 | 11,333 |
| Impairment | -7,631 | -12,576 | -17,016 | -25,905 |
| Others | -0,846 | -0,008 | -0,199 | 19,160 |
| (Loss) profit for the year | -2,024 | -0,587 | -4,030 | 4,588 |
| number of FD outstanding shares (million) | 68,727 | 68,727 | 68,074 | 63,775 |
| Diluted earnings per share | -3.03 | -1.09 | -6.22 | 11.65 |
Underlying profit increased by 148 percent to £1,904 million ($3 billion). Net interest margin was in line with plan at 1.93 percent (first nine months of 2011: 2.10 percent). Besides, Lloyds achieved further reductions in costs which were down 5 percent.
In the core business, credit quality remained strong as impairment charge was reduced 40 percent. Impairment charge as a percentage of average advances improved to 0.41 percent (first nine months of 2011: 0.66 percent). A significant progress in this item is a great accomplishment not only for having been managed in the first nine months of 2012, but also by a highly favorable trend year after year since 2010.
Lloyds registered a statutory loss before tax of £583 million ($900 million), including a further (PPI) provision of £1 billion ($1.55 billion) in the third quarter.
It should be noted in more detail the problem with the Payment Protection Insurance (PPI). Specifically, a PPI is an insurance product that allows consumers to hold loan repayments in the event of death or any other circumstances that prevent the debtor from being able to pay the debt service. This product was widely sold by banks in general as an add-on to the loan. However, there were a vast number of inadequate and unreasonable PPI sales that made them too expensive and not to bring any benefit to the debtor. The legal claims have been in a large number and have begun some years ago and are yet to be entirely resolved. In principle, Lloyds is well provisioned in order to attend to all foreseeable situations.
Core business has continued to deliver returns above the cost of equity with a net interest margin of 2.32 percent that was stable in third quarter. Moreover, SME net lending has achieved a growth rate of 4 percent in the last 12 months ahead of market which was down 4 percent.
Lloyds has been building up a strong capital position: core tier 1 ratio continued to improve and is now 11.5 percent; total capital ratio increased to 16.6 percent, and the bank will surely meet future regulatory capital requirements.
The table of financial data reveals continued above-market deposit growth of 6 percent year-on-year and shows that Group loan to deposit ratio further improved to 124 percent (core: 102 percent)
The Group has now fully repaid all debt issued under the legacy Credit Guarantee Scheme, including the £2.9 billion ($4.5 billion) outstanding at 30 September 2012.
In August, the Group announced its support for the U.K. Government's Funding for Lending Scheme and confirmed its intention to participate in the scheme.
Lloyds has become UK's largest lender to first-time buyers, helping around 40,000 customers to buy their first home so far in 2012. And has a program to support first time buyers by committing to lend £6.5 billion ($10.1 billion) in 2013, funding a third of all lending on U.K. new build properties.
Lloyds is also committed to lending to Small and Medium Sized business enterprises (SMEs) being the first bank to use the Government's Funding for Lending scheme through a £1 billion ($1.55 billion) drawing in September 2012. To date has drawn a total of £3 billion ($4.65 billion).
Financial Data

3Q2012

2011

2010

2009

US$ million

Shareholder' equity

71,361

71,346

67,936

67,241

Customer Deposits

661,73

643,086

611,583

631,953

Subordinated liabilities

53,666

54,518

56,294

53,955

Loans and advances to customers

817,05

878,832

920,718

974,122

Total assets

1470,117

1507,937

1541,951

1596,046

Cost income ratio (%)

62.8

66.0

68.7

Capital ratios (%)

Total capital

16.6

15.6

14.5

12.4

Tier 1 capital

13.3

12.5

11.0

9.6

Core tier 1 capital

11.5

10.8

9.6

8.1
Guidance reaffirmed or improved
Full-year 2012 Group net interest margin was expected to be around 1.93 percent, in line with previous guidance. Cost base was anticipated to be close to £10 billion ($15.5 billion) in full-year 2012, two years ahead of original plan, with a reduction of around £1 billion ($1.55 billion) since 2010.
2012 impairment charge guidance was further lowered to approximately £6 billion ($9.3 billion).
Full-year 2012 non-core asset reduction target was further increased to around £38 billion ($59 billion), £13 billion ($20.15 billion) more than original target.
Lloyds expected to reach long-term loan to deposit ratio target of 100 percent for the core business in the first quarter of 2013, at the same time as reaching a 120 percent loan to deposit ratio for the Group.
Evaluating Lloyds Banking Group
Banking revenue or gross income has an indicative definition and I find it more convenient not to use strict accounting criteria. Thus, in terms of financial analysis, I set out to measure the banking business of Lloyds and get an easier comparison between years. So, revenue will be the sum of the following items: Interest and similar income, fee and commission income, net trading income and other operating income.
Base Case
US$ million

2012

2013

2014

2015

2016

2017

1. Revenue

68,455

71,878

77,269

84,995

93,495

102,844

2. Growth

-9,0%

5,0%

7,5%

10,0%

10,0%

10,0%

3. Net Profit

-2,024

1,797

3,863

10,624

11,687

12,856

4. Net Margin

-3,0%

2,5%

5,0%

12,5%

12,5%

12,5%

5. Exit Multiple (2017 P/E)

40.0x

514,222

6. Total (3+5)

-2,024

1,797

3,863

10,624

11,687

527,078

Discount Rate

8,0%

NPV (Net Present Value)

380,721

FD Shares Outstanding

68,727

million

Price Per Share

$

5,54
For a properly cautious assessment of the ADR representing 4 ordinary shares, I took all outstanding shares but used an Exit Multiple more than 4 times larger. It means that shares have a real multiple of less than 10 which is extremely conservative. Any follow-up analysis will have a very low basis which was exactly my goal.
This is the base case that includes a relatively conservative prediction of growth and margins. On this basis, the value of each stock overcomes the current price in more than 65%.
As the bank is undergoing intense restructuring, my forecast becomes more uncertain. Thus, I present a sensitivity analysis that includes two other scenarios, one optimistic and the other pessimistic, with the assumptions that are shown in the next two tables.
Pessimistic Case

2017 P/E of 30 and Discount Rate of 10%

Income Growth

US$

8,0%

9,0%

10,0%

7,5%

2.40

2.50

2.61

Net Margin

10,0%

3.19

3.34

3.48

12,5%

3.99

4.17

4.35
Optimistic Case

2017 P/E of 50 and Discount Rate of 6%

Income Growth

US$

10,0%

11,0%

12,0%

10,0%

6.54

6.84

7.14

Net Margin

12,5%

8.18

8.55

8.92

15,0%

9.81

10.25

10.71
It is important to note that as the bank's strategy is being put into practice, its performance improves and the positive effects will prove to be especially important in increasing Net Margin and its maintenance at a higher level.
Analyzing the above tables, it is clear that values ​​are reasonable enough even in the Pessimistic Case. In fact, only considering a low growth rate with low margins and a very high discount rate will lead to a lower share price when compared with the present one. I can't say that this scenario is likely to happen in the medium term.
In contrast, for the Optimistic Case, with margins slightly higher, a minimum increase in growth and a more favorable discount rate immediately generates much higher value.
Technical Analysis
Lloyds Banking Group was in a frightful downward trend from $42.16 in October 2007 towards $2.05 in March 2009. At this point, stock reversed to an upward trend for a while then traded sideways for one year and a half. Again, it could not hold these levels and fell heavily to $1.33 directly from $4.86, in December 2011. Then another bounce took place followed by a period of weakness.
Charts courtesy of StockCharts.com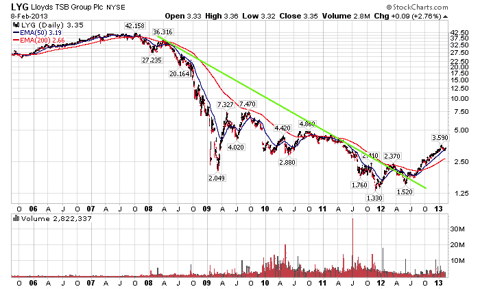 Click to enlarge
(Click to enlarge)
During those years, many downward lines could have been drawn from almost vertical to less inclined ones. But as we can see in the first chart above, the key point is that the fall was long and ugly and the real reversal only happened when the stock price crossed on the rise the descendent trend line in June 2012 and then the EMA200 at around $2.05.
Another confirmation of these reversal signals was given in September 2012 when the EMA50 crossed on the rise the EMA200 (golden cross) on a convincing way.
Since September to last Friday, we can see in the second chart below a sustained rise in the stock price well above the moving averages. After breaking up several difficult levels, it arrived to a very strong resistance at $3.66, where it stopped and pulled back to the moving average where it found support and remained since then in consolidation above $3.17.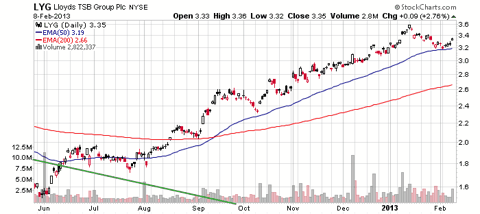 Click to enlarge
(Click to enlarge)
In the short-term, many technical indicators are mixed confirming this phase of consolidation and the importance of maintaining the support mentioned above.
Conclusion
Lloyds Banking Group is solving, year after year, many of the past problems. Additionally, its strategy is outlined in order to obtain a secure and balanced growth putting emphasis on financial recovery in all areas.
Although it has imposed a controlled growth of business and a careful analysis of transaction risk, the bank is on track for sustained development.
The current pace of fulfilling its business plan and a new executive management of high quality, will in all likelihood achieve sustained development for Lloyds Banking Group. Accordingly, the profits will appear soon and also the real prospect of dividend distribution. In this context, the Group shares will continue to appreciate in value and, in my opinion, should rise strongly in the medium and long-term.
Let me end with one last note. If we think in terms of the very long term, it is likely that each stock of this bank is worth far more than estimated in this study. Naturally, there are no doubts on the validity of the technical evaluation with a time horizon of 5 years, as I have just done. ​​But, I believe that Lloyds will pick itself up completely, positively realizing its great potential. I'm not thinking yet on prices similar to 2006 or 2007 (at the level of $40 or more). However, it is sensible to consider the hypothesis of a very large enhancement in case Lloyds begin, increasingly, to distribute significant dividends. In that event, the price could do much better within 5 to 7 years and go near 2007 highs.
Note: Lloyds Banking Group is also referred to herein as "Lloyds" or "Group"
Source: In addition to other research, the data collected by the author was obtained through the Company Annual Reports, SEC filings and related documents.
Disclosure: I have no positions in any stocks mentioned, and no plans to initiate any positions within the next 72 hours. I wrote this article myself, and it expresses my own opinions. I am not receiving compensation for it (other than from Seeking Alpha). I have no business relationship with any company whose stock is mentioned in this article.