By Brendan Gilmartin
Cisco Systems (NASDAQ:CSCO) is slated to report 2Q 2013 earnings after the close of trading on Wednesday, February 13. The results are typically available at 4:05 p.m. EST and will follow with a conference call at 4:30 p.m. Given its size and influence, Cisco has the potential to impact the broader market gauges, including the index futures and large-scale ETFs.

Outliers & Strategy
In the previous conference call, Cisco said Non-GAAP EPS is expected to range from $0.47 to $0.48 per share. The current consensus is $0.48 (Source: Yahoo! Finance).
Revenues are the next most important measure for Cisco. Cisco previously said it expects 2Q 2013 revenues to increase 3.5% to 5.5% year over year. Based on the 2Q 2012 revenue figure of $11.5 bln, the projected range would equate to $11.903 bln to $12.133 bln. The consensus is $12.06 bln.
Note that Cisco typically provides upcoming quarterly guidance in the ensuing conference call following the earnings release. CEO John Chambers tends to be conservative in his outlook, resulting in a share price reversal. For the 3Q 2012 period, estimates are for Non-GAAP EPS of $0.49 on revenue of $12.22 bln.
Sympathy Plays: Juniper Networks (NYSE:JNPR), F5 Networks (NASDAQ:FFIV), Riverbed (NASDAQ:RVBD), Radvision (NASDAQ:RVSN) & Cavium (NASDAQ:CAVM).
Recent News
02/11: FBR Capital boosted its price target on Cisco from $20 to $22 amid expectations for a solid 1Q earnings release, according to a post on StreetInsider.com. The firm expects Cisco to benefit from an improving economic backdrop, increased enterprise spending, and new products. The firm has a Market Perform rating on the shares.
02/08: Analysts at both Citigroup and Raymond James see upside at Cisco ahead of the 2Q earnings release, according to a report on Barron's Online. Raymond James reportedly reiterated an Outperform rating with a $25 price target, citing a stabilizing environment, while Citigroup held its Buy rating, but raised the objective from $21 to $24.
02/04: Oppenheimer raised its price target on Cisco Systems from $22 to $24, suggesting that checks indicate the networking giant enjoyed a solid January, according to a post on StreetInsider.com. The firm believes Cisco is building a solid pipeline heading into 2013 and navigating well through a tough macro economy.
Technical Review
Cisco shares have been breaking out over the past several months, gaining more than 25% from the mid-November lows. Should earnings surprise to the upside, there is long-term resistance in the $23/$24 area, so long as the shares are able to push through Monday's 52-week high of $21.34. Given the high expectations headed into the earnings release, the shares are vulnerable to even the slightest misstep. In the event of a disappointment, there is initial support at the 20-Day SMA near $21.00, followed by $20.50, and $19.50. (Chart courtesy of StockCharts.com)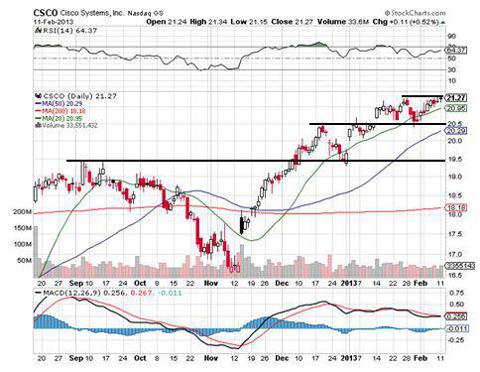 Summary
Cisco shares have been on an impressive run over the past couple months, benefiting from an improving macroeconomic backdrop, a pickup in enterprise spending, solid results from its peers, new product offerings, and growth in mobile. But with the shares up more than 25% since mid-November, the bar is set pretty high ahead of the 2Q 2012 earnings release. While earnings and revenues for the 2Q period are expected to garner close scrutiny, the outlook for the 3Q period, expected during the ensuing conference call, could heavily influence the market reaction.
Disclosure: I have no positions in any stocks mentioned, and no plans to initiate any positions within the next 72 hours. I wrote this article myself, and it expresses my own opinions. I am not receiving compensation for it (other than from Seeking Alpha). I have no business relationship with any company whose stock is mentioned in this article.