I'm not a big fan of investing in resource companies that are pure exploration plays with no existing production. My experience has long been that the most likely result of an exploration play is disappointment. For every success there are five failures.
I am however a big fan of investing for the long term in companies that produce natural resources. I believe we are in a world where most of the easy to find and inexpensive to extract resources have already been produced. The fact that central banks around the world have been printing money for the better part of 5 year only adds gasoline to the fire that is rising natural resource prices.
Pershing Gold is a gold company that is in the developmental stage. I like the company business model which does not involve taking exploration risks. Instead of taking exploration risk, Pershing's model is to buy assets on the cheap that have been left unexploited by prior owners for reasons such as:
- Lack of sufficient landholdings
- Poor management
- Bankruptcy caused by an overleveraged balance sheet
Pershing then works with these acquired assets to grow the resource in place and bring them to production.
Legendary mutual fund investor Peter Lynch once said that "there are many reasons for insiders to sell a stock, but only one reason for insiders to buy". That one reason of course being that the insider thinks the stock is undervalued and likely to go up.
Early in January I looked at a very large purchases of shares of Pershing Gold made by Director Barry Honig. I'm always interested in insiders putting up their own cash to buy shares of the company they are involved with. When the amount being put up is over a million dollars I'm really interested.
Apparently I was on to something because check out what the share price has done since: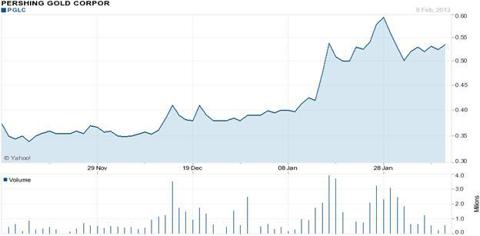 I'd be much happier had I paid attention to what I was seeing and bought some shares rather than simply writing about the insider purchase. Nonetheless, it is nice to have had good intuition for a change.
The reason for the big jump in Pershing's share price can be attributed to the company press release on January 24, 2013. The key elements of which were:
Pershing Gold Corporation (PGLC) is pleased to announce that it has completed an in-house calculation of mineralized material in the Company's model for the Relief Canyon Mine in Pershing County, Nevada which estimates 32,541,000 tons of gold mineralized material at an average grade of 0.017 ounces per ton gold ("opt Au"). The Company's in-house technical staff calculated the estimate under SEC Guide 7, and the in-house estimate does not include identified material that is currently in the inferred category.
When Pershing Gold acquired the Relief Canyon Mine in August 2011, based on the 2010 Technical Report that Mine Development Associates ("MDA") prepared for the previous owner, Relief Canyon had an in-situ resource equivalent to mineralized material under SEC Guide 7 of 6,533,000 tons at an average grade of 0.017 opt Au. As such, mineralized material reported by Pershing Gold today represents a nearly five-fold increase in the size of the Relief Canyon deposit.
It obviously has to be a good thing when investors find out that a company actually has five times the amount of resource in place than was previously thought. The share price reaction therefore is not surprising.
What I find most encouraging about the press release is that it adds to the credibility that management has in my eyes. As an investor you always are reliant on the management team in charge of the company you own shares of. When the company is a development stage resource company and there aren't cash flows to base your valuation on the credibility of management is everything.
Pershing's management team told us to expect a big increase in the company's resource estimate and that is what has happened. For 2013 Pershing's management is guiding more good things happening to the size of the company resource estimates:
"Pershing Gold anticipates that the exploration program planned for 2013 will further expand both the SEC Guide 7 estimate of mineralized material and the in-pit 43-101 resource estimates as the deposit remains open in all directions."
Additionally, the company announced that is has added to its landholdings around the Relief Canyon Mine in Nevada.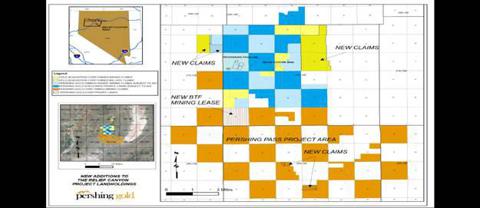 Since acquiring the Relief Canyon Mine property in August 2011, the Company's landholdings at Relief Canyon have grown from a little over 1,500 acres of unpatented mining claims and mill sites to more than 25,000 acres of mining claims, mill sites, and private lands. This significant increase reflects the Company's belief that this under-explored part of Nevada has potential for future discoveries of new mineral deposits.
Pershing is targeting a reopening of the Relief Canyon Mine and production in 2014 which will be great news for shareholders. Prior to that though Pershing has indicated that it will need to spend the following on operations and exploration:
We spent approximately $4.8 million on exploration activities during the nine months ended September 30, 2012 and approximately $0.5 million for the remainder of 2012. We will require external funding not only to pursue our exploration program but also to maintain our operations beginning in 2013. Our forecasted total costs for exploration in 2013 are $3.6 million.

In addition to our exploration program, we are preparing to recommission the gold processing facility on the Relief Canyon Mine site, which is currently in a care and maintenance status. We expect the cost to recommission the facility will be approximately $2.6 million, and our goal is to have it recommissioned by the end of 2013.
Our estimated total cost for 2013 of exploration, permitting, landholding, facilities recommissioning and general and administrative is approximately $13 million, which includes the 2013 exploration and recommissioning amounts described above, and in more detail below.
This means that as the plan for 2013 will include a financing event which could very well involve another issuance of equity to billionaire investor and Pershing shareholder Dr. Philip Frost and/or mining heavyweight and Pershing shareholder Coeur D'Alene (NYSE:CDE).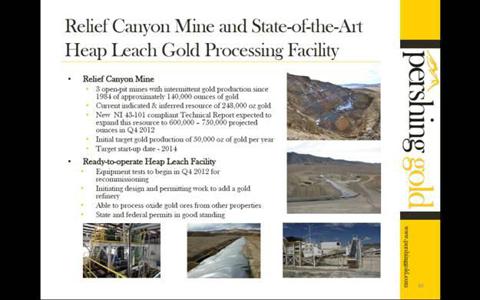 I like what I've seen from Pershing and its management team so far. They have done exactly what they said they were going to do. If they continue on that trend in the future that means shareholders can look forward to Pershing generating cash flow from production in just over a year.
Disclosure: I have no positions in any stocks mentioned, and no plans to initiate any positions within the next 72 hours. I wrote this article myself, and it expresses my own opinions. I am not receiving compensation for it (other than from Seeking Alpha). I have no business relationship with any company whose stock is mentioned in this article.