The so-called "death of the PC" is a phrase that usually accompanies any news involving PC manufacturers such as Hewlett-Packard (HPQ) and Dell (DELL). Microsoft (MSFT), which produces the Windows OS that drive PCs, is usually discussed in connection with the "death of the PC". However, HP is strategically positioning itself to defy the status quo. In this article, I will address the factors that could see HP emerging as a winner in the long story of the dying PC.
It is a well-known fact that cutting costs in order to attain profitability is not always the best course of action, because there is only so much cost cutting that you can do before you are up against a brick wall. However, the history of HP starting from Carly Fiorina through Mark Hurd to Leo Apotheker is filled with different cost cutting techniques and the occasional management blunder.
The closing of a German subsidiary of HP that would see to the laying of 850 workers is a step in the direction of a long line of layoffs that could help HP increase its long-term value. The public may not like layoffs. Yet, the fact remains that it cannot be avoided in some cases.
Another point that doomsayers would love to use in backing the "death of the PC" theory is the shrinking market and demand for PCs. Microsoft's net income for Q1 2013 dropped by almost 22%, and it shows a steady decline in the demand for the dear old PC. The shrinking market size brought about by changing consumer preferences for tablets and smartphones produced by Apple (AAPL), Google, (GOOG) and Samsung appears to be nailing the coffin for PC makers.
The charts below from a report in Business Insider shows how the PC is losing ground to smartphones and tablets.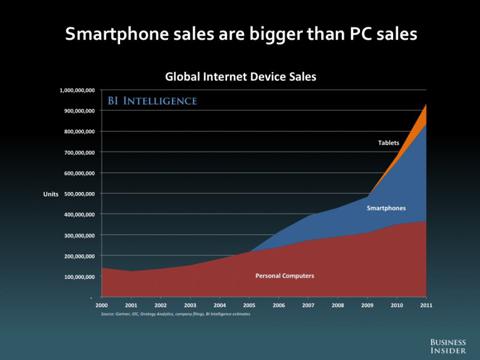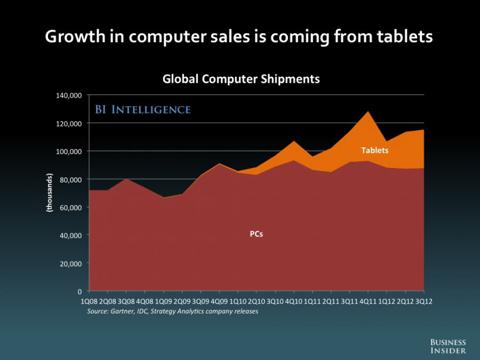 However, data available for both domestic and international PC shipments paint a better picture for HP.
Top 5 Vendors, Worldwide PC Shipments, Fourth Quarter 2012 (Preliminary) (Units Shipments are in thousands)
Vendor

4Q12

Shipments

4Q12 Market

Share

4Q11

Shipments

4Q11 Market

Share

4Q12/4Q11

Growth

HP

15,023

16.7%

15,113

15.8%

-0.6%

Lenovo

14,105

15.7%

13,040

13.6%

8.2%

Dell

9,482

10.6%

11,967

12.5%

-20.8%

Acer Group

6,959

7.8%

9,692

10.1%

-28.2%

ASUS

6,467

7.2%

6,126

6.4%

5.6%

Others

37,753

42.0%

39,974

41.7%

-5.6%

All Vendors

89,789

100.0%

95,913

100.0%

-6.4%
Top 5 Vendors, United States PC Shipments, Fourth Quarter 2012 (Preliminary) (Units Shipments are in thousands)
Vendor

4Q12

Shipments

4Q12 Market

Share

4Q11

Shipments

4Q11 Market

Share

4Q12/4Q11

Growth

1. HP

4,797

27.0%

4,266

23.0%

12.4%

2. Dell

3,475

19.6%

4,166

22.4%

-16.6%

3. Apple

2,030

11.4%

2,033

10.9%

-0.2%

4. Lenovo

1,504

8.5%

1,348

7.3%

11.6%

5. Toshiba

1,256

7.1%

1,900

10.2%

-33.9%

Others

4,685

26.4%

4,862

26.2%

-3.6%

Total

17,747

100.0%

18,575

100.0%

-4.5%
Source: IDC Worldwide Quarterly PC Tracker, January 10, 2013
Based on the table, HP had the largest PC sales internationally and in the United States in Q4 2012. More interesting is the fact that HP experienced a market growth of over 12 percent even with the hype about the "death of the PC".
Interestingly, HP is gearing up to meeting changes in consumer preferences with innovations such as the new Pavilion 14 Chromebook. This new laptop is run on Google's Chrome OS and according to David Conrad the Director of product management at HP "It's really about choice. We have a very wide offering…We think the time is right for an additional choice for people to have a gateway to their Google digital lifestyle". It is expected that the adaptation of the Chromebook operating system would revive the sales of PCs; a feat that even the Windows 8 from Microsoft has not been able to perform.
HP has not made a secret of its intention to snag Dell's customers that would be left in the lurch once Dell goes private as planned. In a statement issued regarding Dells privatization move, HP said, "Dell has a very tough road ahead. The company faces an extended period of uncertainty and transition that will not be good for its customers. And with a significant debt load, Dell's ability to invest in new products and services will be extremely limited. Leveraged buyouts tend to leave existing customers and innovation at the curb. We believe Dell's customers will now be eager to explore alternatives, and HP plans to take full advantage of that opportunity."
The market shares of both HP and Dell is presented in the table below shows that HP has a slight lead over Dell in market shares.
| | | |
| --- | --- | --- |
| Vendor / Market | 2012 Units | 2012 Market Share |
| HP / Worldwide | 58.1 million | 16.5% |
| Dell / Worldwide | 38.7 million | 11% |
| HP / U.S. | 17.9 million | 26.8% |
| Dell / U.S. | 14.1 million | 21.1% |
Source: IDC
The current restructuring going on in Dell will likely cost the company some market share to HP. Thus, even if Dell emerges stronger after the restructuring, we can be sure that HP may be standing unchallenged at least for the next couple of quarters until Dell gets readjusted.
Disclosure: I have no positions in any stocks mentioned, and no plans to initiate any positions within the next 72 hours. I wrote this article myself, and it expresses my own opinions. I am not receiving compensation for it (other than from Seeking Alpha). I have no business relationship with any company whose stock is mentioned in this article.