Although there are fears that the stock market has reached a peak and is headed for a downturn, I believe that now is a great time to invest in stocks. Given that the P/E ratio of the S&P 500 is lower than its 10-year and 15-year historical averages, stocks, generally speaking, are cheaper than bonds today. Therefore, emotions should be put aside, and investors should always be seeking long-term goals and realize that the stock market provides generous returns over the long run.
A stock that I believe will see good returns in the long run is Automatic Data Processing Inc. (NASDAQ:ADP). This company is one of the largest independent computer services and business outsourcing companies in the world by revenue. Perhaps the most striking feature of this company is its AAA S&P Credit Rating. Thus, ADP's ability to pay back its financial obligations is absolutely incredible. The risk of bankruptcy is extremely low, and issuing more debt may even help with financing future projects. I would even go as far to say that this company is safer than the United States debt.
(click to enlarge) Source: Yahoo! Finance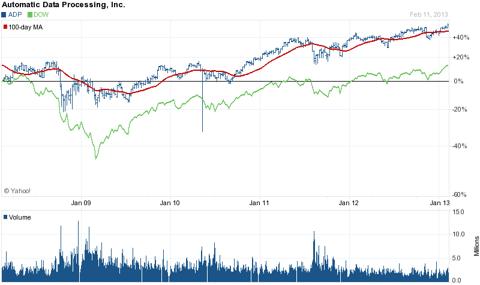 Click to enlarge
Currently trading at $60.34, its P/E ratio of 21.05 suggests that investors are excited about future growth opportunities. Those opportunities lie in the emerging market economies, especially China, where business outsourcing has flourished. As these emerging markets become more familiar with technology (India, Bangladesh, Turkey to name a few more), they will need solutions to their technological problems. ADP is one the best companies at solving those problems. These opportunities also lie in small and medium-sized companies. For example, if I start my own business consulting firm, I will need help in establishing up-to-date technology throughout the company. I can look to ADP to solve any of my business problems. Thus, I believe that ADP's business model is very simple: help those who have business and technology problems.
As shown above, ADP has outpaced the Dow Jones Industrial by about 40% in the last five years. Although I am not a huge fan of technical analysis, ADP showed great resilience during the 2008 financial crisis and did not nearly stumble as much as the 30 giant members of the prestigious Dow Jones (although ADP did struggle given a higher unemployment rate). As the U.S economy recovered from the crisis, ADP showed tremendous growth and began to noticeably outpace the market up through 2012. This shows to me that ADP is capable of earning steady revenues and keeping margins relatively healthy. I want to invest in a company that has shown a stable income and will be around for a long time. I also like companies that maintain high dividend yields even during rough economic times. Keeping in mind its AAA credit rating, ADP is in great financial condition, has over $1.5 billion in cash, and its debt is seemingly risk-free.
Standard and Poor's has a 12-month target price of $67. This is based off the industry average P/E of 22X and analysts' EPS estimates for 2013 of $3.04. If these estimates are correct, then ADP will see an 11% return for the year. However, that is not all! ADP is known for being a value, dividend stock, and in addition to a potential 11% return, its traditional 3% dividend yield is certainly an attractive yield for investors.
Just like all companies, there are certain risks to ADP. Increased competition within the business outsourcing industry can certainly hurt ADP, especially as it ventures out into new markets. Another significant risk to ADP is a decrease in payrolls in a struggling economy, just as company management saw in 2008. With more people out of jobs, there will be fewer payrolls to go around.
Conclusion
I am a strong believer in the stock market right now, regardless of short-term panics that people tend to have and news stories that scare people away from stocks. ADP has shown many positives in the last few years, and I believe that it will continue to grow, as it expands into new, emerging markets. This is certainly no guarantee, but I believe that the stock price of ADP will increase during 2013.
Disclosure: I am long ADP. I wrote this article myself, and it expresses my own opinions. I am not receiving compensation for it (other than from Seeking Alpha). I have no business relationship with any company whose stock is mentioned in this article.