Canadian oil sands giant Suncor Energy (NYSE:SU) announced its fourth-quarter 2012 earnings on Tuesday, Feb. 5. Analysts declared the results to be disappointing and indeed they were, with revenues, operating cash flow, and operating earnings falling compared to the prior-year quarter. Suncor also reported a net loss during the quarter. The net loss was caused by a one-time impairment charge and not by any operational issues, so it is not a negative sign for the company going forward. This will be discussed more later in this article. For now, here are the highlights from the company's earnings report:
The company reported operating earnings of $1.000 billion. This works out to $0.65 per share.
The company reported a net loss of $562 million which includes a $1.487 billion impairment charge against the Voyageur Upgrader project.
The company had fourth quarter operating cash flows of $2.235 billion. This works out to $1.46 per common share of stock.
Suncor had average oil sands production of 378,700 barrels of oil equivalent per day during the quarter.
The company averaged 556,500 barrels of oil equivalent per day of production in the fourth quarter.
As previously mentioned, the company's latest quarter was worse than last year's. One of the biggest reasons for this is that Suncor realized lower average prices for its oil sands production than it did last year. This is something that most investors who follow the energy space likely expected. The growing price differential between Canadian heavy crude and Brent crude was and has been a relatively common news story ever since the final months of last year and this negatively impacted Suncor's earnings during the quarter. Fortunately, Suncor is much more insulated from this trend than many of its Canadian peers due to the company's refinery operations. I discussed these refinery operations in last year's article following my interview with Suncor's CFO, Mr. Bart Demosky. In short, these refinery operations ensure that Suncor is able to secure global, or Brent-based, pricing for a significant percentage of its oil sands production.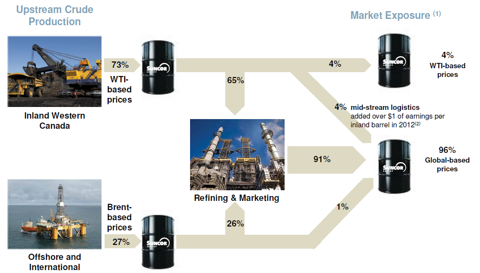 Click to enlarge
Source: Suncor Energy
Suncor's three Canadian and one U.S.-based refineries have total refining capacity of 455,000 barrels of oil per day. Clearly this is less than Suncor's total average daily production and so the company is unable to refine all of the oil that it produces. However, this refinery operation still benefits from lower feedstock costs due to the price differential between Canadian heavy crude and Brent crude. This causes the refinery operations to be more profitable and partially offsets the reduced profits from the upstream operation. As this quarter shows, the company's refineries do not fully offset this profit reduction but they do provide a nice hedge.
Suncor's greatest growth opportunities are found in the Athabasca oil sands region of Canada's Alberta province. This can be clearly seen over the course of the year as the company achieved record production from the oil sands region in 2012. Although the company has made progress this year in increasing its production from the oil sands, there are still some projects in the works for it to grow production further.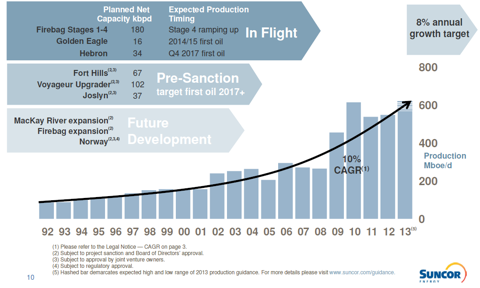 Click to enlarge
Source: Suncor Energy
The company is currently ramping up production from Stage 4 of the Firebag complex listed in the chart above. The complex produced a total of 123,400 barrels of oil equivalent per day on average in the fourth quarter of 2012 compared to 113,000 barrels of oil per day in the third quarter of 2012 and 71,700 barrels per day in the prior year quarter. As the chart shows, the complex is expected to produce an average of 180,000 barrels per day when it is up to full production. Thus, the Firebag complex is likely to increase production by 56,500 barrels per day. This alone represents 10.1% production growth over the company's total average production in the fourth quarter.
Suncor also has a few projects awaiting approval that will significantly boost production in coming years. The largest of these is the Voyageur Upgrader project which Suncor expects will produce around 102,000 barrels of oil per day at peak production. That project alone would represent production growth of 18.3% over the company's current production levels. Additionally, Suncor also has two other large projects awaiting approval: Fort Hills and Joslyn. As the chart shows, these two projects are expected to produce 67,000 and 37,000 barrels of oil per day respectively at peak production. Thus, both of these projects combined represent total production growth of 18.7% over the fourth quarter's production levels. It is clear that the company has enormous growth potential here and this should result in growing revenues and profitability unless oil prices fall dramatically.
However, Suncor is now concerned about the economics of the Voyageur Upgrader project. The company is currently reviewing this partially-built complex to verify that it is economically viable and it has halted development on the complex until it has been evaluated. The company expects that its evaluation of this project will not be complete until the end of the first quarter of 2013. The company has minimized its spending on this project until a decision to proceed or not is reached. As a result of the challenging economics of this project, Suncor performed an impairment test at the end of the fourth quarter. Based on the company's assessment of future cash flows, Suncor was forced to write down $1.487 billion, which was more than enough to swing the company's net income to a loss for the quarter. If this project ends up being shelved, which it very well could be, Suncor obviously will not get the production growth from this project that was discussed in the previous paragraph. However, if the project is not economically viable, then that is a good thing.
The writedown that the company took in the quarter is a non-cash expense and does not represent an actual outflow of cash. It is also a one-time event. Therefore, the company's net loss is not something that should be particularly worrisome to investors. Instead, the concern should be over the potential loss of the growth that would result from the Voyageur Upgrader. While all the money that the company has already spent on this project with no definite payoff may be a concern for some, that is, by definition, a sunk cost. Sunk costs are simply past costs that cannot be recovered, so these costs are irrelevant to any forward-looking investment analysis. Suncor will make the decision to proceed with this project or not based on potential future cash flows and not based on past ones. Investors should do the same and simply consider the possibility that the company may not have the production growth that this project would have delivered.
There were definitely some high points in this report, most notably the Firebag ramp up. Suncor Energy also continues to have good growth prospects, even without the Voyageur Upgrader project (should it be shelved). The stock took a beating following the earnings announcement, most likely due to either the writedown or the net loss that the company reported. This reduction in value makes sense given the challenging situation with the Voyageur Upgrader. Regardless, the company still has growth prospects as the Firebag complex continues to ramp up to full capacity along with Golden Eagle offshore UK and Hebron offshore Newfoundland. Suncor's EV/EBITDA is right in line with many other big oil peers according to Yahoo Finance, but it still has greater growth prospects than most at the current time. The stock could still be a worthy investment.
Disclosure: I am long SU. I wrote this article myself, and it expresses my own opinions. I am not receiving compensation for it (other than from Seeking Alpha). I have no business relationship with any company whose stock is mentioned in this article.