Since my January 17, 2012 article, dealing with Arena Pharmaceuticals (NASDAQ:ARNA), the company's stock is up 434%. Arena received the FDA approval for its weight loss drug, Belviq, on June 27, 2012, which was the catalyst for the rally in 2012.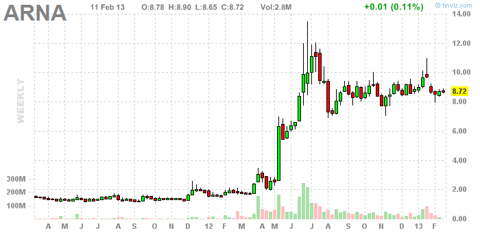 Click to enlarge
(Click to enlarge)
In this article, I will compare Arena to another company that is working to prevent the same obesity problem with a different product. The other company is Stevia First (OTCQB:STVF).
Market size
Arena: According to the Centers for Disease Control and Prevention, more than one-third of U.S. adults were obese in 2009-2010. Studies have shown that a weight loss of 5% to 10% of body weight from baseline can result in meaningful improvements in cardiovascular risk factors (e.g., lipids, blood pressure and blood glucose), quality of life and functional capacity, and a significant reduction in the incidence of type 2 diabetes.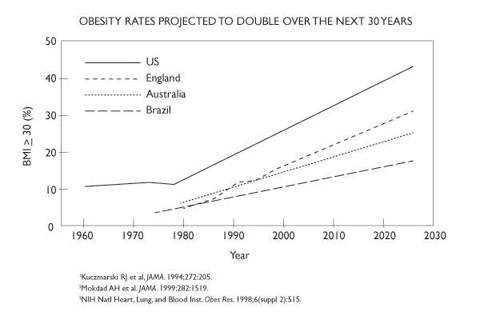 Click to enlarge
(Click to enlarge)
Stevia First: In 2011 stevia was estimated to account for less than 1% of the global sweetener market, or $500 million, according to research firm KnowGenix. The World Health Organization estimates stevia intake could eventually replace 20-30% of all dietary sweeteners. The total global sweetener market was estimated at $58.3 billion in 2010.
Products
Arena:
In June 2012, the U.S. Food and Drug Administration approved Arena's internally discovered and developed drug, Belviq (lorcaserin HCl). Belviq is intended for weight management, including weight loss and maintenance of weight loss. Belviq is believed to decrease food consumption and promote satiety by selectively activating serotonin 2C receptors in the brain. Activation of these receptors may help a person eat less and feel full after eating smaller amounts of food.
Stevia First:
Stevia leaves contain 9 to 12 compounds called steviol glycosides, which taste sweet but have no calories. These steviol glycosides are responsible for the sweet taste of the leaves of the stevia plant and are 30 times sweeter than sugar when in raw form. When refined, the steviol glycosides can reach sweetness levels 200 to 300 times greater than those of sugar, and range in sweetness from 40 to 300 times sweeter than sucrose. They are heat-stable, pH-stable, and do not ferment. They do not induce a glycemic response when ingested, making them attractive as natural sweeteners for diabetics and others on carbohydrate-controlled diets. The company's strategy is to establish a "first of its kind vertically-integrated stevia enterprise" in the U.S. and become a premier global supplier of stevia for eventual use in branded stevia products.
Catalysts
Arena:
U.S. commercialization of Belviq (early 2013)
Decision on Belviq application for approval in European Union (H1/2013)
Decision on Belviq application for approval in Switzerland (H1/2013)
Updates on Belviq in Mexico, Canada, Brazil and South Korea
Stevia First:
Production of steviol glycosides or related derivatives beginning in the first half of 2013.
The first revenues on sales of the California stevia extracts will occur in 2014.
Stevia would expect to release its planned tabletop sweetener product in 2013 and generate revenues from this proposed product as soon as the second half of 2013.
Competition
Arena: Arena's present competitors with respect to Belviq include Hoffmann-La Roche (OTCQX:RHHBY), the U.S. prescription drug unit of the Roche Group, which markets orlistat under the brand name Xenical, and GlaxoSmithKline (NYSE:GSK) Consumer Healthcare, which markets an over-the-counter low-dose version of orlistat in the United States under the brand name alli. Another competitor is phentermine, which is a generic drug sold by a number of companies. Newest to the market scene is Vivus (NASDAQ:VVUS), which received FDA approval for its weight loss drug, Qsymia, in July 2012.
Stevia First: Currently, the largest producer of stevia-based sweeteners is Cargill, an international producer and marketer of food, agricultural, financial and industrial products and services that produces Truvia tabletop sweetener, the leading stevia tabletop sweetener in the U.S. In early May 2011, AC Nielsen reported that Truvia, had surpassed Sweet'N Low to become the number two sugar substitute in the U.S., and is now in more than five million U.S. households, accounting for 14% of the U.S. tabletop sugar substitute market. Another key competitor, PureCircle (OTCPK:PCRTF), is a Malaysian based supplier of stevia for the PureVia tabletop stevia brand, which was developed jointly by Merisant Company and PepsiCo (NYSE:PEP).
Regulatory approval
Arena: Belviq is approved in the U.S. The approval of Belviq is pending in the EU.
Stevia First: Stevia is being used as a food additive in the following territories.
| | |
| --- | --- |
| Region | Countries |
| North America | United States, Mexico |
| Latin America | 8 countries |
| Europe | 30 countries |
| Asia Pacific | 10 countries |
On February 6, 2013, Heineken's (HINKY.PK) Finnish arm claimed to be the first in EU with stevia-sweetened alcoholic beverage.
Financials
Arena reported the third-quarter financial results on November 6 with the following highlights:
| | |
| --- | --- |
| Revenue | $1.5 million |
| Net loss | $15.5 million |
| Cash | $165.8 million |
Stevia First reported the fiscal 2013 second-quarter, which ended September 30, financial results on November 13 with the following highlights:
| | |
| --- | --- |
| Revenue | $0 |
| Net loss | $0.9 million |
| Cash | $0.5 million |
| Debt | $0.7 million |
On October 29, 2012, Stevia closed a $445,000 financing deal.
Outlook
Arena: Arena believes its cash and cash equivalents will be sufficient to fund its operations for at least the next 12 months.
Stevia First: Stevia First currently expects to have sufficient funds to operate its business over the next 6 months.
Insider ownership
Arena: The insiders as a group own 0.5% of the company. There have been one insider sell transaction and zero insider buy transactions during the past six months.
Stevia First: Current directors and executive officers as a group beneficially own 15.2% of the company. There have not been any insider transactions during the past six months.
Conclusion
Arena's market capitalization is currently $1.9 billion and was just $210 million in the beginning of 2012. Stevia First's current company valuation is $29 million.
Arena and Stevia First are attempting to address the huge demand of viable weight loss products while reaping the financial rewards of their respective endeavors. Both companies had several catalysts this past year, and 2013 will likely witness each taking the next steps in their progression with marketed products coming soon. Importantly for investors past and present, the company-changing catalyst for Arena's rally in 2012 was the FDA approval of Belviq. The catalyst for Stevia First's potential upcoming rally could be the launch of the tabletop sweetener in the second half of 2013. The return on investment for each of these companies could be substantial as their respective products come to market, but the low market capitalization Stevia First could certainly see more upside due to its current low valuation and the large sweetener market it is attempting to enter. With the larger upside potential does come higher risk for Stevia First investors as the company is currently traded on the less liquid OTC Pinksheets exchange, and has not yet begun generating revenue. Investors interested in these two companies should research each additionally, and make their investment decisions with any associated risks in mind.
Disclosure: I have no positions in any stocks mentioned, but may initiate a long position in OTCQB:STVF over the next 72 hours. I wrote this article myself, and it expresses my own opinions. I am not receiving compensation for it (other than from Seeking Alpha). I have no business relationship with any company whose stock is mentioned in this article.