Our firm owns Greenlight Capital Reinsurance (NASDAQ:GLRE) and we have owned it since September 2009. We think Greenlight is ridiculously undervalued at 1.03X Book Value using Book Value as of September 30, 2012, even with Greenlight Capital's 4.9% loss incurred on its investment portfolio in Q4 2012. We acknowledge that being a reinsurance company; it won't have the book value premiums of many of our other core holdings. However, it should not be trading at a discounted price-to-book value considering it has David Einhorn (Greenlight Capital) as the general investment account manager and because it has shown rapid revenue growth from its core reinsurance franchise since its inception.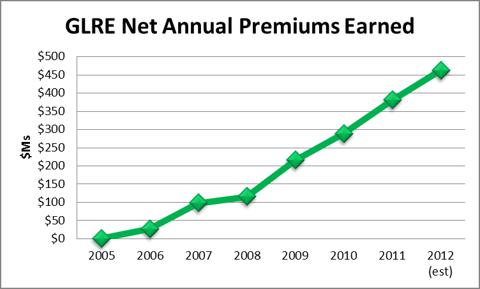 Source: Morningstar Direct
Greenlight saw its net premiums increase by 29% in Q3 2012 versus Q3 2011 and 15% in YTD 2012 versus YTD 2011 as increases in gross premiums ceded and unearned premium reserve changes offset lower gross premiums written during each period. GLRE's gross premiums written related to frequency events declined by $22M (24.6%) in Q3 2012 versus Q3 2011 levels and this was primarily related to the Florida homeowners' personal lines, which decreased by $56.5 million. During the third quarter of 2012, GLRE novated certain of its Florida homeowners' contracts and the corresponding retroceded contracts, which resulted in a $32.5 million reversal in both gross written premiums and ceded premiums. GLRE wrote no severity contracts in Q3 2012 versus $3.5M in Q3 2011.
The float portion consisting of unearned premiums decreased by $56.8M during the quarter and is now $209M as of June 30, 2012. The float increase for loss and loss adjustment reserves increased by $54.7M and is now at $349M. GLRE's nine-month combined ratio for YTD 2012 was 114.4%, which was a sharp increase from the 103.3% achieved for YTD 2011 and the 100.8% achieved in H1 2012. We were discouraged that GLRE's progress in reducing its combined ratio in H1 2012 on a year-over-year basis reversed itself in Q3 2012.
We are interested in seeing GLRE's combined ratio eventually decline to less than 100% because it means that the company's insurance operations are at least breaking even and are less likely to need to draw on the company's $1.22B general investment account portfolio. It also enables Greenlight Capital to manage the general account with Einhorn's long-short strategy rather than investing in low-yielding bonds like other insurers. We are pleased that GLRE's maximum combined exposure to all events is $108.9M, which is 8.9% of its general account portfolio and nearly $1.75M less than in Q2 2012. We were not happy that insurance losses sharply increased from $62.4M in Q3 2011 to $126.6M in Q3 2012. The increase was primarily attributable to an increase in loss reserves relating to contracts containing commercial motor liability coverages, which are currently in run off.
During the third quarter of 2012 the updated loss data relating to these contracts indicated adverse loss development due to several large losses and overall higher settlement amounts on open claims. Other factors contributing to the increase in the frequency loss ratio for the three months ended September 30, 2012, were higher loss ratios for some of our Florida homeowners' contracts impacted by sinkhole losses and damage caused by Hurricane Isaac and Tropical Storm Debby during 2012. Included in GLRE's losses during the quarter was $6.7M in severity losses relating to the New Zealand earthquake.
We are enamored with GLRE's balance sheet. GLRE boasts a higher proportion of shareholders' equity to assets than traditional insurance companies, just like many of its reinsurance peers. Unlike many of its immediate reinsurance peers, GLRE has a much higher proportion of its general investment account assets (its float) in equity securities and alternative assets than its larger, more well-known peers. We believe that this will enable GLRE to provide greater potential future returns to its shareholders than its competition. We concede that there will be increased volatility of investment results due to the nature of equity investments. The first thing we noticed in the press release was that GLRE generated $96.45M from its investment account during the quarter and $131M YTD. GLRE earned an 8.8% total return for the quarter (12.05% during the YTD 2012 period) in spite of the volatile and choppy market due to the European debt crisis and the soft macroeconomic conditions in the U.S. and other Western markets. GLRE's 12.05% total return on its investment account for the first nine months of 2012 compares favorably versus -4.75% for the comparable period in 2011.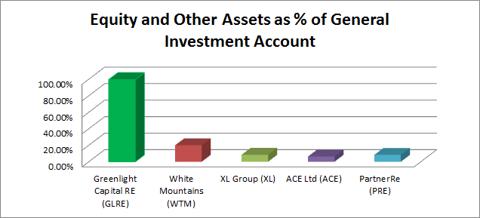 Sources: Morningstar Direct
GLRE saw its book value per share increase by nearly 20% on a year-over-year basis, from $19.74 in Q3 2011 to $23.57 in Q3 2012. Because the market price of GLRE has declined from $28.21 as of March 31, 2011, to $22.30 as of December 12, 2012, before bouncing up to $24.24 as of February 2013, we have seen a narrowing of the book value premium per share in GLRE. GLRE's market price was previously at a near 40% premium, but now it is at about 3% premium to book. We think that a 3% premium to book value is an undervalued price to pay for the fastest growing major reinsurance company in the world. The value associated with GLRE is amplified further due to its general float investment account being managed by well-known, well-respected hedge fund manager David Einhorn and Greenlight Capital.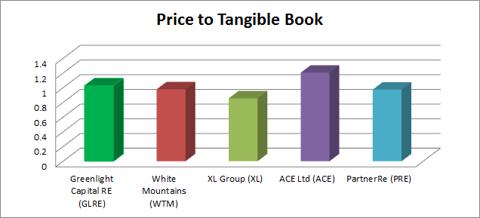 Source: Morningstar Direct
We noted that GLRE has a slight premium to tangible book value of 3% while Ace Ltd (NYSE:ACE) is trading at a premium to tangible book value of 21% and its three other closest reinsurer peers have discounts to book value ranging from 2% to 18%. However we also noted that GLRE is growing much faster than those companies. GLRE earned its first reinsurance premium in 2006 and earned $27M in reinsurance premiums for the year. For 2012, we are projecting that GLRE earns $462M in net reinsurance premiums, up from $380M in 2011. White Mountains (NYSE:WTM) and XL Group (NYSE:XL) saw insurance premiums earned decline by 30% and 25% during this period. ACE and PartnerRe saw moderate growth of 30% and 27% respectively.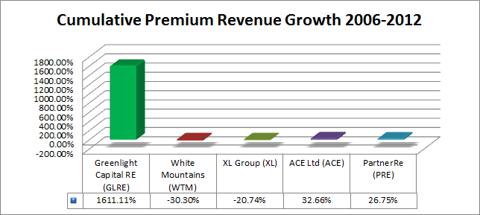 Source: Morningstar Direct
We aren't alone with regards to our positive opinion on GLRE. On November 21st, Brian Meredith and his team at UBS raised their rating on GLRE to Buy from Neutral and increased its price target from $25.50 to $27.00. The impetus for UBS increasing its price target and rating on Greenlight is because the firm is trading at a 3% premium to book value, compared with a historical average of a 22% premium to book value. David Einhorn owns 100% GLRE's class B shares, which represents an economic interest of 17% in the company. Other notable active managers according to Morningstar include Horizon Asset Management (5.45% stake in GLRE), M.A. Weatherbie (1.95%), Royce & Associates LLC (1.74%), Castine Capital Management (1.3%) and Ruane, Cunniff and Goldfarb (1.2%).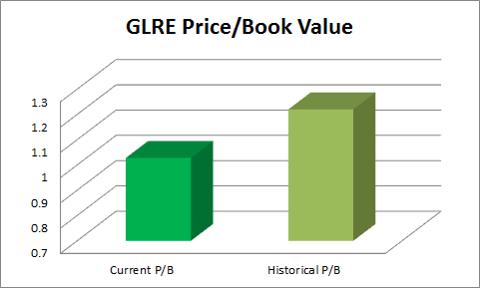 Source: Morningstar Direct
In conclusion, we are happy with our holding in Greenlight Capital Reinsurance. We believe that investors who want to invest in the insurance business, especially the reinsurance subsector should consider Greenlight Capital Re. Not only does Greenlight Capital Re have a fast-growing reinsurance book, but we like its general investment account portfolio. Unlike other insurance companies which devote 90-99% of the general investment account float portfolio in low-yielding "high-grade" bonds, Greenlight Capital Re is managed by hedge fund manager David Einhorn of Greenlight Capital. Einhorn invests GLRE's general account in a long-short equity strategy, which we believe is a much more appropriate place to be considering the ultra-low interest rates on bonds and the potential for interest rate increases once the central banks stop debauching the major currencies of the world. GLRE won't be exposed to Hurricane Sandy losses until losses exceed $20B. We believe that there is potential for global economic recovery or at least in the U.S. and we believe that investors should be in stocks instead of bonds, even insurance companies. We like the fact that Einhorn's strategy has not only been profitable for GLRE, it has beaten the S&P 500 equity index from 2005-2009 and equaled the S&P 500 in 2011. It also beat the Barclays U.S. Aggregate Index during this time period even though the Barclays Aggregate benefited from an easy monetary policy from the Federal Reserve in response to the economic crises since 2000.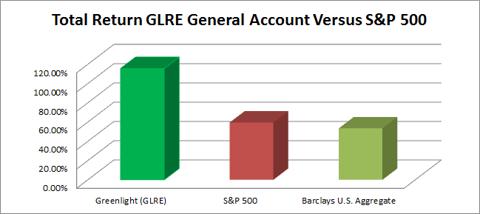 Source: Greenlight Investor Relations and Morningstar Direct (7/13/04-01/31/13)
Disclosure: I am long GLRE. I wrote this article myself, and it expresses my own opinions. I am not receiving compensation for it (other than from Seeking Alpha). I have no business relationship with any company whose stock is mentioned in this article.
Additional disclosure: This article was written by an analyst at Saibus Research. Saibus Research has not received compensation directly or indirectly for expressing the recommendation in this article. We have no business relationship with any company whose stock is mentioned in this article. Under no circumstances must this report be considered an offer to buy, sell, subscribe for or trade securities or other instruments.