The Andersons (NASDAQ:ANDE) is a small to mid-cap stock that engages primarily in agribusiness such as grain, corn, plant nutrients, turf products and retail locations. They also operate an ethanol business which comprises four plants collectively capable of producing 350 million gallons of ethanol annually. The Andersons additionally operates a rail group that performs fleet management, custom fabrication, leasing and repair businesses. It is a diversified business model centered on taking agricultural products to market.
It is also a high growth stock which presents a strong buy opportunity based on fundamentals.
Undervalued with Significant Growth Ahead
Using a discounted cash flow model to calculate stock value per share shows ANDE is trading significantly below fair value. The EPS is $4.24, and the average analyst estimate for growth is 15% for the next five years. Beyond five years, the model uses a future growth rate of 3.2% (the past five-year growth of the S&P 500), and a discount rate of 12% (the average expected return of S&P 500). This model is fairly conservative, and it yields a stock value per share of $79.72, which is a 70% margin from its current trading price.

Note that the 15% projection is from Zacks, but Yahoo! reports an estimated 25% growth over the next 5 years. Using the higher projection, the model returns a share price of $115.93, which a 148% margin from its current value.
The Andersons is significantly undervalued and presents a good opportunity to go long before this growth is realized.
Dividend Growth: Andersons has Doubled its dividend in 5 years
Even though The Andersons has a below average yield (<2%), it is a dividend growth stock. In fact, the company has been able to successfully double its dividend payout over the past 5 years.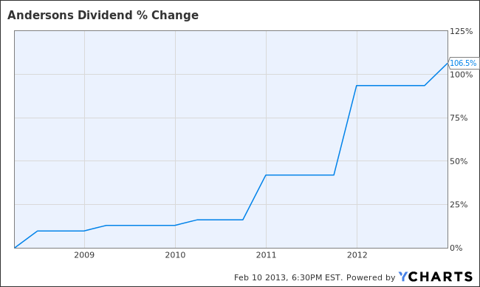 Their most recent dividend increase was 6.6% for December 31st, 2012 (an increase to 16 cents per share).
Additionally, the company maintains a payout ratio below 15%, which provides plenty of room for future growth.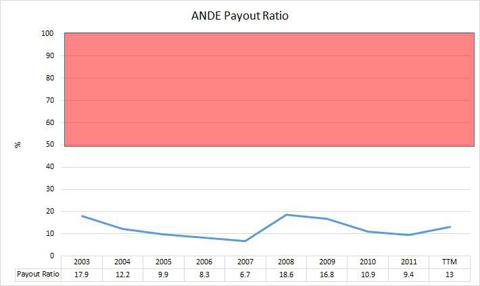 P/E Ratio is trading within Historical Range
The following chart graphs Andersons' PE Ratio for the past 10 years: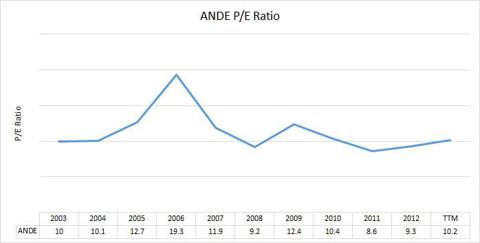 The 5 year average P/E is 10.1, and so it is currently trading within range of its historical value. As earnings are projected to significantly increase over the next 5 years, the stock price should continue to climb.
Cash Conversion Cycle Has Reduced 50% over 10 years
As ANDE operates in the consumer market, it is good to review its long-term Cash Conversion Cycle performance. This cycle is essentially a measure of the amount of time it takes between when a company spends cash on product until it receives cash back from a sale.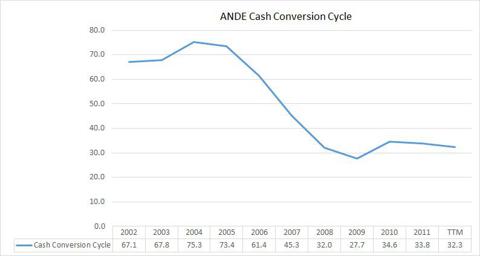 This chart demonstrates that beginning in 2005, Andersons has been able to significantly reduce this cycle time, demonstrating a 50% reduction to 33 days from a high of 75 days.
Andersons has maintained strong profitability in a thin margin industry
The Consumer Goods Farm Products industry has very thin, competitive margins. However, the Andersons has been able to maintain a strong profit position, especially in reference to its most direct competitors.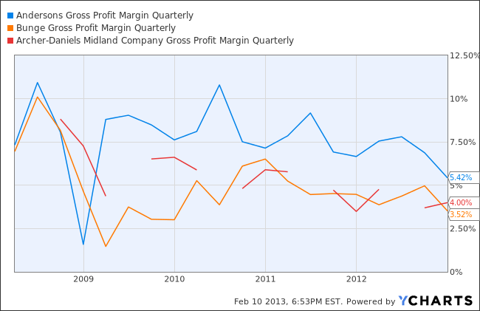 While profit margins declined in 2012, Andersons was able to maintain an edge on its prime competition. Additionally, during their latest conference call, management stated that the 1Q margins are better than what was seen last year. This early improvement hopefully foreshadows great things for 2013.
Andersons has a solid Debt Position
Generally, a current ratio of over 1.5 signals that a business is in a strong operating position.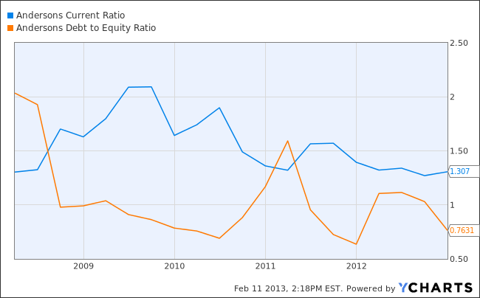 The Andersons has maintained a strong position for the past several years. Recently they have slipped to a 1.3, which is well within their historical profile. Additionally, they recently have made some acquisitions for growth to position for the future. Most notably, they recently acquired additional grain elevators that will increase their capacity by nearly 30%.
The Andersons Debt-to-Equity ratio has also returned below one, setting up a strong position for profitability with the future growth projections.
PEG Ratio remains low
A review of The Andersons PEG ratio also demonstrates that the growth is not coming at a premium compared to historical values.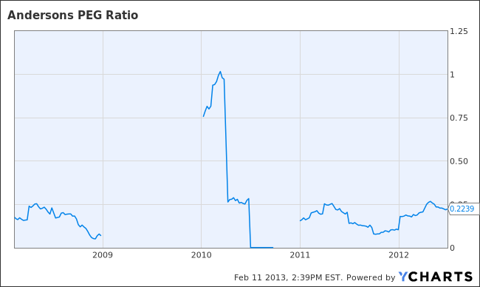 The current PEG of 0.2 provides a fair opportunity to go long without overpaying for future growth prospects.
Academic Overview
As habit, it's always good to also check a company's performance against a set of academic-related metrics to serve as a spot-check of fundamental analysis. These easy metrics can shine a light on any financial problems that may need further research.
First is the Piotroski score, which leverages the academic work of University of Chicago Professor Joseph Piotroski. He devised a simple scoring mechanism to measure 9 simple tests, and give a binary rating against each. His research proposed that firms scoring between 7-9 should typically outperform the market. The ANDE Score is 7, which is a Pass.
Next, the Altman Z-Score, which is another academic metric based on the work of Edward Altman from NYU. His research creates a scoring mechanism that has been demonstrated to predict company bankruptcy risk. If a company scores greater than 2.99, they are considered financially safe from distress, while anything under that requires further investigation into the company's long-term viability. The ANDE score is a solid 3.49, which is a Pass.
Last is the M-Score, an academic metric based on the work of Messod Beneish of Indiana University. This research provides an indicator of risk that Earnings have been manipulated to paint a more favorable picture of performance than should be recognized. An M-Score of less than -2.22 suggests the company is not manipulating earnings and requires no further investigation. The ANDE score is -2.1, which is slightly out of range, but since the company has a 5 year average of -2.8, it is not a reason for concern.

Growth Risks
As with all agricultural businesses, there is always risk related to drought and severe weather. During their recent earnings call, The Andersons management indicated that the Grain business will be handling less bushels due to drought conditions throughout the first half of this year. Additionally, the ethanol group is facing an oversupply, which may push into the third quarter.
However, moisture conditions were noted as improving, with management remaking that plantings were up 10-15%. If the weather conditions hold, the company could see yield improvements, as in 2012 they struggled through drought conditions for most of the growing season. At this point all indications are that the drought conditions prevalent in 2012 will not hamper their growth prospects for 2013.
Summary
The Andersons is a solid company with significant growth prospects. The stock is significantly undervalued and presents an excellent opportunity for both capital and dividend growth. I plan to add it to my portfolio over the next two weeks.
Disclosure: I have no positions in any stocks mentioned, and no plans to initiate any positions within the next 72 hours. I wrote this article myself, and it expresses my own opinions. I am not receiving compensation for it (other than from Seeking Alpha). I have no business relationship with any company whose stock is mentioned in this article.