Canadian Natural Resources (NYSE:CNQ) engages in the acquisition, exploration, development, production, marketing, and sale of crude oil and natural gas liquids. It is based in Calgary, Canada, and operates primarily in North America and the U.K. In addition to drilling, it also manages midstream pipeline assets and an electricity facility. CNQ currently yields 1.4%.
Although the natural resources sector might not be as exciting as other sectors if you believe that the world will need more energy in the future than today, it's a worthwhile endeavor to take a look at both the oil and natural gas sectors - and specifically CNQ. CNQ has had some ups and downs in share price, and has lagged the Market Vectors Oil Services ETF (NYSEARCA:OIH).
Click to enlarge images.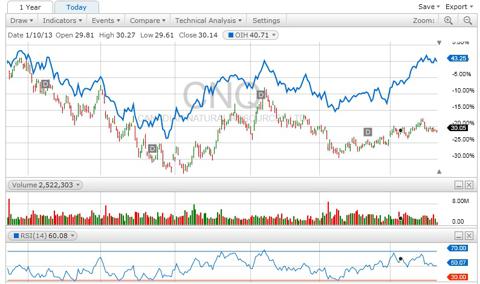 I like the long-term prospects for CNQ's future earnings and share price increases based on the following factors:
Cold winter in North America.
Political uncertainty in the U.S. for natural gas production and environmental group negative pressure for expansion.
Export to Asia possibilities from Canada through BC, bypassing U.S. regulations.
Money should continue to flow out of treasuries and into risk assets such as oil and natural gas, due to increasing global demand and low-cost funding for expansion.
As pipeline capacity increases, market constraints will be eased and producers will be able to sell into markets at competitive costs and larger volumes.
CNQ holds the largest undeveloped land base in Western Canada, so it won't run out of area to drill for a while.
Unrest in the Middle East.
The next earnings conference call and webcast is on March 7, 2013, and I believe it will set the tone for 2013. Last quarter's sales grew 19.51% to $3.53 billion, demonstrating a possible turnaround, but earnings remain challenged. The 2013 budget includes share repurchases in 2012 of 9,712,700 at a weighted average of $29.01, and production increases in light crude of 6%. Heavy crude is expected to increase by 11% and natural gas to decline by 9% as the company prioritizes more profitable products. I believe a key to its future success is its ability to shift priorities to meet market opportunity. With extensive reserves, CNQ has the flexibility needed to respond to market demand. With a P/E of 13.7, it is not overpriced compared to its peers.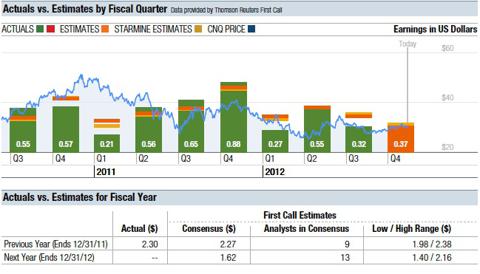 In a technical analysis review, support shows up at $28.45 and resistance at $30.40. There was a double moving average cross over on Feb. 8, forecasting a bullish trend as the shorter-term faster moving average crossed above the longer-term slower moving average.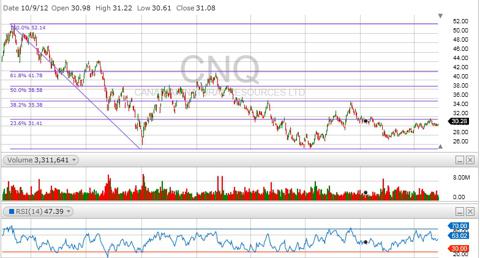 With a tight technical trading range, it will likely take good earnings news in combination with news boosting distribution to both Asia and the U.S. to move the stock meaningfully higher. It is possible that improved earnings could be announced coinciding with a dividend increase. Given the performance of the stock this year, and its lower-than-desired dividend yield, I plan to hold a long position. I will not add shares until after the next earnings release. If pricing crosses above my $31.41 target, I will look to add shares. So is CNQ ready for prime time in your portfolio? If your thesis coordinates with mine, then it is worth your consideration.
Disclosure: I am long CNQ. I wrote this article myself, and it expresses my own opinions. I am not receiving compensation for it (other than from Seeking Alpha). I have no business relationship with any company whose stock is mentioned in this article.