U.S. net farm income is expected to set a new record high in 2013, driven by a record corn crop and high commodity prices, according to the USDA. Crop reserves are anticipated to rise in 2013 after supplies were depleted from the worst drought in over 55 years in 2012.
Farmers are expected to plant 254 million acres, the second highest acreage on record, of the eight major U.S. crops, wheat, rice, corn, sorghum, barley, oats, soybeans and upland cotton this year, forecasted the USDA.
Net farm income is expected to increase to $128.2 billion in 2013, from $112.8 billion last year and $117.9 billion in 2011. The 2013 income estimate would be an all-time nominal and inflation adjusted high.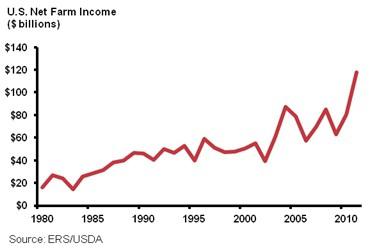 Production expenses are also expected to rise in 2013 to $249.8 billion, up 5.7% from 2012. U.S. farm exports are also expected to reach a record $145 billion in 2013, up $10 billion from the previous year. The USDA said the record "largely reflects high commodity prices."
The USDA expects U.S. farmers to plant 96 million acres of corn in 2013, down 1% from 2012 and is below other analysts' estimates of 97 to 99 million acres. Corn production for 2013 is expected to be a record 14.4 billion bushels of corn, a 34% increase from 2012, based on a trend line corn yield of 163.5 bushels per acre. Soybean production in 2013 is expected to be the second largest crop on record at 3.335 billion bushels.
The increase in production in 2013 will result in a drop in market prices this fall. The USDA projected corn would sell for an average of $5.40 a bushel and soybeans at $14.30 a bushel. "Nonetheless, U.S. prices for corn, wheat, and soybeans are projected to remain historically high, above pre-2007 levels," the USDA said.
Overview
Commodity prices will react negatively to the expected increase in production up to planting season in mid-April. Potential record crops in South American and the U.S. have the potential to loosen up supplies by the end of 2013.
Despite the USDA's rosy outlook, we see their production estimates as very unlikely. We find it hard to believe the U.S. will produce the largest corn crop on record when 57% of the U.S. is in a moderate to worse drought. We recommend monitoring planting expectations closely, but watch the weather even closer.
Disclosure: I have no positions in any stocks mentioned, and no plans to initiate any positions within the next 72 hours. I wrote this article myself, and it expresses my own opinions. I am not receiving compensation for it. I have no business relationship with any company whose stock is mentioned in this article.