We wrote an article in November 2012 reviewing Apple's (NASDAQ:AAPL) unprecedented success in the past 10 years. During this time, the biggest chunk of Apple's profits came from its iPhone product line, which has dominated the market for mobile phones over the past five years and pushed some previously dominant players such as Blackberry (NASDAQ:BBRY) to the brink of collapse. After being beaten down by Apple and Android phones for a long time, Blackberry finally launched a new model-the Z10-in January 2013 that excited the market and seemed to have brought hope back to die-hard Blackberry fans and shareholders. According to the management, this new version is a completely re-engineered, rejuvenated product that achieved many breakthroughs compared with its older siblings. Based on what we see in the specs for the phone, it is indeed quite impressive and superior to major competitors' top-line products overall.
Table 1 compares the smart phones from Blackberry and its major competitors Apple, Samsung (OTC:SSNLF), Nokia (NYSE:NOK), and HTC (2498.TW). From a purely technical standpoint, the Blackberry Z10 is at least as good as its major competitors' phones in most features, with the exception of internal storage capacity. Its processor speed, memory, and weight are the best or close to the best among all rival products.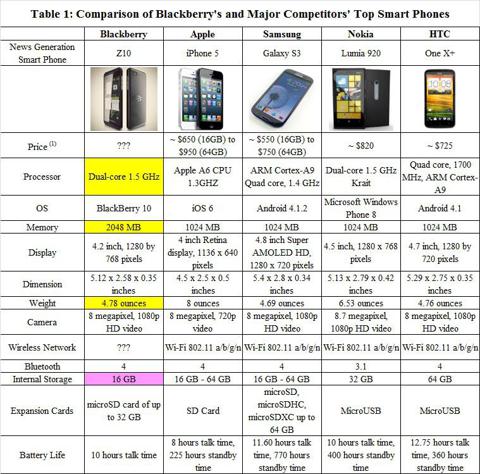 Click to enlarge
Notes:
1. Prices obtained from a quick search on Amazon.com and are only rough estimates.
2. Data source for Blackberry Z10: "How new BlackBerry 10 models stack up" on Miamiherald.com.
3. Data source for Apple iPhone5: iPhone page on Apple's website.
4. Data source for Samsung Galaxy S3: technical specification page of GSMAreana.com.
5. Data source for Nokia Lumia 920: technical specification page of GSMAreana.com.
6. Data source for HTC One X+: Phonearena.com HTC One X+ page.
The record launch-day numbers were three times higher in the United Kingdom and 50% better in Canada.
According to comScore's market share data, Blackberry's market share in the U.S. has been dropping steadily for the past five quarters, but in the second half of 2012, this drop seemed to have abated.
As shown in Table 2, the company's revenue dropped dramatically over the past year or so and turned from a net profit to a net loss at the beginning of 2012 (Q4 of fiscal 2012, ended March 3, 2013). Fortunately, the company has made cut many costs to quickly mitigate its operating loss. In fact, the company pushed its gross profit higher and finished above breakeven last quarter. After becoming slimmer, the company's net profit should swiftly shoot higher as its revenue increases. The Z10 might just be the magic fuel that gets the revenue engine buzzing again.
Table 2: Blackberry's Key Financials

($ millions)

Q1 2012

Q2 2012

Q3 2012

Q4 2012

Q1 2013

Q2 2013

Q3 2013

Revenue

4,908

4,168

5,166

4,193

2,814

2,873

2,272

Gross Profit

2,156

1,612

1,407

1,404

788

747

830

Operating Profit

897

407

330

-144

-643

-363

-230

Net Income

695

329

265

-125

-518

-235

9

Note: The company's fiscal year ends in the last week of February or the first week of March every year
Among all the promising signs for the Z10, one lingering concern-perhaps a big shortcoming-for the Blackberry compared to the iPhone and Android is its relatively small number of applications for users. According to an article published on the Android Authority website, Android phones have more than 10 times as many applications than Blackberry phones. One potential solution suggested by the author is for the Z10 to run Android applications in the future using an Android emulator. However, because this combination will inevitably result in a poorer performance, Blackberry will still lag the Android in terms of applications. Another way for Blackberry to change the competitive dynamics and stay one step ahead is to let its users run applications designed for all operating systems (iOS, Android, Windows, and others) in the Z10. Of course, developing such an emulator in-house is not easy. Fortunately, solutions have already been developed by some cutting-edge pioneers in SAAS (Software as a Service). For example, a Canadian company, Sphere3D (Toronto Stock Exchange Symbol: ANY), has developed two proprietary solutions-Frostcat for consumers and Glassware 2.0 for companies-that allow end users to use a wide array of applications on any hardware.
According to the official filing statement (the full PDF file can be downloaded from SEDAR) issued by Sphere3D on December 14, 2012, the company said: "Through Sphere 3D's Glassware 2.0 technology, end users can experience the full features and functionality of digital products on most devices, without the inherent time, space and compatibility issues of downloading software on to their systems."
On the surface, adopting such an SAAS solution does not appear to give an advantage to Blackberry because its competitors can do the same as well. However, since Blackberry now lags behind Apple and Android in this regard, simply leveling the battleground will mark a win for Blackberry. The same thing can be said for Windows phones. If Blackberry moves quickly to secure an exclusive strategic alliance with Sphere3D to ensure that its solution runs most efficiently on Blackberry phones, then Blackberry might obtain a competitive advantage.
The life-or-death battle between major smart phone makers is heating up again and now seems to be dragging cloud computing and SAAS worlds into it. Who will be the winner for the next 10 years? Time will tell.
Disclosure: I am long BBRY. I wrote this article myself, and it expresses my own opinions. I am not receiving compensation for it (other than from Seeking Alpha). I have no business relationship with any company whose stock is mentioned in this article.
Additional disclosure: I am also long Sphere3D (Toronto Stock Exchange Symbol: ANY). Maxsoar is a team of financial analysts specializing in emerging market stocks. This article was written by one of our analyst. Maxsoar did not receive compensation for this article (other than from Seeking Alpha), and we have no business relationship with any company whose stock is mentioned in this article. Use of MaxSoar Financial and Investments LLC's research is at your own risk. In no event should MaxSoar Financial and Investments LLC or any affiliated party be liable for any direct or indirect trading losses caused by any information in this report or on its website MaxSoar.com.