By Serkan Unal
PIMCO's CEO and Co-CIO, Mohamed A. El-Erian, coined the phrase "the new normal" in 2009 to describe the period of "sluggish growth, persistently high unemployment, and concerns about debt and deficits." At the time of his analysis, El-Erian concluded that the period would last between three and five years. Now, he believes the end to the "new normal" may be in sight. What this means for the U.S. and global economies is that the period of accelerated growth, robust employment gains, and leaner and growth-supportive debt levels may unfold soon, but its precise timing remains uncertain.
If El-Erian's prognosis proves correct, many companies will see better days ahead, with prospects for EPS growth improving. However, currently, there are only a few companies with sound fundamentals and buy-or-better analyst ratings that are forecasted to see accelerating, positive long-term EPS growth compared to the previous past five years on average. Looking at the universe of companies with dividend yields at or above 2.0%, trailing and forward P/Es below 15, long-term debt to equity under 50%, ROE at or above 15%, positive EPS growth over the past five years and accelerating long-term EPS growth, and analyst ratings of buy or better, four dividend companies stand out.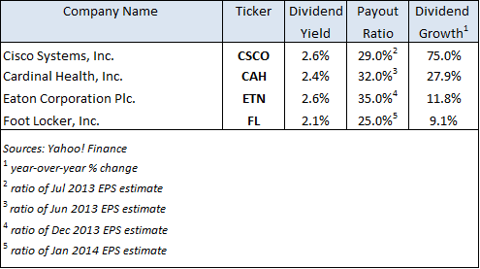 Cisco System (NASDAQ:CSCO), the global leader in data-networking equipment and software, is well positioned for growth in the rebounding economy. It boasts a strong balance sheet with almost 49% of total assets in cash and equivalents. Its ROE is 16.7% and its long-term debt to equity is 31%. The company boasts a free cash flow yield of 7.6% and trailing and forward P/Es of 11.1x and 10.6x, respectively. Cisco Systems has a long-term annualized EPS CAGR estimate of 8.4%, some 71% better than the average annualized rate of EPS growth over the past five years. Given the attractive valuation and growth expectations, the stock is both a value and growth play. The company is also well positioned for dividend growth, given its large cash hoard and expected acceleration in the EPS growth. Analysts are increasingly more upbeat about Cisco's outlook, based on an improving demand environment. Some analysts expect CSCO to report at least in line with the earlier guidance of 3.5% to 5.5% revenue growth, with a potential beat on the outlook for the next quarter. In the long-run, among other things, the company stands to capitalize on the robust growth in mobile data traffic. Billionaire Ken Fisher reported owning more than $652 million in CSCO at the end of the fourth quarter of 2012, a 12% cut from the prior quarter.
Cardinal Health (NYSE:CAH), a wholesaler of drugs and medical supplies, is expected to grow its EPS, on average, by 10.5% annually for the next five years. This compares to an average annualized EPS growth rate of 8.6% over the past five years. The company beat analyst expectations on both top and bottom lines, with quarterly earnings rising 16% over the same period last year. Sales of generic medications were especially robust, which, given their lower unit selling prices, has adversely affected revenues, but due to generics' higher margins has propped up profits. The demographic trends, the transition to more generics, and the generally steady pharmaceutical demand with the company's oligopolistic position in the drug distribution market bode well for the Cardinal Health's sustained profitability in the future. The company sees 2013 adjusted EPS from continuing operations at between $3.42 and $3.50, compared to analyst projections of $3.45 a share. CAH has a ROE of 18.4% and a long-term debt to equity of 38%. Its trailing and forward P/Es are 13.3x and 12.6x, respectively, both below industry multiples. The stock is a good value and income play, and it boasts excellent prospects for robust dividend growth in the future. Fund manager Andreas Halvorsen (Viking Global) owned $202 million in CAH stock at the end of 2012's third quarter.
Eaton Corporation Plc. (NYSE:ETN), a producer of power management, hydraulic systems and aerospace components, is forecasted to grow its EPS by 9.3% per year for the next five years, 53% better than over the past five years. In 2013, the company expects that its revenues will rise 42%, driven by accretive acquisitions completed in 2012, including that of Cooper Industries. Operating earnings are expected to set a new record this year. Based on the midpoint of the company's 2013 guidance, they will rise 8%. Especially strong is the company's electrical business. The rebounding economic growth bodes well for the company's prospects. Especially beneficial to future growth will be emerging market expansion, datacenter upgrades, and a construction industry rebound. Aside from being a growth play, the stock is also attractive on valuation. Its trailing and forward P/Es are 14.9x and 13.5x, respectively, both below industry multiples. However, the stock's price-to-book of 3.3 is higher than the industry average and the company's five-year average ratio. Eaton Corporation has a ROE of 17.6% and a long-term debt to equity of 45%. In the third quarter of 2012, the stock was popular with John A. Levin (Levin Capital Strategies) and billionaire Ken Griffin (Citadel Investment Group).
Foot Locker, Inc. (NYSE:FL), a footwear retailer, is expected to boost its EPS at an average annual rate of 12.1% for the next five years. That rate of EPS growth compares to a meager 2.7% per year achieved over the past five years. The company is positioned as a market leader in basketball shoes retailing, in which demand is robust. Analysts also believe that the company can benefit from a "renewed focus on women's performance apparel" and that "unit growth potential exists in Europe." NPD Group reports that overall U.S. athletic footwear sales grew 4% in 2012, driven by double-digit growth in basketball and cross-training shoes. NPD Group expects that "pricing will likely be a tailwind for the industry, as consumers continue to buy new products that feature neon colors, new technology or even a retro look." Foot Locker has been successful in passing on higher prices to consumers. In addition to being attractive on growth, the stock is also a value play. Its ROE is 17% and its long-term debt to equity is a mere 6%. The company's trailing and forward P/Es are 14.6x and 12.5x, respectively, both below industry multiples. In the third quarter of 2012, Ken Griffin slashed his position in FL by 55% to almost $71 million, while Cliff Asness boosted his stake by 24% to more than $60 million.
Disclosure: I have no positions in any stocks mentioned, and no plans to initiate any positions within the next 72 hours.
Business relationship disclosure: Dividendinvestr is a team of analysts. This article was written by Serkan Unal, one of our writers. We did not receive compensation for this article (other than from Seeking Alpha), and we have no business relationship with any company whose stock is mentioned in this article.