By Serkan Unal
Investors in pursuit of undervalued stocks or those that have the potential to outperform the broader market should look into insider purchase transactions as sources of investment ideas. Insiders generally accumulate stock in their own company when they believe the prices of their holdings will appreciate in the future. Mimicking insider purchases as a strategy has proven to be effective in generating alpha over time. The following is a selection of dividend-paying stocks with yields above 2.0% that have had notable insider buying over the past week. These stocks may serve as a starting point in investment research for investors interested in pursuing the strategy based on insider acquisitions.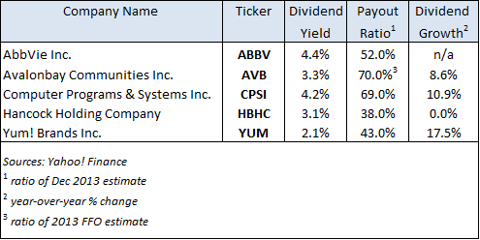 AbbVie Inc. (NYSE:ABBV), the recent spin-off from Abbot Laboratories (NYSE:ABT), is a high-yielding S&P Dividend Aristocrat. The company is a research-focused pharmaceutical giant, which is expected to grow its EPS at a robust 15.1% annualized rate for the next five years. The lion's share of its 2012 sales came from a drug HUMIRA for the treatment of rheumatoid arthritis, psoriatic arthritis, and ankylosing spondylitis. HUMIRA sales are expected to grow in low single-digits in 2013, more muted than in previous years. The company's pipeline, including 10 programs in Phase III clinical trials, is expected to drive long-term growth, in particular in regard to treatments for Hepatitis C, relapsing remitting multiple sclerosis, endometriosis, multiple myeloma, and several new indications for HUMIRA. With a full-year 2013 EPS guidance of between $3.03 and $3.13, versus the consensus estimate of $3.10, AbbVie Inc. is trading at 11.8x forward earnings, a small discount to the pharmaceuticals industry's earnings multiple of 12.2x.
On February 4, one of the company's directors, Frederick Waddell, purchased 2,000 shares of ABBV at an average price of $37.05 per share. The stock is currently trading at $36.25 per share. At the end of the third quarter of 2012, Mason Hawkins (Southeastern Asset Management) held nearly 8 million shares of Abbot Laboratories Inc.

Avalonbay Communities Inc. (NYSE:AVB), an apartment REIT, has greatly benefited in recent years from low mortgage rates, market tightness, and the shift to rental housing from home ownership. Its funds from operations (FFO) per share in the fourth quarter of 2012 rose 6.7% to $1.27 from the year earlier. The performance was adversely affected by the rising costs associated with the Archstone Enterprises acquisition and Hurricane Sandy. Adjusted FFO per share rose 15.9% and 18.5% year-over-year in the fourth quarter and the year as a whole, respectively. However, the REIT's guidance was weak, with the first-quarter 2013 FFO projected at a loss between $0.62 and $0.66 per share, due to Archstone acquisition costs. Despite its projected same-store rental revenue growth of between 3.5% and 5.0% and same-store NOI growth of between 4.0% and 5.5% in 2013, its full-year FFO per share is expected at between $4.11 and $4.47 per share, down from $5.32 per share in 2012. Analysts had projected the 2013 FFO per share of $6.20. While rents are expected to rise 3.6% this year, according to Axiometrics Inc., and to continue growing through 2017, a rebounding housing market and increased supply will dampen the rental demand and rent growth later in the decade. Still, faster job growth should bode well for the apartment demand.
In a vote of confidence in the REIT's long-term outlook, on February 5, one of the company's directors, Jay H. Sarles, purchased 1,000 AVB units at an average price of $125.12 per unit. The REIT units are currently trading at $128.84 a unit. In the third quarter of 2012, AVB was also popular with fund manager Jeffrey Furber of AEW Capital Management.
Computer Programs & Systems Inc. (NASDAQ:CPSI), a provider of computerized IT systems to small and midsize U.S. hospitals, has been boosting shareholder value through regular dividend increases and special cash payouts. We recently wrote about the company after it raised its dividend payout by 10.9%. Even though the company's shares appear pricey relative to its respective industry, even after the price plunge following the weak past-quarter performance and outlook, the company saw strong insider purchasing activity last week.
Giving the vote of confidence in CPSI's long-term prospects, three corporate insiders, including the company's CEO, CFO and a Senior Vice President, purchased a total of 11,800 CPSI shares at an average price of $47.53 per share. The stock is currently trading at $48.92 per share. RenTech's Jim Simons reported a small stake in the company, which he trimmed in the third quarter of 2012. In the same quarter, hedge fund managers James E. Flynn (Deerfield Management) and Jeffrey Vinik (Vinik Asset Managemen) established small positions in CPSI.
Hancock Holding Company (NASDAQ:HBHC), a financial holding company providing banking services, missed analyst earnings estimates in the previous quarter and full year 2012, despite an increase in total revenues and operating income per share. The bank's loan quality deteriorated as provisions for loan losses surged from $8.1 million in the third quarter to $28.1 million in the fourth quarter of 2012. Despite improvements in revenue growth and capital coverage ratios, the rising operating expenses and rising loan loss provisions are reasons for concern. The bank's return on equity of 6.3% is lower than that of its respective industry. The bank's shares dived following the earnings report and the downgrade from Keefe Bruyette based on its higher estimate of 2013 loan loss provisions. The stock is currently trading nearly 11% below its price level a year ago. At that level, the bank is valued at a 10% premium to its book value. However, its price-to-book is well below the five-year average ratio of 1.6. Add to this a sustainable dividend yield of 3.1%, and the bank starts looking like a value play.
On February 8, one of the company's directors, Terence Hall, purchased 11,000 shares of HBHC at a price of $30.56 per share. His total holdings of the stock are now 15,501 shares. The stock is currently trading at $30.77 per share. Renowned value investor David Dreman's Dreman Value Management held nearly $31 million in the stock at the end of the third quarter of 2012.
Yum Brands Inc. (NYSE:YUM), the owner of popular restaurant brands such as KFC, Taco Bell and Pizza Hut, has been in trouble recently due to a food safety scare and investigation in China. The reports of excessive antibiotics and hormones found in its chicken supply have driven customers away from its restaurants in China, causing same-store sales to fall 6.0% in the fourth quarter of 2012. The company expects a 25% plunge in same-store sales in the first quarter of 2013. As a result, the overall 2013 EPS will see a mid single-digit year-over-year decline. Still, the company remains committed to expanding in the Chinese market, planning to open 700 new restaurants in 2013 alone. The stock is trading down more than 12% from the end of November 2012. It has a trailing P/E of 20.1x, below its respective industry, while its long-term EPS CAGR is forecasted at a robust 12.5%. Once the company restores high standards of food safety and resolves its current publicity troubles, it will be well positioned to continue benefiting from its leadership position and growth in the fast-food restaurant market in China. Chinese sales account for more than half of Yum Brands' total revenues.
One of the company's directors, Robert Walter, has confidence in YUM's long-term prospects. On February 6, he acquired in the open market some 35,000 shares of YUM at an average price of $61.94 per share. The company's stock is currently trading at $65.30 a share. Prior to the food safety scare, the stock was popular with Columbus Circe Investors and Steven Cohen's SAC Capital Advisors.
Disclosure: I have no positions in any stocks mentioned, and no plans to initiate any positions within the next 72 hours.
Business relationship disclosure: Dividendinvestr is a team of analysts. This article was written by Serkan Unal, one of our writers. We did not receive compensation for this article (other than from Seeking Alpha), and we have no business relationship with any company whose stock is mentioned in this article.