Alcatel-Lucent (ALU) closed the final quarter of the year by cutting costs better than forecast. The stock is up 65% since averting $1 late last year, closing recently at $1.65. Alcatel-Lucent is performing better than its competitors, including Cisco Systems (NASDAQ:CSCO) and Ericsson (NASDAQ:ERIC). Bullish speculation may be at play ever since shares bottomed: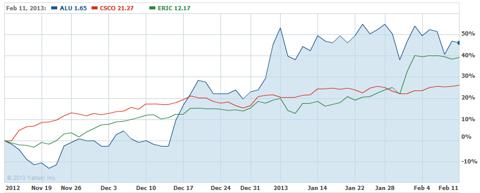 Click to enlarge
Chart Source: Yahoo Finance
Alcatel-Lucent is the smallest player in terms of market cap, but still ended the fiscal year losing money:
| | | | |
| --- | --- | --- | --- |
| | Alcatel-Lucent | Cisco | Ericsson |
| Market Cap: | 3.74B | 112.93B | 39.19B |
| Employees: | 76,002 | 66,639 | 110,255 |
| Qtrly Rev Growth (yoy): | -0.03 | 0.06 | 0.05 |
| Revenue (NYSE:TTM): | 18.77B | 46.68B | 34.20B |
| Gross Margin : | 0.31 | 0.61 | 0.33 |
| EBITDA : | 907.58M | 13.23B | 3.95B |
| Operating Margin : | 0 | 0.23 | 0.08 |
| Net Income : | -192.91M | 8.36B | 866.98M |
| EPS : | 0.49 | 1.55 | 0.27 |
| P/E : | 3.34 | 13.72 | 45.58 |
| PEG (5 yr expected): | 0.48 | 1.29 | 0.55 |
| P/S : | 0.2 | 2.41 | 1.14 |
Data Source: Yahoo Finance
In 2013, traders tried on numerous occasions to take the share price above $1.75. There are four factors that will dictate the value of the company this year.
1) Financials are Improving
Alcatel-Lucent generated EUR 355 million ($477.4 million U.S.) in free cash flow in its final quarter (Q4/2012). Although this was not enough to reverse the negative cash flow for the year, cost reductions helped lower the risk profile of the company. The company said it will reduce costs by an additional EUR 715 million ($961.6 million U.S.).
For the year, Alcatel-Lucent lost EUR 1.4 billion ($1.88 billion), due entirely to a non-cash impairment charge. EUR 900 million ($1.21 billion) of the impairment came from goodwill and intangibles. Without the impairment, the company would have earned EUR 36 million ($48.42 million) on revenue growth of 13.8% (quarter over quarter).
Inventory declined EUR 221 million. The company adjusted for the weakness in Asia-Pacific and in Europe, while increasing inventory in the Americas. Alcatel-Lucent anticipates deploying new networks for customers in the latter region.
The company ended 2012 with EUR 4.9 billion in cash and marketable securities.
2) Legacy Business Being Replaced…Slowly
The legacy wireline business decline is not being compensated quickly enough by LTE or 4G. In the United States, CDMA LTA shifted much more quickly than expected earlier last year. So long as margins remain under pressure, upside in shares will be limited.
Investors will need to continue to wait for a pickup in demand for LTE, especially in China. The company initially forecast new sales for GSM to begin in China, only to find deals delayed. For forecasting purposes, investors should continue to assume margin pressure will continue in China and in Europe. In Europe, business declined 13% in the quarter, and 17% for the year.
The transition of legacy technology will impact the product mix, which in turn will impact margins.
3) Weak Segments Fared Worse
Optics declined 23% in revenue, due mostly to submarine, which was down 37% in the quarter. Management believes new contract wins and a larger backlog signals an improvement in this segment.
4) Two Strong Segments
First, the network division generated EUR 185 million in the quarter, and nearly EUR 750 million for the year. The strength in wireless should be expected to continue in 2013.
Second, service profits of EUR 230 million (EUR 79 million per quarter) was due to better professional services and a growth in maintenance.
Conclusion
Alcatel-Lucent broke-free of the $1 range, returning to levels not seen since July 2012. For shares to reach the $2- to $4-level, macroeconomic conditions must be positive. The company now has a more solid balance sheet than it had just a few months ago. The company successfully sold bonds, raising EUR 2 billion and further improving liquidity. Nokia (NYSE:NOK) and Siemens (SI) are both keen to end their telecom equipment joint-venture. A partnership or partial ownership of Nokia Siemens Network ("NSN") could be a strategic fit for Alcatel-Lucent. The ownership would make good use of cash, generate positive cash flow, and would be good for shareholders.
Disclosure: I am long ALU. I wrote this article myself, and it expresses my own opinions. I am not receiving compensation for it (other than from Seeking Alpha). I have no business relationship with any company whose stock is mentioned in this article.