Being a Facebook (NASDAQ:FB) shareholder since its IPO in May of last year has involved dealing with more ups and downs than going on some of the rides at Knott's Berry Farm. I was a skeptic of Facebook's valuation prior to the company going public. After its debacle of an IPO the stock plunged from its debut price of $38 a share to $19 a share four months later. The stock then staged a rally on better results from its mobile strategy and as its CEO started to directly address shareholder concerns to recover most of its losses and climbed back to $32.50 a share in January. However, in the last few weeks the stock has seemed to lose its momentum and seems destined to go lower in the near term.
Recent negative mentions, catalysts and comments:
Consensus earnings estimates for FY2013 and FY2014 have dropped significantly over the past month.
Bernstein

cut

its rating from Market Perform from Outperform Monday calling the company's North American ad revenue growth anemic.
BTIG followed suit by lowering its rating from a "Neutral" to a "S

ell," low

ering its price target to a sell. It cited the company's increasing costs as one reason behind the rating change.
4 reasons Facebook is overvalued at $28 a share:
Earnings per share (2012): 53 cents a share. Projected earnings per share for 2013: 57 cents a share
Insiders have sold almost $50mm in the stock so far in February alone.
The stock sells at over 13x trailing revenues and revenue growth is projected to slow to just over 30% in FY2013 and then to around 25% in FY2014.
The company is still run by a under 30 year old with minimal experience running a large organization and the stock just crossed under its 50 day moving average (s

ee chart

).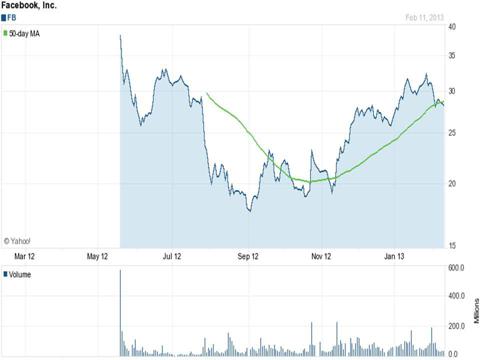 Disclosure: I have no positions in any stocks mentioned, and no plans to initiate any positions within the next 72 hours. I wrote this article myself, and it expresses my own opinions. I am not receiving compensation for it (other than from Seeking Alpha). I have no business relationship with any company whose stock is mentioned in this article.