By: Todd M.
Summary
Equinix (NASDAQ:EQIX) is set to report fourth quarter 2012 results after the closing bell on Wednesday, February 13. Results are typically disclosed at 4:01 p.m. EST, with a conference call at 5:30 p.m. EST. Equinix is a global enterprise interconnection and data center company.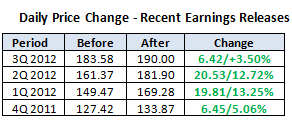 Outliers And Strategy
Earnings Per Share: The consensus estimate for EPS is $0.61, with a particularly wide range of $0.39 to $0.98, suggesting that the upcoming release will surprise at least some analysts. (Source:

Yahoo

Fina

nce). Equin

ix has beaten the Street's estimates five out of the last eight quarters.
Revenues: Analysts see revenues results coming in at $504.57 mln, with a range of $493 mln to $513.04 mln. Revenues have beat estimates six out of the past eight quarters.
Revenues Guidance: Equinix typically reports guidance for the next quarter and the fiscal year.
1Q2013: Analysts are expecting guidance for 1Q2013 of $524.86 mln, with a range of $516.62 mln to $536.5 mln. Equinix typically reports next quarter revenues guidance as a range.
FY2013: In the 3Q2012 release, Equinix gave preliminary guidance for FY2013 of greater than $2.20 bln.

Analyst

s estimates are looking for guidance of $2.22 bln, with a range of $2.20 bln to $2.26 bln. Equinix typically provides this value as a minimum target, such as the aforementioned $2.20bln.
Ratios: Equinix boasts a high forward P/E multiple of 66.44, and a PEG ratio of 3.52, suggesting very high expectations for growth.
Recent News
01/29: According to a post on Benzinga.com, Citigroup downgraded Equinix from Buy to Neutral, while raising the price target from $220 to $240. The firm cited downward adjustments to the AFFO per share (Adjusted Funds From Operations - a performance measure that is used to value REITs). This sent shares down $6.24, or -2.80%.
01/23: Nasdaq OMX has selected Equinix to host a new market in London, which offers interest rate derivative products.
12/20: Equinix issued a press release stating that the firm is seeing a "rapid increase in stock exchanges extending their customer access models by placing electronic access nodes in foreign markets."
12/10: According to a post on Benzinga.com, Piper Jaffray has reiterated its Overweight rating on Equinix, with a price target of $225. The firm cites a positive secular trend in outsourced IT, the conversion to a REIT, and favorable supply/demand trends.
09/13: Equinix's board approved a plan to convert to a REIT. This has been a major positive catalyst since the announcement.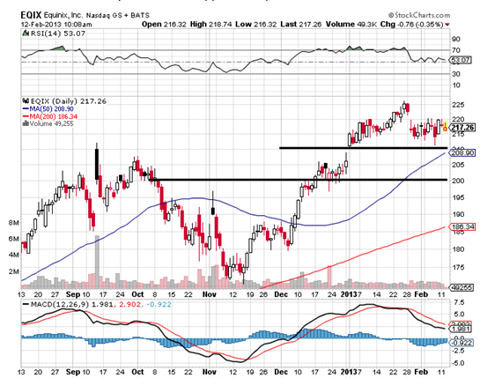 Technical Review
Equinix has posted a solid quarter, climbing 26.10%. The consolidation around $215 indicates that the market is waiting for 4Q results to break one way or the other. If earnings surprise to the upside, look for initial resistance at the former 52-week high of $226.34. If earnings disappoint, support can be found around $210, which is the low of a gap-up from late December and corresponds with the 50-day SMA, followed by $200 (chart courtesy of StockCharts.com).
Summary
Equinix is currently in a period of quality growth. Favorable business conditions in the IT industry, an improving economy, and the pending conversion to a REIT have all been positives for the stock. Tight consolidation in the share's price, along with a wide range in estimates, indicates that Equinix could make a pronounced move after 4Q2012 results are released.
DISCLAIMER: By using this report, you acknowledge that Selerity, Inc. is in no way liable for losses or gains arising out of commentary, analysis and or data in this report. Your investment decisions and recommendations are made entirely at your discretion. Selerity does not own securities in companies that they write about, is not an investment adviser, and the content contained herein is not an endorsement to buy or sell any securities. No content published as part of this report constitutes a recommendation that any particular investment, security, portfolio of securities, transaction or investment strategy is suitable for any specific person.
Disclosure: I have no positions in any stocks mentioned, and no plans to initiate any positions within the next 72 hours. I wrote this article myself, and it expresses my own opinions. I am not receiving compensation for it (other than from Seeking Alpha). I have no business relationship with any company whose stock is mentioned in this article.