With many people recently wondering whether (NASDAQ:ZNGA) would survive, it is now clear to investors that they are indeed heading in a positive direction. With ZNGA recently experiencing 5 green days in a row for the first time in over a year, and with the stock price recently rising by 40% over the past few days, I figure it is now time to revisit it. Details of my last article can be found here.
Updates from Q4 earnings
Zynga's COO stated, "We remain on track to deliver our first real money gaming products in the U.K. in the first half of 2013. We'll be rolling out these products in multiple phases across a range of platforms in the U.K., namely via web, download and Facebook."
Zynga posted a full year net loss of $209 million and adjusted EBITDA of $213 million.
Zynga's full year 2012 revenue was $1.28 billion, up 12% year-over-year, and bookings of $1.15 billion, down 1% year- over-year.
Zynga's reported Q4 GAAP EPS of ($0.06) and non-GAAP EPS of $0.01.
Zynga reported they bought back $12 million in stock at an average price of $2.36.
General updates on Zynga
Zynga still has an extremely strong balance sheet as I detailed in my last article, and as the COO stated, real money gambling is full steam ahead and expected to be launched the first half of 2013.
I forgot to detail in my last article that they had hired Maytal Olsha, former 888 Holdings Senior Vice President. This helps to ensure the transition and entrance into online gambling will be a success.
It was recently announced that their hit game Farmville is being made into a television show, which will help expand the brand name. It will also help bring in a new fan base and audience to their games.
What has helped Zynga's stock take off in the last week is a recent law, conditionally passed by New Jersey's Governor, Chris Christie, to allow online gambling in the state of New Jersey.
Zynga's buyback is one of the few successful buybacks that have been completed in recent times. Zynga knew the stock was undervalued and while they did not spend nearly all of the $200 million allocated, it can be viewed as a start.
Technical Analysis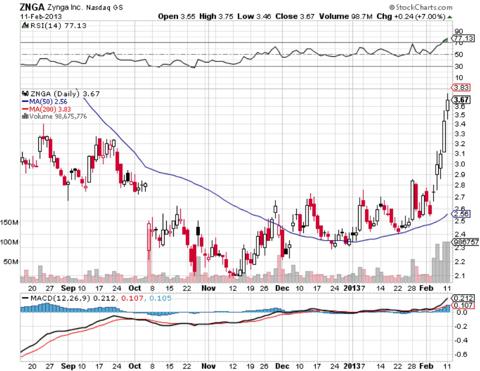 Zynga's next resistance lies at the 200 day MA of $3.83.
RSI indicator is reading 77.13, indicating Zynga has entered over-bought territory.

Zynga has

had extremely large volume over the past 4-5 days since the release of their earnings, and has already broken a few key resistance levels.
My Stance And Conclusions
I have sold off my position today at 3.70, and for those of you who entered into Zynga back when I posted the article are currently up just over 50% since January 24th.
If you plan to hold this stock long-term, you should continue to do so, but I am predicting a modest pullback in the coming week. For those of you who are short-term traders, I would suggest taking your profits and waiting for a better re-entry point.
While Zynga's performance in Q4 was average, the future looks bright and with all the positive news and the future starting to

line up

I

continue to remain bullish on ZNGA in the long term.
The potential in social gambling is a game changer and it is on the right track to becoming a success.
Disclosure: I have no positions in any stocks mentioned, but may initiate a long position in ZNGA over the next 72 hours. I wrote this article myself, and it expresses my own opinions. I am not receiving compensation for it (other than from Seeking Alpha). I have no business relationship with any company whose stock is mentioned in this article.