Stocks of auto rental companies such as Avis Budget Group Inc. (NASDAQ:CAR) and Hertz Global Holdings Inc. (NYSE:HTZ) have done very well in the last six months. Financial performance of private auto rental firms such as Enterprise Holdings is also on the rise. In addition, the auto rental industry is witnessing major consolidation with an uptick in merger activity in the recent past, most noteworthy being Hertz's acquisition of Dollar Thrifty and Avis Budget's acquisition of Avis Europe and Zipcar. The comparative stock performance of the two biggest publicly listed firms in this industry, Avis Budget and Hertz, can be seen in the below chart.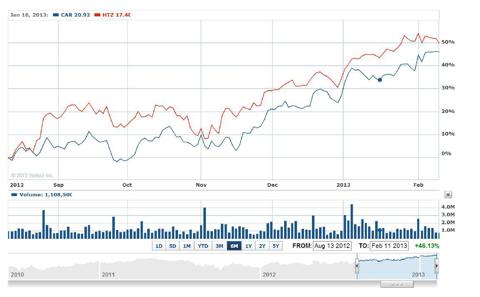 Positive Trends In The Industry
Hitherto, the market for the auto rental industry was mostly limited to tourists traveling out of their home cities who needed a vehicle to get around the new city. However, the pie is getting bigger for the industry as firms are beginning to challenge the institution of individual car ownership. The favorable trends in the industry are not surprising given a myriad of factors plaguing individual car ownership in most of the developed world. Car ownership in USA and Europe (especially in urban centers) has been in continuous decline and the trend is expected to continue. Substituting individual car ownership with more environmentally sustainable modes is not only great news for tree huggers but also bodes well for an average American household which spends almost one fifth of its income on transportation. Cost of insurance, gas, parking, maintenance and debt service stack up and translate into significant cash outlay for families. Unfortunately, this transformation has so far been limited to urban centers with reliable and safe mass transit infrastructures. Nevertheless, I expect the market for rental car companies to continue growing.
Another positive development for the industry has been strengthening of the used car market in the past couple of years. Since rental firms typically sell the older cars in their fleet to free up capital, the strengthening of this market has been helping the bottom lines of rental firms.
Major Players
I consider Avis, Hertz and Enterprise to be the major players in this industry. Although there are some other smaller firms which are active on a regional level, my analysis is limited to Avis and Hertz as they are the only two major publicly listed firms. Zipcar (ZIP), which according to me was a truly disruptive business model for both car ownership and car rentals, interested me the most in this industry. However, since AVIS is all set to acquire ZIP, and that I have sold all my ZIP shares, I am going to limit discussion on ZIP as a subsidiary of Avis.
The following is a comparable analysis of Hertz and Avis.

The following is a historical analysis of key statistics of the two firms.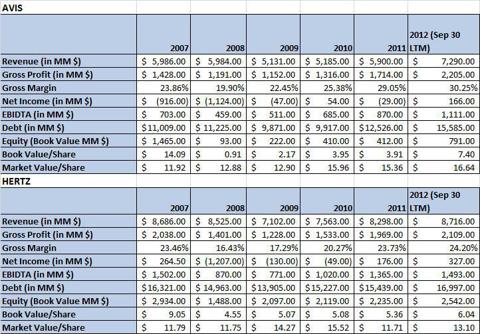 It is evident from the above numbers that AVIS is beginning to outperform Hertz after being dominated for a long time. AVIS was a laggard in the industry and was poorly run till recently. Its book value of equity had almost disappeared after a massive write down of a non core business. However, the firm has been experiencing a turnaround and through its smart acquisitions and nimble business model, is beginning to look like the leader of the industry. My compliments go to the management for executing the new business strategy with precision.
Higher Margin
What I like most about AVIS is its ability to generate much higher margin compared to its peers. Higher margin can be attributed to a number of factors but it's mostly due to AVIS's more nimble business model. As per the latest 10K, Avis generated almost one third of its total revenue from licensees. Royalties provided by licensee is a higher margin revenue stream because of significantly lesser fixed capital investment required. Licensed locations now represent more than 60% of AVIS's total locations. This has been possible due to Avis Europe's acquisition by Avis Budget group. Also, rental margins tend to be higher in Europe and now that Avis has gained significant footprint in Europe, margins should continue to be higher compared to peers.
Zipcar's acquisition should guide AVIS's margin further north as the former's margin has been constantly rising thanks to its extensive use of technology. Moreover, AVIS expects to realize annual synergies of $50-$70 million for a bargain price of $500 million.
Service & Pricing
As a frequent customer of these auto rental firms, I do not find much difference in the service of Avis or Hertz. Neither has an edge over the other on fleet of cars, rental locations or ease of returning. Nevertheless, I find the pricing of Avis to be on the higher side (based on searches on websites such as Kayak and Expedia) and although I get a discounted corporate rate from Avis, it is still comparable to Hertz's no discount price. I also do not see many promotions coming out from Avis, meaning they are able to find sufficient customers at their present higher pricing which is a good thing.
Leverage
AVIS's leverage is comparable to its peers. The leverage of auto rental companies tends to be high given the capital intensive nature of the business. Firms mostly used asset based loans to finance their fleet. The credit metrics of both Hertz and Avis have slightly deteriorated due to massive acquisitions. Hertz acquired Dollar Thrifty for $2.3 billion whereas Avis paid $1 billion for Avis Europe and will pay $500 million for Zipcar. Nevertheless, both Hertz and Avis have sufficient liquidity as the source of cash exceeds the use of cash in the medium term. The firms should now focus on realizing synergies from completed acquisitions rather than continue piling on debt to execute further mergers.
Valuation
So now that the AVIS stock has rallied more than 50% in the last six months and is trading close to its all time high in the neighborhood of $23, is it a good time to invest? To answer this, I have run a DCF analysis for Avis Budget group assuming completed acquisition of Zipcar. My revenue growth projections are slightly higher than historic growth given the growing market for rental cars. However, my other projections are fairly conservative.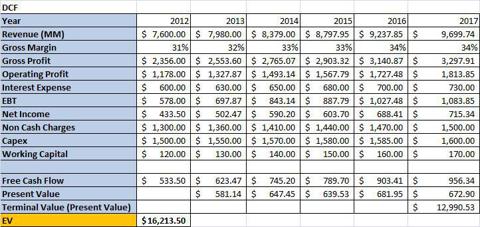 The DCF yields the market value of equity in the vicinity of $4.9 billion which translates to a stock price of $45 which is approximately double the present stock price.
Upcoming Earnings
Avis is releasing its fourth quarter and full year earnings on 14th of February. The consensus estimate for full year EPS is $2.41 and loss of $0.08 per share for the fourth quarter. The full year estimate is pretty much the last 12 months' numbers as of Sep 30th 2012. Although fourth quarter is usually tough for the rental firms, I will stick my neck out and forecast a positive earning surprise (Both for fourth quarter and full year). If that happens, expect a temporary surge in the stock price due to short covering given the massive short interest in AVIS which is six times the average trading volume. I will also be keenly waiting for Zipcar's numbers coming out on 15th February. I am particularly interested in their subscriber growth and their margins.
Conclusion
To sum up, the rental car industry is expected to experience significant growth in the medium to long term. Both Hertz and Avis are well positioned to capitalize on these favourable trends in the industry and you can't go wrong with either. However, my money is on AVIS as I anticipate that AVIS will outperform its peers and will gain the most from these favourable trends.
Disclosure: I am long CAR. I wrote this article myself, and it expresses my own opinions. I am not receiving compensation for it (other than from Seeking Alpha). I have no business relationship with any company whose stock is mentioned in this article.