On November 28, 2012, Brigus Gold (BRD) reported on some impressive drill results on their Grey Fox property in a zone called the 147 Zone. These drill results were backed up in January 2013 with another announcement summarizing more high-grade drill results for the same zone including one assay of 67.4m core length at 3.4 g/t gold. The 147 Zone is one of three zones forming the Grey Fox Project with the other two called Grey Fox South Zone and Contact Zone.
Brigus Gold is a junior gold producer in the Canadian Timmins area that has successfully ramped up the Black Fox mine in the past two years. It is targeting strongly increased production in the next two years which will be supported by expanding production at Black Fox to 100,000 oz. in 2013 and by starting development of its second mine, the Grey Fox mine in 2014. More details on Brigus Gold and its strategy for mid-term growth can be found in this recent article.
The latest resource statement for the Grey Fox project was released in September 2012 and did not include the drill results referenced above. This resource statement reported 572,000 oz. of gold with over 80% of the resource in the indicated category. A substantial portion of the resource has been located close enough to surface to allow for the possibility of an open starter pit. A feasibility study is earmarked for later in 2013 and the resource can be expected to grow substantially considering recent drill results.
Let us now introduce another junior gold mining company.
St. Andrew Goldfields (OTCQX:STADF) operates three mines (Holloway, Holt and Hislop) and one mill at the Holt mine in the same general neighbourhood, the Canadian Timmins region. The total production for 2013 is forecast at 100,000 oz. of gold. St. Andrews Goldfields is aiming at growing its production by bringing its Taylor mine online in 2014, contributing additional 41,000 ounces per year to the company's total gold output.
On December 10 2012, St. Andrew Goldfields released a report on a drilling campaign just to the North of its Hislop mine. The best result in this announcement comes from drill hole H12-029 where a core length of 24m at 10.2 g/t was recorded. When checking the map below one realises that this drill hole is situated less than 200m from the property boundary, with Brigus Gold's Grey Fox project situated immediately across the fence. In fact, when looking at St. Andrew Goldfields' drill hole locations one can't help but notice hole number H12-004, which was reported on a little earlier in 2012 with 7.1 g/t over 2.9m. This hole is literally less than a stone's throw away from Brigus Gold's South Grey Fox Zone.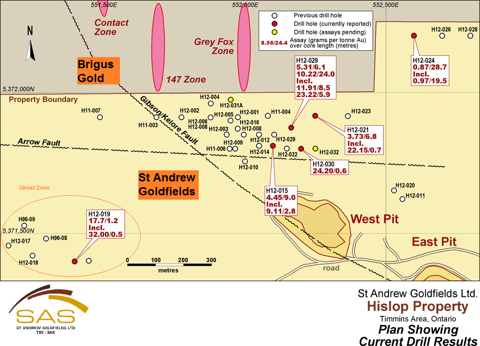 Click to enlarge
(Click to enlarge)
Another striking feature of the map displayed above is the proximity of St. Andrew Goldfields' Hislop mine with the West Pit located only about 500m from the same property boundary, and promising drill results extending practically all the way between the existing pit and Brigus Gold's Grey Fox project. And it does not stop there. About 500m to the west of the same pit lies the Ghost Zone that is currently drilled out by St. Andrews Goldfields. This zone continues to return high-grade assays at depth promising possible underground extensions to the existing Hislop mine.
The Hislop mine currently contributes about 25% of St. Andrew Goldfields' total gold production. The ore from this mine is trucked to the Holt mill about 40km to the East.
Brigus Gold's operating Black Fox mine is situated four kilometers to the north of the Grey Fox project. Brigus Gold trucks its ore 40km to the West where its mill is located.
As it happens, St. Andrew Goldfields next mine, the Taylor mine, is situated in close proximity to Brigus Gold's mill, but almost 80km away from its own mill.
The map below illustrates the geography of the two companies.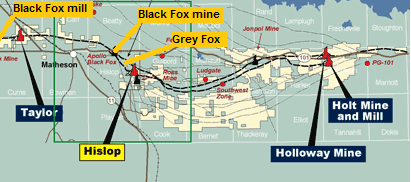 '
'
'
'
'
'
'
'
Talk about possible synergies:
A combination of the Hislop and Grey Fox mine would almost certainly show some impressive economics beating the two stand-alone scenarios hands down.
St. Andrew Goldfield's Taylor mine is situated next door to Brigus Gold's existing mill, while

St. Andrew Goldfield's mill is 80km away.

Brigus Gold's own Black Fox mine is situated only four kilometers from the Grey Fox project.
Are the two management teams talking to each other trying to find ways to exploit these potential synergies in the interest of both companies? Shareholders would presumably very much hope so!
With St. Andrew Goldfields working towards bringing the Taylor mine online and Brigus Gold working on the feasibility study of the Grey Fox mine a window of opportunity might be opening up for both companies and astute investors.
We will continue to pay attention.
Disclosure: I have no positions in any stocks mentioned, and no plans to initiate any positions within the next 72 hours. I wrote this article myself, and it expresses my own opinions. I am not receiving compensation for it (other than from Seeking Alpha). I have no business relationship with any company whose stock is mentioned in this article.