The market is now into the seventh week of trading in 2013, and it seems to be nothing but profits for those who have been long equities. In fact, equities posted such large gains that the Credit Suisse research team put out a research note that highlighted two very interesting facts:
U.S. equities rose 5% in January, and 92% of the time in which equities gained 4% or more in January, they have risen for the rest of the year. The only exception to this was in 1987, when equities rose 23% before the August sell-off. The average rise in equities during the years of gains is an astounding 12.7%.
A sector which continued to outperform in January where outflows or rotation do not come into play outperforms 83% of the time. This would imply sectors such as financials, semis, media, and pharmaceuticals would outperform sectors such as energy, tech, and metals.
Reading this note gave me pause. Are our markets and underlying fundamentals so good right now we are heading for S&P 1600+ and DOW 15,000? A chartist or technical trader would most certainly say yes, and history also helps to back this theory. This article is dedicated to looking at the market on several separate metrics. I feel Valuation, Volatility, Technical Analysis, and Earnings guidance are all key points in understanding where and how to invest.
Valuation:
From a valuation standpoint, the majority of S&P 500 stocks are within normal ranges of +/- 1 standard deviation of historical norms. If you turn on CNBC, it seems every analyst is saying just how cheap stocks are compared to the historical prices. However, this does not make sense to me in most cases, as the 12-month forward looking P/E of the S&P 500 currently sits at 13.7 versus a five year average of 12.8. This is below the 10-year average of 14.2, but must be put in perspective vis-a-vis of currency weakness in terms of the USD. Yes, there definately are some cheap stocks out there, but to make the blanket statement that the market is cheap just seems crazy to me. Take a look at the chart below depicting forward 12 month P/E ratios of sectors across the board. As you can see, Telecom Services, Utilities, and Consumer Staples are all far from cheap from a valuation standpoint.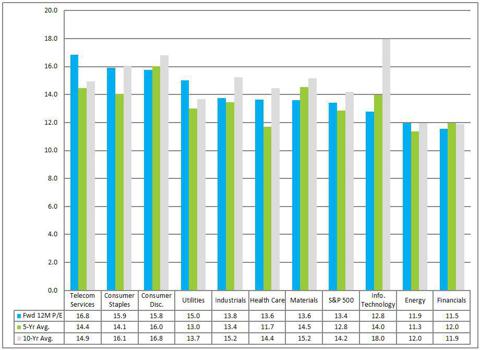 Click to enlarge
Chart provided by Factset.com
Volatility:
Now let's look into the volatility futures to see where the VIX says the market is going. For those who read my daily recap articles (here), I am addicted to volatility and the role it plays in how the market trades. Interestingly enough, ever since June of 2012, the VIX futures have continuously been sold down, even during the November lows. Of course, right before the "Fiscal Cliff," futures did pop higher, but large traders just used this move to sell futures, yet again selling calls to buy puts. This continues to show an amazing amount of complacency as the major traders continue to believe the market will go nowhere but up. In fact currently, not a single front month VIX future is priced above 18.00. This is amazing, considering the typical "Sell in May and go away" is not even properly priced into the futures market compared to historical norms.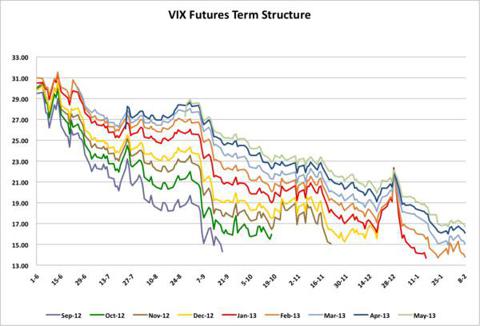 Click to enlarge
Chart and data provided by Fahad Khalid of OptionMonster
Technical analysis:
From a technical standpoint, individual stocks are mostly in full bull mode. Interestingly enough, overall market technical indicators are beginning to show some relative weakness. I write in my daily recap a status update on the NYMO, which is an oscillator or indicator as to whether the market is overbought or oversold. As I have stated many times before, I find it very amusing when these experts come on CNBC and say the market is overbought or oversold and the NYMO is nowhere near +/- 80. Many computers, high frequency traders, and technicians use this as a heavy indicator to determine an immediate overbought or oversold market. For example, when the NYMO goes north of 80, I immediately trim longs or increase hedges, as I expect a near-term pullback. The NYMO is not the only chart I follow, as when the stars align with the NYSI, NYA50R, SPXA50R, and BPSPX, they can give you great insight into potential market reversals. Take a look at the charts below, as they are starting to show signs of market exhaustion.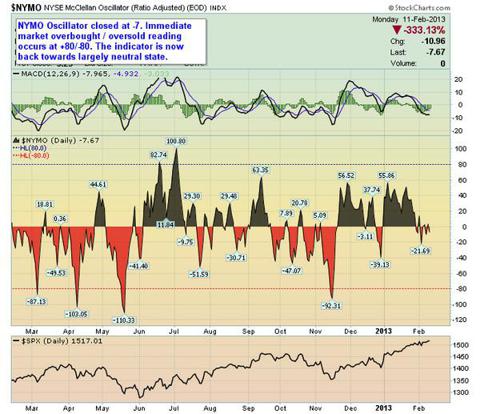 Click to enlarge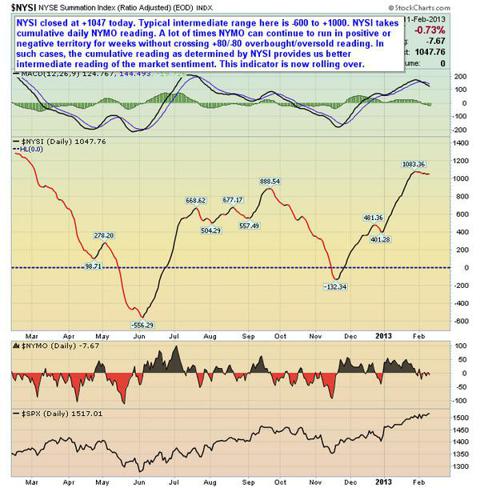 Click to enlarge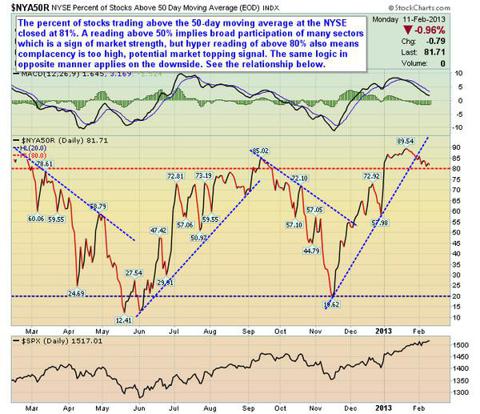 Click to enlarge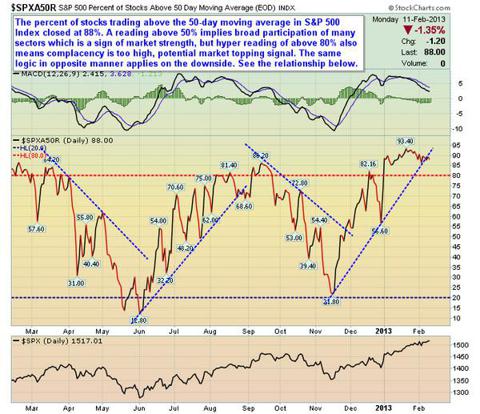 Click to enlarge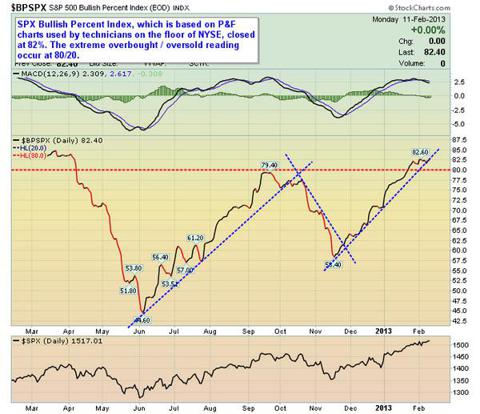 Click to enlarge
Charts and data provided by Fahad Khalid of OptionMonster
Earnings And Guidance:
Earnings season has been remarkably strong, filled with earnings beats across the board. Of the 334 S&P companies that reported earnings to date for the fourth quarter, an astounding 72% have reported EPS above the estimate. This is above the typical 69% of companies that beat numbers during a typical quarter. Interestingly enough, Information Technology and Consumer Staples had the highest percentages of above-earnings beats. On the other hand, Telecom Services and Utilities had the lowest beats from a sector perspective. Take a look at the following charts provided by Factset.com.
Q4 2012 Earnings: Above, In-Line, Below Estimates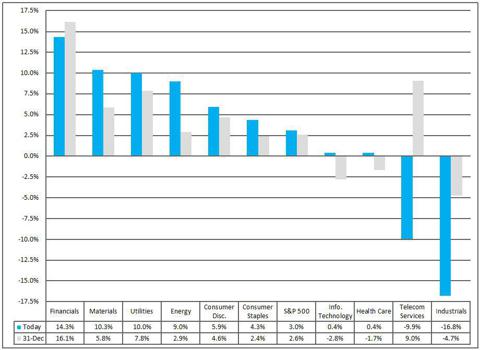 Click to enlarge
Q4 2012 Revenue: Above, In-Line, Below Estimates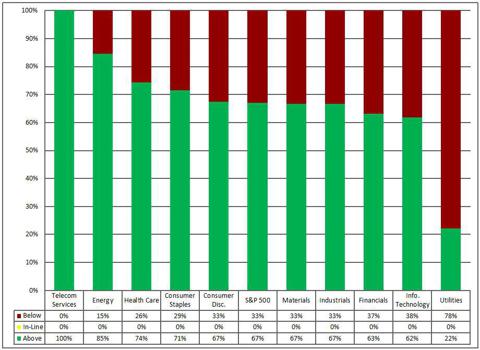 Click to enlarge
On the surface, the percentage of companies beating estimates is very impressive, supporting the rise in equity prices. My only concern is more than 60% of these beats were on lowered analysts' numbers. Take Alcoa (NYSE:AA), for example. Yes, the latest quarter came in with EPS of .10 versus analysts' estimates of .06, so therefore, AA beat by .04 in terms of earnings. Now look at the same estimates just in June of last year. EPS estimates for the most recent quarter were .20, which would have led to AA having a .10 miss on the same report.
Amazon (NASDAQ:AMZN) is even worse, as 2013 Q1 EPS estimates in 2011 were as high as 1.20. Now, they average just .10, yet the stock continues its rise. Even the almighty Apple (NASDAQ:AAPL), whose upcoming 2 quarters are 10.24 and 9.79, respectively. On the surface, any company earning these numbers is impressive. However, just last year, these numbers were EPS of 13.13 and 12.59. In fairness, AAPL has seen a drop from 700.00 to 435.00, which coincides with the earnings revisions, but many other stocks have not behaved this way. The earnings revisions down 21% and almost 23% are concerning, considering the average price target for AAPL was still well north of $700 just last month. Looking at the price targets today is almost laughable when you look at all the analysts who were uber-bullish this stock during the iPhone 5 release.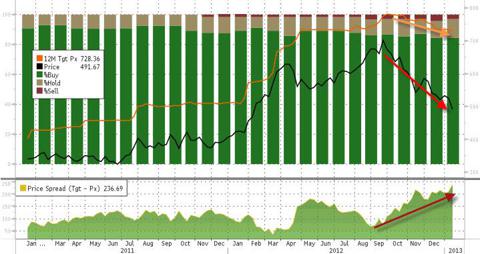 Click to enlarge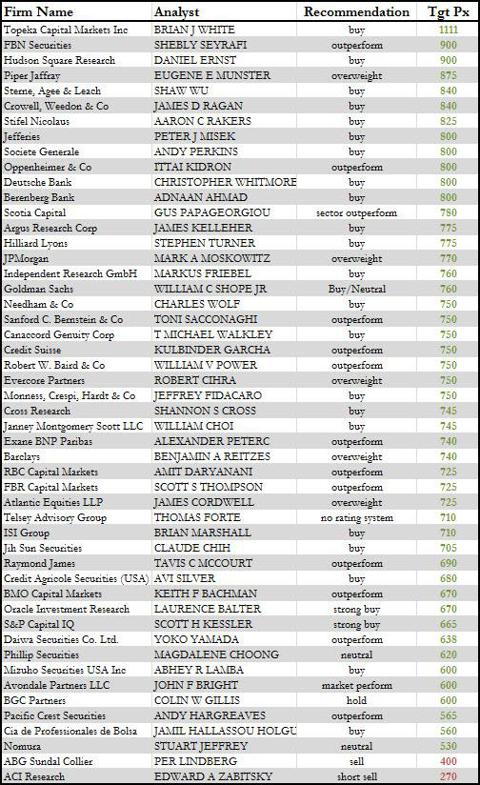 Click to enlarge
Chart and data provided by Zerohedge.com
As noted earlier, earnings have been stellar compared to the lowered analysts' expectations. Now let's look how these companies see the future in terms of guidance. Of the 80 companies that issued EPS guidance for the first quarter, 63 have issued projections below the mean EPS estimate, with only 17 projecting above EPS estimates. Doing quick math, this shows 79% of companies that have issued guidance have effectively issued negative guidance. Now, many companies do issue low guidance in hopes of lowering the expectations across the board, but 79% is well above the five-year average of just 61%. Thus, the 18% increase in lowered guidance is a concern for me. Also consider that analysts have also continued to reduce earnings growth expectations for Q1 2013 from 2.4% to 0.1%, and Q2 has been lowered from 6.7% to 5.1%. In comparison, Q4 earnings growth was off in several sectors, including Financials, Telecom, and Industrials, as shown in the chart below.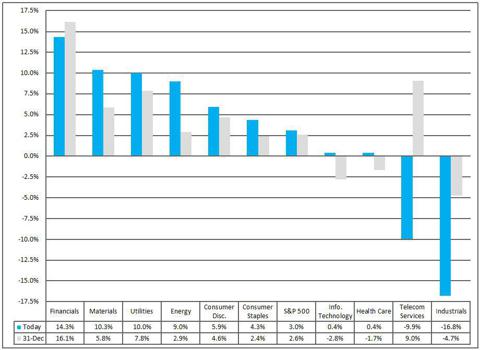 Click to enlarge
Chart provided by Factset.com
Conclusion:
In almost every facet, the market feels like it wants to go higher and probably will. Easy money policies from central banks and government stimulus around the world will more than likely continue to support equity prices across the board. But make no mistake, some headwinds and cracks have started to appear in the form of consumer tax hikes and upcoming debt/sequester talks. Combine this with Italian and Spanish debt worries continuing to harm European sentiment, and the market could be in for a big surprise. Of course, looking into the volatility markets, they are currently pricing in little to no chance of any of these events harming the stock market significantly.
Having said that, I continue to be amazed at just how strong the markets have been as they appear to go up every single day. I have long-term been bearish, feeling the euphoria in the markets will suck in the retail investor just to pull the rug out from under them. Regardless, price action is truth and you can't fight the tape, and thus, I remain overall net long. (At least for now.) No matter what your thesis is, as the markets continue to digest economic news and information, one thing is for sure -- 2013 will be a very interesting year for equities.
Disclosure: I am long AGNC, AVGO, BA, CBB, CONE, F, INTC, KERX, KORS, KOS, MOS, MTGE, NRG, PCLN (straddle), PG, TUMI, VHC, VOD, and I am short (BWLD volatility), CMG, DDD, EDU, PCLN (strangle), SPY.
I wrote this article myself, and it expresses my own opinions. I am not receiving compensation for it (other than from Seeking Alpha). I have no business relationship with any company whose stock is mentioned in this article.
Disclaimer: The opinions in this document are for informational and educational purposes only and should not be construed as a recommendation to buy or sell the stocks mentioned or to solicit transactions or clients. Past performance of the companies discussed may not continue and the companies may not achieve the earnings growth as predicted. The information in this document is believed to be accurate, but under no circumstances should a person act upon the information contained within. I do not recommend that anyone act upon any investment information without first consulting an investment professional as to the suitability of such investments for his or her specific situation.