In today's volatile economic environment, a steady and conservative view on investments helps assure that any invested capital will be protected. With market fluctuations being quite common, it is generally safe for the conservative investor to invest in companies primarily among strong and sturdy sectors. Coca-Cola (NYSE:KO) is the largest company in the beverage sector, valued at around $170 billion. The company's products are also consumed regularly in more than 200 countries worldwide. It is contested that Coca-Cola's products pose potential health risks for the human body, which may lead to a stricter enforcement of FDA regulations on the company; however, 60 percent of the company's net sales are accounted for outside of the U.S. and an increase of FDA regulations is a headwind many blue-chip companies in the food and pharmaceutical sectors face. Coca-Cola makes an excellent investment for any portfolio seeking large-cap growth due to its constant generation of free cash flow, steady earnings growth over long periods of time, and durable competitive advantage against most competition in the beverage sector.
To begin, Coca-Cola has historically been able to produce large amounts of free cash flow, which the company can use to reinvest into parts of the business, make acquisitions, and pay investors a dividend yield. Free cash flow represents the cash that a company is able to generate after laying out the money required to maintain or expand its asset base. Free cash flow is important because it allows a company to pursue opportunities that enhance shareholder value. Coca-Cola has been progressively growing cash flows at nine percent over the last 10 years, continuing to allow the company to pay a growing dividend. In addition, Coca-Cola is also able to use this cash to advertise in places worldwide, along with developing new brands such as Diet Coke and Coca-Cola Zero. Currently, the company pays a 2.7% dividend yield, which increases the rate an investor is able to compound his wealth in the company.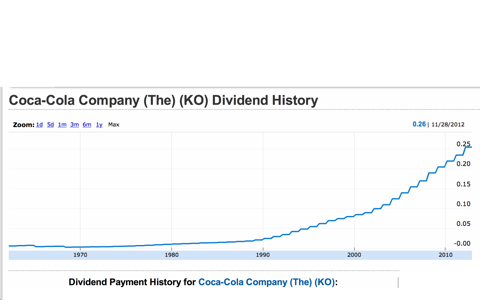 Furthermore, Coca-Cola's earnings have been growing steadily over the past 10 years, compounding at a rate of nine percent. A company's ability to continuously grow earnings over a long period of time helps ensure that the stock will continue to produce solid returns. Coke's steady earnings growth over time makes it more of a value candidate, as opposed to companies with high earnings growth for only short periods of time, which are more growth oriented. Coke sells more servings each year and gradually raises prices. This results in rising sales and profits over time. Although Coca-Cola will not create affluence overnight, it will definitely generate wealth over time. Also, the company's successful attempts to run most operations internally help reduce capital expenditures especially in bottling. Coca-Cola Enterprises (CCE) is a subsidiary of Coca-Cola that conducts bottling and is one of the many ways the company is able to further control what they spend on production and exporting.
Lastly, Coca-Cola has a very wide moat, or durable competitive advantage against other companies in the beverage industry through the network effect along with brand power. Coca-Cola was founded in 1886, and has been developing its brand power by advertising ever since. This tremendous amount of advertising keeps it top of mind for customers, even though there are many other colas in the market. Over the years, Coca-Cola has developed and acquired many brands, such as Sprite, Fanta, Dasani, Minute Maid, and Vitamin Water.
Coca-Cola, at more than 100 years old, has been selling and advertising essentially the same product during its entire existence. Coke was the leading soft drink in 1896 just as it is today. Most people instantly recognize the shape of its bottle. It seems unlikely that customers will ever lose their taste for it. The product and the Coca-Cola brand have durable competitive advantages that will enable the company to earn economic profits for shareholders for many years to come.
In conclusion, Coca-Cola makes an exceptional investment especially for the conservative investor through the company's strong ability to produce free cash flow, capacity to grow earnings at a steady rate over long periods of time, and their vast moat through years of building up brand power. Having an abundance of cash flow allows the company to invest capital in different segments of the business along with paying shareholders a generous 2.7% dividend yield. Coca-Cola's historical stable earnings growth maintains the company's growth at a steady pace, which will allow its dividend to grow and stay ahead of inflation.
Best of all, Coke's wide moat protects it from competition, and continues to establish brand power through advertising and the network effect. Coca-Cola's diversification in its core business along with advertising in nearly every country in the world establishes a continual dominance within the beverage sector. Frankly, increasing FDA regulation of sugary carbonated beverages is the main long term worry, but given people's love of the product, that may be a very long way off. Efforts to further penetrate emerging markets such as India should help to keep sales and earnings moving forward at a respectable level in years ahead.
Disclosure: I am long KO. I wrote this article myself, and it expresses my own opinions. I am not receiving compensation for it (other than from Seeking Alpha). I have no business relationship with any company whose stock is mentioned in this article.