The Group of 20 are meeting this week in Moscow and all the talk on CNBC and the financial press is about the real possibility of currency wars.
Unemployment in th the U.S. is 2 percentage points above its postwar average. In the UK, economic output is 3 per cent below its 2007 level.
The responsibility of the western central banks is clear: take action to provide economic stimulus. The U.S. Federal Reserve's mandate is to maximize employment while keeping prices stable (I'm not joking...). The Bank of England's main objective is to maintain price stability. That said, the BOE is required to support the country's economic policies - including its objectives for growth and employment.
Japan has been mired in economic stagnation for decades. The recent earthquake and tidal wave didn't help matters. However, Japan recently signaled its intent to raise the inflation target to 2%. In addition, a new government is pushing for monetary easing. Japanese Prime Minister Shinzo Abe recently said:
Countries around the world are printing more money to boost their export competitiveness. Japan must do so too.
Indeed the yen has weakened substantially against the U.S. dollar in recent weeks. But while Japan is being criticized in recent headlines, it appears they are merely playing catch-up to their U.S. counterparts. Year-to-date, the yen is down 6.5% against the U.S. dollar.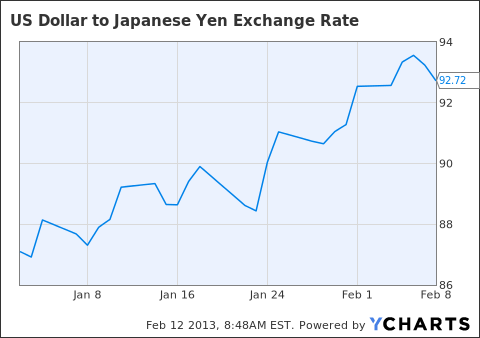 US Dollar to Japanese Yen Exchange Rate data by YCharts
This is a huge tailwind for Japanese exporters. Indeed, Toyota Motor (NYSE:TM), which recently took over the #1 auto manufacturer in the world from General Motors (NYSE:GM), has seen its stock make a nice run YTD while the yen has weakened.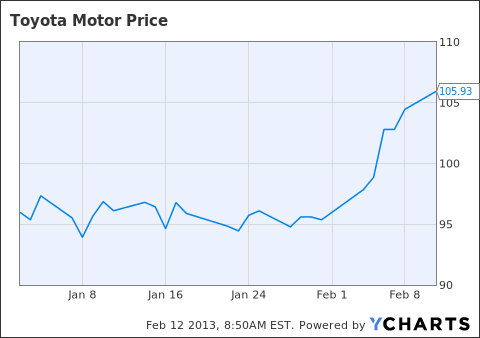 TM data by YCharts
Not surprisingly, GM has been headed in the opposite direction. So, the monetary policies of individual countries do matter - for their exporting companies and ultimately the people who work for them and their trade-based balance of payments
GM data by YCharts
In a race to see which country can print money the fastest, should an investor try to pick individual companies or buy gold? Short term, as the charts above clearly show, there is money to be made in selective stock picking. Longer term, I think believe there is a fundamental case to invest in gold as the U.S. dollar's role as the world reserve currency appears to be changing.
QE and Reserve Currency Changes Will Drive Gold Demand Higher
Quantitative easing ("QE") by the U.S., England, Japan and others to support financial asset prices and stimulate economies is driving demand for gold. Before the financial crisis, central banks were net sellers of 400 to 500 tons a year. Now, led by Russia and China, they're net buyers by about 450 tons. This is according to the Gold Council. The Gold Council also predicts a continuing rise in gold demand as the world transitions away from the U.S. dollar toward a multi-currency reserve system.
The Chinese renminbi is likely to emerge as an international currency as Beijing continues to ease restrictions on its use in global investments and transactions. As the world transitions from the U.S. dollar to a basket of different reserve currencies, doubts by central bank asset managers about new global monetary arrangements are likely to increase their interest in owning more gold.
Putin Wins With Oil & Gold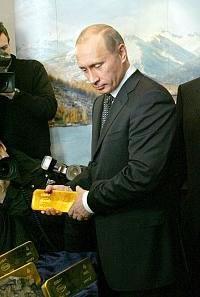 It's ironic the G20 meeting is taking place in Moscow. A recent Bloomberg article, "Putin Turns Black Gold to Bullion As Russia Outbuys World," describes how Putin's distrust of the U.S. dollar's status as the world's reserve currency led him to bet big on gold.
Putin has presided over a Russia that has simultaneously become the world's biggest oil producer and the world's biggest gold consumer. According to Bloomberg, IMF data show Russia's central bank has added 570 metric tons of the gold in the past decade, a quarter more than runner-up China.
In a press release last November, Marcus Grubb, Managing Director at World Gold Council said:
Gold is beginning to re-establish itself as part of the fabric of the financial system. In the medium term, the quantitative easing initiatives in the West and the continuing growth story in the East, particularly in India and China, coupled with the seasonally strong quarter coming up in Asia, are excellent indicators for further growth in the gold market.

Against a backdrop of continued global economic uncertainty and elections in China and the US, it is clear from five year rising demand trends that gold's fundamental property as a vehicle for capital preservation continues to endure, as evidenced by this quarter's increase in global ETF investment, up 56% and continued purchasing by central banks, the ultimate long term investors.
Russia can and has funded its purchases of gold with oil. Most of you who have read my previous articles on the subject, know I believe oil prices lead gold prices higher (not the other way around). Meanwhile, China can fund its gold purchases by maintaining one of the fastest-growing economies in the world, and by the fact that it is also the world's largest gold producer.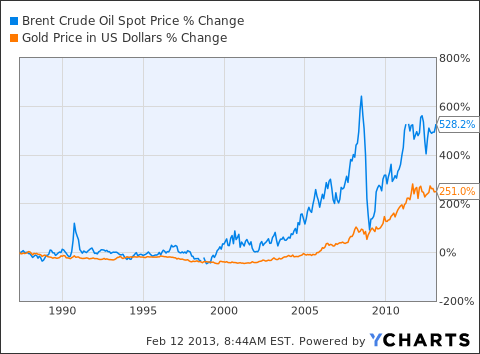 Brent Crude Oil Spot Price data by YCharts
From the chart above, it appears to me gold still has some catching up to do.
All these developments are bullish for precious metals, including both the gold (NYSEARCA:GLD) and silver (NYSEARCA:SLV) ETFs. For those of you wanting to buy bullion so you can hold it in your hot little hands, I can suggest APMEX.com or Kitco.com. Whether the country's of the G20 actually start a "currency war" or not is irrelevant because one thing is clear: they are going to be printing money. A lot of paper money. Investors should therefore find a way to carve out a piece of their investment pie the same way central bankers do: holding a slice of gold and silver.


So while all eyes are on the booming stock and recovering real estate markets, investors should keep a close eye on gold and silver prices and add to their positions on price dips. Precious metals markets can and do move fast and furious, allowing quick investors to pounce like a cat and establish or add to positions at advantageous prices. Good luck!
Disclosure: I have no positions in any stocks mentioned, and no plans to initiate any positions within the next 72 hours. I wrote this article myself, and it expresses my own opinions. I am not receiving compensation for it (other than from Seeking Alpha). I have no business relationship with any company whose stock is mentioned in this article.
Additional disclosure: I am an engineer, not a CFA. Please do your own research and contact your investment adviser. I am not responsible for investment decisions you make. Thanks for reading and good luck!