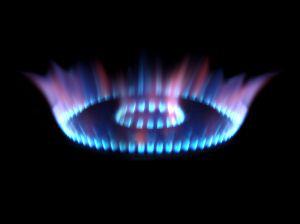 In "It's Time To Shadow Invest In Dell", I laid out reasons for buying Dell (NASDAQ:DELL), even at a price above Michael Dell's offer of $13.65. Today's (Tuesday, 2/12) developments add significant weight to the proposition that Michael's bid is too low, so DELL looks to be a good buy.
Today's Developments
Just announced, major DELL holder T. Rowe Price has joined Southeastern Asset Management and at least five other investment management firms in opposing the Michael Dell buyout offer. The board, understandably defensive about their decision, is nevertheless now squarely on the hot seat with such large and sophisticated shareholders (Dell's owners) arrayed against them.
Dell's stock now is trading above the $13.65 offer.
Here is DELL's recent trading, shown in half-hour increments: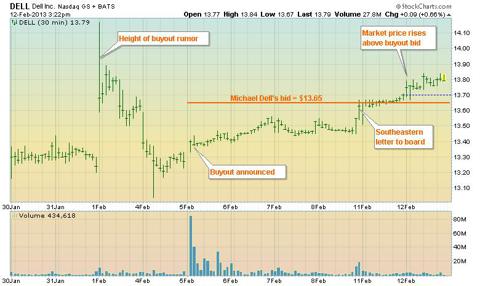 (Stock chart courtesy of StockCharts.com)
This action has three important meanings:
Investors are starting to expect a price increase from Michael Dell, another bidder or Michael Dell's bid being pulled and no other offers appearing. Yes, that last situation sounds like a risk that could see the price drop. However, the gathering of the investment managers is because they all believe Dell's true worth is much higher. Michael Dell's bid forced that revelation. As a result, armed with that insight, other investors could shadow invest their way into DELL, knowing they are in good company.
Arbitrageurs, who enjoy buying a stock below a deal price, then selling into the offer (the $13.65), have likely sold their positions, their gains having been made. Importantly, this means that, should the deal now be pulled, their selling won't have an effect.
Traders are now interested. With the competing forces at work, there is the potential for stock price swings. Interestingly, for them, that $13.65 bid now acts as an anchor, allowing them to bet on a potential bump up without taking much risk. (This is the same return/risk analysis I discussed in my previous article.)
The Board's Hot Seat Is Hotter
Besides having major Dell shareholders say "No!" and having the stock's market price prove $13.65 is not the best deal around, the board faces another, major problem. In this day and age of stricter board rules and regulations (including board liability), boards must be more protective of the company's owners, even if it means going against management. Moreover, in this post-Great Recession + financial crisis period, the spotlight on board actions is brighter.
The Bottom Line
Dell's board members have reached a crossroads. They can forge ahead with the approved buyout by insider Michael Dell, or they can reconsider the decision in light of the new revelations. First, many large shareholders (Dell owners) have told the board of their disapproval and their view that the company is worth significantly more than $13.65. Second, the stock's market price is now above Michael Dell's bid, disproving that his is the best deal available. Third, the need for the board to work within today's strong rules and regulations, which means staying focused on shareholder/owner interests first and foremost.
Buying and holding DELL appears to offer an attractive return/risk tradeoff.
The stock, although currently trading at about $13.80 (as of this writing), still has a small risk so long as the $13.65 bid is in place. There are two return possibilities: (1) A long-term hold to the mid-$20s, if Southeastern's analysis is correct, and (2) A short-term hold to the next higher bid(s) by Michael Dell or another potential buyer.
Disclosure: I am long DELL and long U.S. stocks. I wrote this article myself, and it expresses my own opinions. I am not receiving compensation for it (other than from Seeking Alpha). I have no business relationship with any company whose stock is mentioned in this article.