Dr. Marc Faber, editor and publisher of the Gloom Boom Doom report is well known for his market timing and for staying ahead of the curve. His credentials include the prediction of the 1987 crash and the call on the financial crisis of 2007. This article discusses Dr. Faber's market outlook and my opinion on the same.
In a recent interview, Dr. Marc Faber pointed towards a 10% correction in global equities. According to Dr. Faber -
We could easily see 10% correction. We have seen over 30% correction in Apple (NASDAQ:AAPL). So it is a reminder that stocks move up and they can also move down. My scenario for 2013 is either the market will make a peak relatively soon which will not be exceeded or we have a correction of a month or two and then another strong rally into August, such as we had in 1987 when the Dow Jones between January 1987 and August 1987 increased by 41%. However, it then lost 40% in two months.

If we had a very strong rally into the summer, as was the case in 1987, I would not then look for a correction. But, I would look for a very significant market decline to follow. However, the more likely scenario is in my view a strong rally into the summer. First, there will be a correction, then this rally and then a more significant top in 2013 which will not be exceeded for a while.

I think that the global economy will be crucial and also what happens to China. Do not forget, if the Chinese economy does not recover or recovers for a while, for say a couple of months and then slumps again or decelerates significantly, it would have an impact on raw materials and in this case on the economies of the raw material producers or the resource producers of the world. We could have a shock for the global economy.
My Opinion -
I do feel that markets have a higher probability of a meaningful correction from these levels than another 10-15% upside. The primary reasons for this rationale are -
Earnings Might Disappoint in the Medium-Term
Of the 343 companies having reported their 4Q12 earnings, 23% have missed estimates while 11.7% have just met estimates. It is very likely that the corporate profit after tax has peaked out (for near-term) in the United States. Going forward, markets might trend down on earnings disappointment. This is especially true in the current global economic scenario where even emerging markets are witnessing a meaningful slowdown.

Click to enlarge
(Click to enlarge)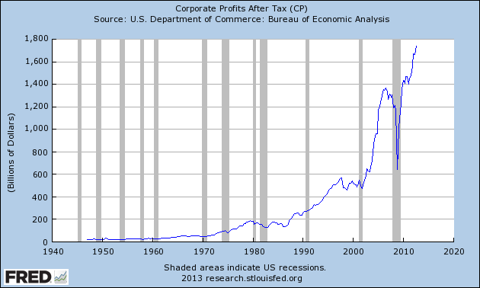 Click to enlarge
(Click to enlarge)
Therefore, earnings disappointment and guidance revision on the downside for the next few quarters can trigger some sell-off in equity markets.
Markets Have Run-Up Too Fast and Trades at a Rich PE
The S&P 500 is currently trading at a PE of 17.3, which is rich valuation considering the fact that U.S. is experiencing sluggish economic growth, Europe is in a recession and emerging markets are experiencing a meaningful slowdown. At the peak of global economic during 2006-2008, the U.S. markets were trading at an average PE range of 18-20. Considering this, current valuations do look expensive. Besides the fundamentals, liquidity has played a critical role in the current upside. The concern is that any major negative news can result in a significant outflow of funds from equities leading to a sharp sell-off. Therefore, investors need to exercise caution in a market partly driven by liquidity. Some readers might feel that the statement "Partly driven by liquidity" is an understatement. Combining the first factor, if earnings do disappoint relatively, the PE would be even higher going forward resulting in investors looking for relatively attractive investment options globally. At current levels, the risk reward scenario is largely tilted towards high risk of fresh exposure than high reward expectations.
It is also important to mention here that the S&P 500 has surged by 12% from its near-term lows of 1,353 in November 2012. A 12% rally in two months is significant and traders would be booking profits in the foreseeable future in an overcrowded buy and "risk on" trade. Therefore, it would not be surprising to see a 5-10% correction going forward.
Conclusion
Considering the above two factors, it is very likely that markets will correct in the foreseeable future. It is also important to understand that the global liquidity scenario remains good and the banking system is in relatively good shape. Therefore, investors need not fear any crash in the near-term. Any correction in the markets would be a catalyst for another round of rally.
I will start to get more cautious in the second half of the year if the rally sustains and there is no improvement in the advanced as well as emerging economies (in terms of economic activity). For now, traders can book profits and long-term investors can hold on to their cash position to buy on declines.
Investment Suggestions
SPDR S&P 500 ETF (NYSEARCA:SPY) - It has been proven that beating the index is not an easy task. Therefore, the strategy should be simple -- beat the index or invest in the index. From this perspective, SPY looks interesting. Also, with excess money flowing into risky asset classes, the S&P should trend higher over the next 3-5 years. Therefore, the expected correction can be used to consider fresh exposure to the ETF. The ETF provides investment results that, before expenses, generally correspond to the price and yield performance of the S&P 500 Index.
iShares MSCI Emerging Markets ETF (NYSEARCA:EEM) - Global diversification is necessary and exposure to emerging markets is critical. Over the long term, emerging markets will outperform developed markets in terms of equity price appreciation. The iShares ETF corresponds generally to the price and yield performance, before fees and expenses, of publicly-traded securities in emerging markets, as represented by the MSCI Emerging Markets Index.
Vanguard Energy ETF (NYSEARCA:VDE) - The ETF seeks to track the performance of a benchmark index that measures the investment return of stocks in the energy sector. With a low expense ratio of 0.19%, the ETF is a good investment option in a sector, which has good upside potential in the long term.
Disclosure: I have no positions in any stocks mentioned, and no plans to initiate any positions within the next 72 hours. I wrote this article myself, and it expresses my own opinions. I am not receiving compensation for it (other than from Seeking Alpha). I have no business relationship with any company whose stock is mentioned in this article.