Investment Thesis
The Wendy's Company (NYSE:WEN) has made some recent improvements that have made it a clear winner for the long-term. It has started to implement its renovation project for many of the company-owned restaurants. In addition, the company has a strong balance sheet with $453.59 million in cash. I have a BUY rating for WEN because on top of the improvements that the company is making, it also has a dividend yield of 3.19%.
Company Report-Initiation of Coverage
Rating & Target
BUY
Target Price (18 months): $7.00
Current Price (02/11/2013): $5.02
Total Return to Target: 39.44%
52-Week Range: $4.09-$5.33
Market Data
Beta: 1.01
Market Capitalization (Mil.): $1963.24
Shares Outstanding (Mil.): 391.08
Dividend: $0.04
Yield: 3.19%
Company Description
The Wendy's Company was incorporated in 1929 and is headquartered in Dublin, Ohio. Through its subsidiaries, Wendy's operates and franchises quick service restaurants. The Company's restaurants engage in the provision of hamburger sandwiches. As of August 9, 2012, it operated 6,594 company owned restaurants and franchised restaurants in the United States and the United States territories, as well as in 27 foreign countries. The Company was formerly known as Wendy's/Arby's Group, Inc. and changed its name to The Wendy's Company in July 2011.
1-Year Performance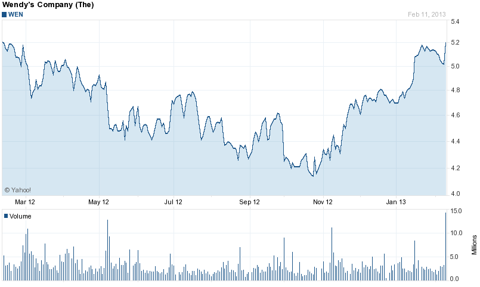 Source: Yahoo Finance
Investment Overview
Wendy's fourth-quarter profit rises; increases dividend
The Wendy's Company reported a higher quarterly profit on January 16, 2013. The preliminary report shows a net income from continuing operations rise to $22.4 million, or $0.06 per share, in the fourth quarter from $3.98 million, or $0.01 a year earlier. Adjusted EPS from continuing operations were $0.08, compared to Adjusted EPS from continuing operations of $0.04 in last year's fourth quarter. Its revenue of $629.9 million was a 2.4 percent increase compared to $615.0 million in the fourth quarter of 2011. However, Wendy's North America Company-operated restaurant same-store sales decreased 0.2 percent during the fourth quarter, compared to a 5.1 percent increase a year ago. Franchise same-store sales in North America decreased 0.6 percent during the quarter.
Growing market share
Wendy's has become the second-largest U.S. hamburger chain and its recent success is in large part due to its new menu items and spruced-up restaurants. Wendy's has gained market share by emulating larger rival McDonald's Corp. (NYSE:MCD), which boosted sales by rolling out new menu items such as lattes and fruit smoothies, renovating its restaurants and extending restaurant opening hours. Wendy's, known for its thick Frosty milkshakes and square hamburger patties, recently tweaked its value offerings - replacing its 99-cent menu with a 99-cent to $1.99 "Right Price Right Size Menu."
"Image Activation"
In 2012, Wendy's announced that it was undergoing an image revamp-a process it calls Image Activation-that includes a new logo, spruced-up restaurants and fewer company-operated restaurants, to reduce capital spending and boost margins. So far, Wendy's image revamp and introduction of new products like Bacon Portobello Melt have helped the Company win market share from larger rival McDonald's Corp. On a post earnings call with analysts in 2012, CFO Stephen Hare said the company had flexibility to invest up to $500 million for Image Activation by the end of 2015. CEO Emil Brolick said in a statement, "Average annualized sales volume for the restaurants we re-imaged during 2011 have increased more than 25 percent. We remain on track to re-image- 50 percent of our company-operated restaurants by the end of 2015."
Positive 2013 and long-term outlook
· Adjusted EBITDA of $350 million to $360 million, a 5 to 8 percent increase compared to $333.3 million in 2012
· Adjusted EPS of $0.18 to $0.20, a 13 to 15 percent increase compared to $0.16 in 2012
· Same-store sales growth of 2.0 to 3.0 percent at Wendy's North America Company-operated restaurants
· New restaurant development of approximately 25 new Company restaurants and 40 new franchise restaurants, plus approximately 60 new international franchise and joint-venture restaurants
· Five to 10 Company-operated restaurant closures and approximately 90 to 100 franchise restaurant closures in North America, plus approximately 15 to 20 international restaurant closures
· Re-imaging of 100 Company-operated restaurants and 100 franchise restaurants
· Wendy's Company-operated restaurant margin of 14.2 to 14.5 percent, compared to 14.0 percent in 2012. This estimate assumes the benefit of same-store sales increases, Image Activation sales, discontinuation of breakfast at certain restaurants and cost-saving initiatives. It also assumes an impact from higher commodity costs, driven primarily by rising beef and chicken costs.
· Capital expenditures of approximately $245 million, compared to approximately $200 million in 2012. This estimate includes $145 million for Image Activation designs at 25 new and 100 re-imaged Company-operated restaurants in North America.
Possible drawbacks for WEN
· Rising commodity costs may result in lower earnings in the long-run
· Resurgent rivals like Burger King (BKW) and Yum Brands' (NYSE:YUM) Taco Bell have also stepped up promotional activity with revamped menus, low-priced food and catchy advertising to lure diners
· $662.0 million of long-term debt out of $965.1 million total debt
Company Overview
The Wendy's Company, incorporated in 1929, is a quick-service hamburger company. The Wendy's system includes more than 6,500 franchise and Company restaurants in the United States and 27 other countries and the United States territories worldwide. On July 4, 2011, The Company completed the sale of Arby's Restaurant Group, Inc. (Arby's), its wholly owned subsidiary, to ARG IH Corporation, a wholly owned subsidiary of ARG Holding Corporation. Wendy's is primarily engaged in the business of operating, developing and franchising a system of quick-service restaurants. At August 1, 2012, there were 6,244 Wendy's restaurants in operation in North America. Of these restaurants, 1,417 were operated by Wendy's and 4,827 by a total of 454 franchisees. In addition, at January 1, 2012, there were 350 franchised Wendy's restaurants in operation in 26 countries and territories other than North America.
As of January 1, 2012, Wendy's was also a 50% partner in a Canadian restaurant real estate joint venture with Tim Hortons Inc., a quick-service restaurant chain specializing in coffee, baked goods and home-style lunches. During fiscal 2011, Wendy's became a 49% partner in a joint venture for the operation of Wendy's restaurants in Japan.
Freestanding Wendy's restaurants generally include a pick-up window in addition to a dining room. The percentage of sales at company-owned Wendy's restaurants through the pick-up window was 65.1% during fiscal 2011. The New Bakery Co. of Ohio, Inc. (the bakery), a 100%-owned subsidiary of Wendy's, is a producer of buns for some Wendy's restaurants, and to a lesser extent for other outside parties.
Experienced Management Team
The Wendy's Company has a very experienced and trusted management team led by its President, CEO, and Director Emil J. Brolick. He has been President and CEO since September 2011. Prior to his election, he served as COO of Yum Brands from June 2008 to September 2011 and as President of two of Yum Brands' U.S. operating segments, Long John Silver's and A&W All American Food Restaurants. From December 2006 to June 2008, he served as President of U.S. Brand Building for Yum Brands. Before that, he served as President and Chief Concept Officer of Taco Bell from July 2000 to November 2006. Much of his business experience relates to marketing, brand building and operations, all of which are particularly important to the Company's business. The Non-Executive Chairman of the Board of Wendy's Company is Nelson Peltz since June 2007. He has been a director of the Company since April 1993. He served as Chairman and CEO of Wendy's and as a director or manager and officer of certain of the company's subsidiaries from April 1993 through June 2007. Additionally, he has been CEO and a founding partner of Trian Fund Management, L. P., a management company for various investment funds and accounts, since November 2005.
Industry Overview
Competition
Wendy's Company's major competitors are Burger King, McDonald's, and Yum Brands. Although Wendy's is not as large as McDonald's, it continues to improve on its brand image and product line. Even though Wendy's Company's market capitalization is $2.03 billion while Burger King's is $5.81 billion, Wendy's still has higher revenues of $2.51 billion compared to $2.14 billion. Compared to its competitors, Wendy's Company's P/E ratio is drastically higher. Wendy's has a P/E ratio of 650.00 compared to Burger King's 0.68 or McDonald's 17.77 or Yum Brands' 19.10 or even the industry average of 22.28. However, I believe that instead of the stock being expensive, it is an opportunity to cash in for future earnings.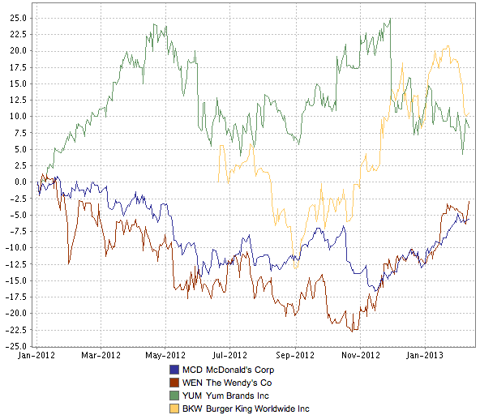 Source: Mergent Horizon
Basic Technical Analysis
Since the short term moving average (10-day) crosses the long term moving average (50-day) around the end of 2012, it is an indication of an upward movement in the stock as it has gone in the past two months. This trend is likely to continue as earnings grow and as Image Activation moves along.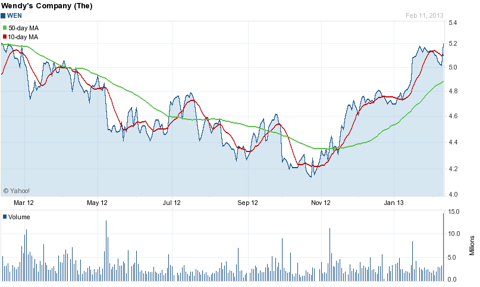 Source: Yahoo Finance
Conclusion
I believe that The Wendy's Company has great leadership in CEO Emil Brolick and the combination of improvements that it is making to its restaurants, cost-cutting, and new product launches make buying the stock very attractive. Another thing that makes WEN even more appealing right now is its 3.19% dividend yield. Not only is it a growth stock but also a strong dividend play. With steady earnings growth, WEN has the chance to oust McDonald's as the largest U.S. hamburger chain.
Disclosure: I have no positions in any stocks mentioned, and no plans to initiate any positions within the next 72 hours. I wrote this article myself, and it expresses my own opinions. I am not receiving compensation for it (other than from Seeking Alpha). I have no business relationship with any company whose stock is mentioned in this article.