Whole Foods Market (NASDAQ:WFM), the premier specialty and organic grocer, reports its fiscal first quarter after the bell on Wednesday night, February 13th.
Analyst consensus is looking for $0.77 in earnings per share (EPS) on $3.864 billion in revenues for expected year-over-year growth of 18% and 14%, respectively. The quarterly comp is expected to be between 7.5%-8%.
The trend in both EPS and revenues has been stable since the last earnings report. There was some concern about the comp being weak through the first 5 weeks of the quarter, given SuperStorm Sandy, but that weakness has dissipated and WFM is expected to have a good quarter.
WFM was up 31% in 2012, although the stock price peaked in early October at $102, and has essentially tread water from October 5th through early February. Year-to-date, WFM is up about 6%.
The growth of WFM has been truly remarkable: here is a table of WFM's quarterly revenue, operating income and EPS growth off the March '09 market low:
WFM's y/y rev, op inc and EPS growth off '09 mkt lows
Qtr end

rev gro

y/y

op inc gro

y/y

EPS gro

y/y

1/13 (est)
14%(est)
23% (est)
18% (est)
10/12
24%
50%
43%
7/12
14%
34%
26%
4/12
14%
33%
25%
1/12
13%
29%
27%
10/11
12%
17%
27%
7/11
11%
22%
32%
4/11
12%
19%
31%
1/11
14%
44%
59%
10/10
16%
46%
65%
7/10
15%
46%
36%
4/10
13%
71%
50%
1/10
7%
53%
28%
10/09
2%
56%
1900%
7/09
1%
23%
17%
4/09
0%
-7%
-10%
* Source - Internal spreadsheet from quarterly earnings reports
The average revenue growth off the '09 lows: 11%
The average operating income growth: 39% (wow)
The average EPS growth: 36%
That is an amazing run for 16 quarters, or close to it.
Since the March '09 bottom for the stock was $11.02, the total return on WFM is almost 800% off the '09 lows.
There is an old saying, "valuation matters when it matters" and as a longer-term investor, you don't want to be the last person standing when the music stops and the growth slows.
There has always been a decent correlation (R-squared) to Starbucks (NASDAQ:SBUX) and WFM comps, and neither is telling us there is problem right now, absent maybe a risk of a 100 basis point drop in either's comp.
WFM's cash-flow valuation is 15(x) price to 4-quarter trailing cash-flow, 14(x) if we exclude the $1.1 billion of cash on the balance sheet from the market cap, and 13(x) enterprise value (EV) to cash-flow.
Another issue is the steady dilution of shareholders occurring at WFM: since the '09 market low, the number of fully diluted shares outstanding has risen from 140 million to 188.5 million, or 33%. (In late November 2012, one of WFM's largest shareholders filed a 13-D and announced the sale of 11 million shares of the stock to other shareholders. That represented 6% of outstanding shares.)
Superstorm Sandy, the payroll tax hit, sequestration, higher gas prices -- these are all worries that surround retailers right now.
Outside of the higher cash-flow valuation than we like to see, and the dilution, WFM seems to be hitting on all cylinders operationally. If we were looking to buy more, we'd buy some at $90, the point of the 50-week moving average, and then again at $80. Our internal model values WFM at $132 per share, while Morningstar values WFM at $86.
Right now, we don't see a problem with the stock. WFM has held off the encroachment of Wal-Mart (NYSE:WMT) and Target (NYSE:TGT) into specialty/organic, and also Trader Joe's and other specialty grocers, for the last 10 years, and has still grown at a heady rate.
We are long, but would prefer to buy more at lower-risk buy points.
Comps are the key to WFM, and as long as comps stay "mid to high single digits," the stock will trade well. My guess is WFM is finding a greater market opportunity than it originally thought. Demand for WFM stores is still outpacing supply.
Still, be careful out there.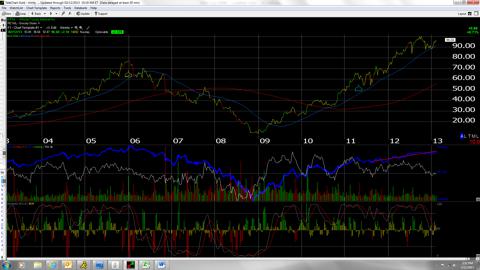 Click to enlarge
Disclosure: I am long WFM. I wrote this article myself, and it expresses my own opinions. I am not receiving compensation for it (other than from Seeking Alpha). I have no business relationship with any company whose stock is mentioned in this article.