On February 6, Annaly Capital (NYSE:NLY) reported its Q4 and FY 2012 results. Q4 2012 was not kind to Annaly, with the company seeing a deterioration in several key metrics. Compared with Q3 2012, Annaly saw declines in net interest income per share, book value, and net interest rate spread. As of Monday, Annaly is trading at $14.81. The last quarterly dividend for Annaly was for $0.45 per share. At current prices, Annaly yields 12.15%.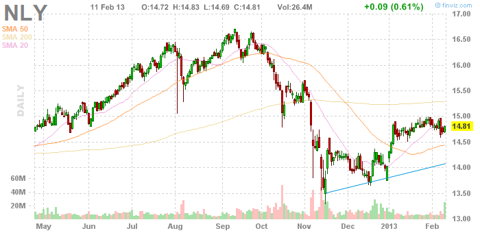 The Q4 2012 annualized interest rate spread for Annaly saw a 0.07% decline compared with Q3 2012. The primary factor for this decline was a 0.21% drop in the average coupon for interest-earning assets. Annaly net interest spread was helped by lower CPRs during Q4 compared with Q3, resulting in a 0.12% increase. Annaly was also able to squeeze some lower cost of funds during the quarter, therefore increasing the spread by 0.02%.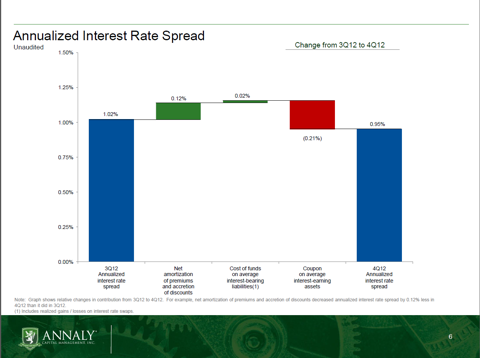 However, I believe that Q4 2012 will be the low point for the net interest rate spread for Annaly. Below are a few details from the conference call (source) and earnings release (source), which point towards this occurring:
First, is that the spreads are quite a bit higher now than where they were during Q4, with the "new money" spreads now around 150- 200 basis points.
The drop in spread during the quarter is largely attributable to lower coupon income as we took gains and rebalanced the portfolio. New money spreads would be around 150 to 200.
Second, is that at the end of the 2012, Annaly had an interest rate spread of 1.20%.
At December 31, 2012, the weighted average yield on investment securities was 2.75% and the weighted average cost of funds on borrowings, including the net interest payments on interest rate swaps, was 1.55%, which resulted in an interest rate spread of 1.20%.
Lastly, is that Annaly should experience even more benefits from lower cost of funds during Q1 2013, due to a large swap position rolling over at a lower interest rate.
One thing I would note is that we have a large swap position in our two year bucket of about 18 billion that will be rolling into the lower interest rate environment. Just to put that into context, that two year bucket is about a 182 basis points over where current swap levels are. So there is a lot of potential value to beginning to add this liabilities roll.
As I noted in my previous article, Annaly should benefit from increases in yield spreads. In 3 months, the 10-2 year treasury spread has increased 32%. This is also having some effect in the 30-year mortgages, with those rates increasing 5%.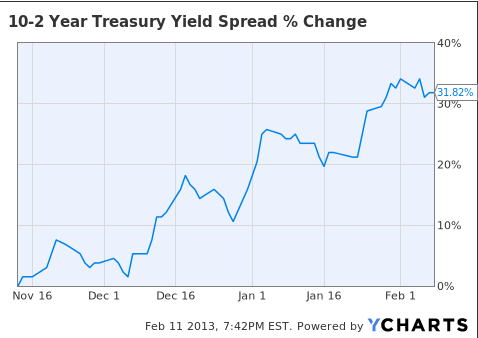 During Q4, Annaly repurchased $397M shares at an average price of $14.28 per share, reducing its share count by nearly 3%. The company had previously authorized a $1.5B share repurchase program. Even with these buybacks, Annaly still saw its book value decline 4.5%, from $16.60, to S15.85. Book value for Annaly will continue to be pressured by the relatively high prepayment rates on its portfolio. For 2012, Annaly has averaged about a 20% CPR. The effects of this high CPR may be compounded by the balance of the net premium as a percentage of shareholder equity, which has ballooned to 36% as of Q42012.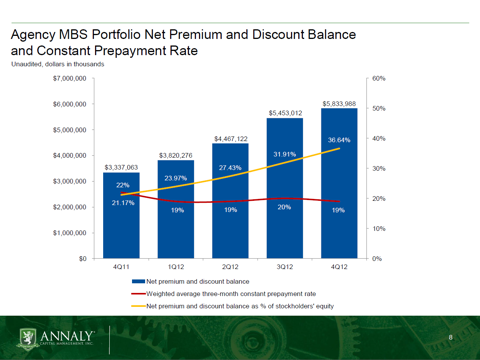 Conclusion
The fourth quarter of 2012 was not a good one for Annaly. However, it is my opinion, that Q1 2013 will be a much better quarter for Annaly and other mREITs due to increases in yield spreads. However, 30-year mortgage rates remain near historic lows, which is not good news for Annaly's CPR. Prepayments may continue to put downward pressure on Annaly's book value. Annaly's book value would probably benefit from adopting strategies used by competitor American Capital Agency (NASDAQ:AGNC), such as focusing on low balance mortgage pools and "HARP" securities.
Investing in Annaly is not without risks, as can be seen by its share price performance after the announcement of ("QE3") last year.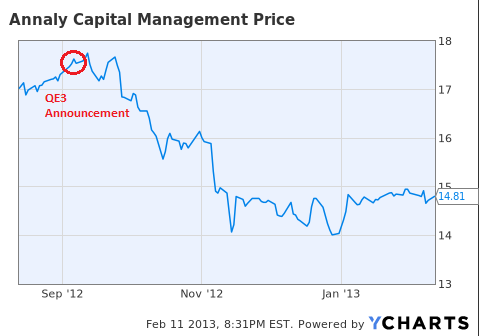 However, since about mid November, shares of Annaly have stabilized and have since been trading range bound. I am not quite as certain of a dividend cut for Annaly this quarter as I was last quarter. However, others feel a cut is likely. A possible dividend reduction, or fear of one, needs to be taken into consideration, as it may trigger a sell-off in share price, such as what happened to CYS Investments (NYSE:CYS).
Disclosure: I am long CYS. I wrote this article myself, and it expresses my own opinions. I am not receiving compensation for it (other than from Seeking Alpha). I have no business relationship with any company whose stock is mentioned in this article.