We previously published a series of reports on Pfizer (NYSE:PFE) that cover topics including the impact of the expiration of Lipitor's patent on revenue growth, the new drugs in development at Pfizer, and an earnings projection for PFE from 2012 to 2016. We derived a fair value for PFE in the $28-$29 range in 2012. In the following reports, we will follow up on PFE and initially compare and discuss the company's 2012 earnings with our projected numbers. Then, we will discuss Pfizer's revenue contributors in 2013 and review its drug pipeline in mid to late stages of clinical trials. Finally, we will issue an updated financial projection from 2013 to 2017 and derive PFE's fair value based on the updated information.
Let's first compare the earnings reported by Pfizer on January 29, 2013, with our earlier projection published in October 2012 in Table 1.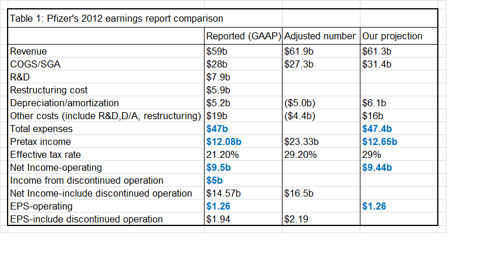 Our projected earnings per share ((NYSEARCA:EPS)) of $1.26 is inline with Pfizer's reported (GAAP) EPS of $1.26. Our revenue projection of $61.3B is very close to the company's reported revenue ($59B) plus revenues from discontinued business ($2.9B). While our individual cost items may vary slightly from the company's numbers, the total expenses ($47.4B) were also in line with the company's number ($47B). As a result, our projected pretax income ($12.65B) was 5% more than the company's number ($12.08B). The net income in our projection was $9.44B, as compared to Pfizer's $9.5B. Our estimated diluted EPS was $1.26, which is the same as Pfizer's EPS excluding discontinued operations.
The major discrepancies between our projection and Pfizer's report are its tax rate and its adjusted numbers. Pfizer's effective tax rate was 21.2%, which was far below its historical tax rate in the range of 28%-30%. Pfizer explained its low tax rate in 2012: "The lower rates for 2012 compared with the prior-year rates reflect the impact of the change in the jurisdictional mix of earnings and the expiration of the U.S. research and development tax credit. The full-year 2012 effective tax rate was also favorably impacted by a settlement with the U.S. Internal Revenue Service related to audits for multiple tax years and the resolution of foreign audits pertaining to multiple tax years." In other words, Pfizer may have benefited from tax accounting in 2012. However, we suspect that tax advantage will persist going forward. Therefore, we will use normalized tax rates for our future projections.
Pfizer also reported the "adjusted" numbers in its income statement items. The adjustments essentially added back non-cash charges and other one-time items, which included depreciation and amortization, restructuring costs, impairment charges, and other deductions. The aggregate adjusted amount was over $10B, which is not an insignificant amount. The adjustments significantly boosted its net income by almost $2B. While we don't add back the non-cash charges in our income statement, these non-cash charges were reflected in the fair value assessment in our discounted cash flow model.
Another glaring item on its earnings report was Pfizer's income from its discontinued operations, which added $5B to net income and contributed an additional $0.68 to its reported EPS. This item is related to the complete sale of Pfizer's Nutrition business to Nestle. While Pfizer indicated that it would continue to spin-off other non-pharmaceutical business to create value to shareholders, including the IPO of Zoetis in 2013, the contributions from discontinued operations should obviously be treated as one-time events.
Conclusion:
Our projected 2012 earnings per share of $1.26 are in line with Pfizer's EPS from continuing operations. Pfizer's reported EPS of $1.94 included $0.68 of contribution from its discontinued business, which should be considered discretionary income unlikely to be replicated in the future.
Pfizer's 2012 effective tax rate was just 21%, which was low compared to its previous average (29%-30%). It was related to changes in tax reporting, development tax credit, and settlement with the IRS. Again, the low tax rate may help boost 2012 earnings, but it should be normalized for future earnings.
Our next reports will look at key events in 2013 for Pfizer and derive a fair value for PFE based on our 2013-2017 earnings projection.
Disclosure: I have no positions in any stocks mentioned, and no plans to initiate any positions within the next 72 hours. I wrote this article myself, and it expresses my own opinions. I am not receiving compensation for it (other than from Seeking Alpha). I have no business relationship with any company whose stock is mentioned in this article.