If you remember my last article on Zynga (NASDAQ:ZNGA) (please consider, Zynga: Future Prospects At Play), I basically told you not to look at the company today, but what the company might become when the real money gaming business takes off. I mean social gaming is OK and I think there is a good future in it, but the big money will be made when the company gets in the online casino business.
Since then, and to my surprise, Zynga has been rising with no real news. In fact two days ago I was really surprised when Zynga reached the $3.40 level. Yesterday I was quite stunned that the rally continued above $3.60 and today I was even more shocked at the opening.
In trying to find out what the catalyst was for the stock to break up with big volume and no news, I didn't find any. And to be honest, based on the high positive volume I saw, I thought there was actually going to be some kind of positive news coming out, even though I had no idea what that might be.
See the gaming business in the U.K. is going to start around mid-year. So in order for us investors to get a feeling of how things are turning out, we have to wait for the third quarter. In the meantime, the only good news that we might get is from the ongoing operations of the company in the gaming space. Honestly, the best case scenario is that it will be surprised in about a quarter from now. So until Q3 comes, I don't think we will get any real solid surprises.
That is the reason why on my previous article on the company I told you, while I am positive on the stock, if it goes to $3.40 I would sell. The reason is because the stock will need real tangible and solid news to break the resistance levels of $3.40.
And the reason it would not be easy for the stock to break out of those levels is because the next resistance level is around $4.5 - $5. In order for the stock to even attempt to climb that high, there has to be real tangible positive news, especially in the form of earnings or some other announcement that the market did not have in mind.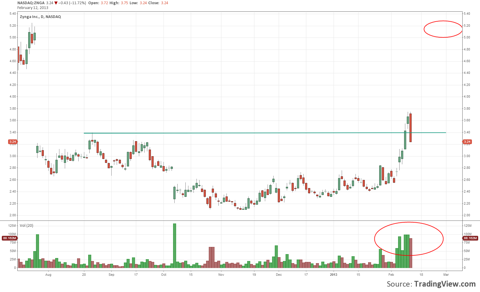 When a stock rises on no real news, it means that the market is anticipating something (discounting something will come out) and market participants buy today, so as not to miss out on the price action tomorrow.
But when tomorrow comes and there is no news, then something has to give. Usually when that happens, in market lingo we say the stock is running ahead of itself.
So as far as the big correction, the answer is just that, the stock was running ahead of itself on no news and nothing else.
But looking at the chart and the high volume traded over the past several days, I honestly don't think the stock will correct much further.
So I reiterate my positive stance on the company and my recommendation for longer tern investors is to do nothing. For those who have no position, a further 10% decline is a very good entry point.
Disclosure: I have no positions in any stocks mentioned, and no plans to initiate any positions within the next 72 hours. I wrote this article myself, and it expresses my own opinions. I am not receiving compensation for it (other than from Seeking Alpha). I have no business relationship with any company whose stock is mentioned in this article.