My investment thesis started with the interest to play the decade low pricing on natural gas (NG). For the past 18 months, I've been analyzing NG producers for a way to play the eventual resurgence in the price of NG.
First, I sought a shareholder friendly management team that would not significantly dilute shareholders as many other producers have, i.e. Sandridge Energy, Inc. (NYSE:SD), Penn Virginia Corporation (PVA), Chesapeake Energy Corporation (NYSE:CHK).
Second, I looked for a play that was mainly focused on dry NG and not the herd of producers chasing natural gas liquids or "oily plays". I believe at some point the extreme NG to oil ratio that we have had in the past two years may eventually revert, either oil will have to go down significantly in price, or NG will have to rise to the historical ratio, around 10. I believe the latter has the highest probability of occurring.
Third, I considered the type of leverage to natural gas; what I didn't want was a producer with too many long term hedges that would take away from the upside when prices recover in the future (See presentation on hedges, pg. 8).
My final criteria was a company that was able to hold capital expenditures within its operating cash flow, as Exco Resources, Inc. (NYSE:XCO) has cut costs and lowered the rig count significantly, maintaining positive or roughly break-even net cash flow the last three quarters.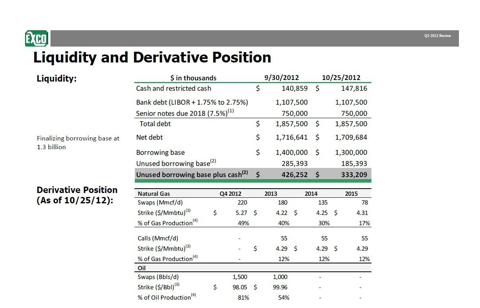 Positives:
· Douglas Miller, Chairman/CEO, is closely aligned with shareholders, given his large holdings and his attempted management buyout for $20.50 starting in late 2010. Clearly, things have changed significantly since then, with natural gas falling to decade lows in the last 12 months. I believe the control price needed at these levels is still around the same price, north of $20, given WL Ross & Oaktree (whom together own 69mm + shares) have average purchase prices that are significantly higher than the current price per share. If Exco Resources, Inc. is still a public entity by late 2015, it could be trading in the $30-40 range-- dependent upon U.S. domestic NG prices moving towards the global equilibrium price with LNG exports.
· WL Ross & Co. currently has the option to purchase more than 20% as of Feb. 3rd 2013 -- an arrangement Wilbur's company put in place with management after the failed buyout.
· Oaktree Capital Management's Howard Mark has Exco Resources, Inc. as one of his largest equity positions at over 5% of his equity portfolio. Howard is an investor similar to Wilbur who has had significant experience in distressed assets (mainly debt). His track record speaks for itself.
· A mean reversion play on the decade low natural gas prices and the extreme disproportionate oil to natural gas ratio.
· The supply dynamics of natural gas are changing rapidly, as the rig count reductions are down 42.6% year over year as of 02/01/2013. This should eventually limit production, although there is a significant lag now, in my opinion, given the amount of wells drilled and capable of production during the lease boom.
· A recent investment from Harbinger capital gives Exco Resources, Inc. ample liquidity for further dry gas field acquisitions. Management stated it might be looking at opportunities in the Marcellus or a tack on position in the Haynesville/Bossier. Management also still has the possibility of getting rid of the TGGT midstream assets; estimates put the value of these assets in the $500-$700m range for their share of the joint venture. I would put a slight haircut on those valuation ranges given that management has not sold the asset in the time frame they originally forecast.
· Management is positioning the company for a long-term (not short term) recovery by matching cash flow to cap ex. I have a feeling Wilbur was instrumental in lowering quarterly cap ex and cost per well expenditures.
· The current political environment with the Obama administration (EPA) heavily favors natural gas power plants over the use of coal in limiting carbon emissions. Nat gas fits the profile for lower carbon emissions and is currently cheaper than most forms of thermal coal used for electricity generation (excluding PRB & some IRB coal.) Roughly 82% of new power generation capacity in 2013 is slated to use natural gas over other power sources.
· LNG export terminals are approved and scheduled for export starting late 2014, with the Sabine pass in Louisiana. Recently, another LNG export terminal, Kinder Morgan's venture (partnering with Shell) on Elba Island, Georgia, was partially approved by regulators. This seems to be one of the more solid long term drivers of reducing the supply glut we have in the U.S. While this will not occur any time soon, I think this could be a start of the higher U.S. equilibrium pricing off global prices for NG. My view is that, in the short term, natural gas will continue to hover in the $3-6 range, while in 2015-16 I expect significant upside potential with the market anticipating the LNG export terminals opening in the Sabine Pass.
· Sabine Pass LNG export terminals could support a withdrawal of 2BCF/d or a 730BCF per year, and the recently approved Kinder Morgan LNG export terminal could support a withdrawal of 350MCF/d or a 127.75BCF withdrawal per year. Given the context, these are significant withdrawals of natural gas given the scope of total U.S. supplies currently around 2.684 trillion cubic feet. This means the annual potential withdrawals could total approximately 32% of current U.S. supplies. This of course is considering full withdrawal potential, which most likely won't be initially realized, given multiple factors. What this does show is how material LNG exports will be for natural gas pricing going forward even if just a fraction of predicted LNG withdrawals come to fruition.
· Demand uptick, total year or year demand in the U.S. is up 20.09%, with residential being most of the demand -- up 45.22%, with colder than prior year temperatures helping boost demand. Industrial natural gas demand was also up a healthy 5.91% year over year. Furthermore, note Canadian exports to the U.S. were 0.74% lower than this time last year. So there is some room for supplies to shrink from the large surpluses produced last year during the warm winter. (Ref. demand table)
Negatives:
· Increased U.S. oil production is causing a continued byproduct (natural gas) to be produced, even with depressed pricing. I think one of the largest concerns for the domestic U.S. natural gas market is what dynamic a continued focus on U.S. oil drilling is having on natural gas as a byproduct of targeted oil production. Fortunately, a large majority of this natural gas is being flared, or does not have adequate infrastructure to bring to market. That being said, the U.S. may need a significant decline in oil prices to have a significant effect on reducing natural gas production.
· The Environmental Protection Agency could potentially increase regulations on fracking and related operations, which would mean higher operational costs per well and higher CapEx.
· A reduction in switching from coal fired power plants to natural gas fired plants.
· A reduction in U.S. growth affecting the usage from industrial & residential consumers.
· Continued increases in natural gas production from cheaper geographic areas like the Marcellus shale, which have relatively lower cost per well compared to other regions in the U.S.
· NG producers continuing to drill leased acreage in order to avoid losing the mineral rights associated with the acreage.
Conclusion:
While the short-term outlook for natural gas is clouded and highly dependent on weather, I believe the longer term outlook (2-3 years) will present the demand catalysts needed to move natural gas prices into the black for most producers. I feel Exco Resources, Inc. is one of the better ways to play a long-term recovery in natural gas, given the current pricing (mid $6s); the risk/reward seems very reasonable. I also think there is the potential to see a buyout at these prices, and while it may not be optimal for long-term shareholders, I think there is a chance that Wilbur Ross makes a play for Exco Resources, Inc. at some point this year.
Disclosure: I am long XCO. I wrote this article myself, and it expresses my own opinions. I am not receiving compensation for it. I have no business relationship with any company whose stock is mentioned in this article.