The Gist
"Don't step in front of a freight train." ~ Unknown
Although from an unknown source it sounds like pretty good advice, huh? This investing axiom warns against trying to pinpoint tops and bottoms and fading strong moves.
A recent downgrade of Bank of America (NYSE:BAC) by Credit Suisse based on valuation after BAC doubled over the last twelve months reminded me of the axiom. These types of valuation downgrades are often viewed as somewhat hollow. The fact is the downgrade is based on a judgment call regarding valuation rather than a fundamental change in the underlying stock or story. I saw the pullback as a buying opportunity and bought BAC.
I posit BAC and most of the big banks are on track for significant gains throughout 2013. In the following sections I will review the upcoming catalysts for the banks followed by an in-depth analysis of why I believe BAC is the one to own.
Why Banks Are Poised To Rally
Global Growth On The Rise And Banks Are the Source Of Funds
Currently, several indicators are flashing that global growth is for real and 2013 could be another great year for bank stocks. For instance, Alcoa (NYSE:AA) stated on its recent earnings conference call that the outlook for Chinese growth is much improved. Furthermore, global growth bellwether Danaher Corp. (NYSE:DHR) predicts higher than expected core revenue growth.
This is good news for global money center banks as they are the source of funding for the growth. This is why you always hear you can't have a real bull market rally without the financials starting off the party. The uptick in the housing market and the steepening of the yield curve due to demand for long-term capital are strong buy indicators for bank stocks.
Major Amounts Of Cash Still On Sidelines
A substantial amount of cash has flowed into stock mutual funds recently. Over the last few weeks approximately $20 billion has flowed in. Nevertheless, this is just the tip of the iceberg with $400 billion in outflows over the last four years. With the Dow near historic highs, the probability of more money coming off the sidelines is great. This should propel the bank stocks higher.
Stress Test Results Will Be A Significant Catalyst
Most of the U.S banks have fortress balance sheets. The Fed's stress test results are due out in the next few weeks. The major money center banks' success at cutting costs and improving their capital positions should bode well for the underlying stocks. I posit many will announce share buyback programs and increased dividends.
For instance, Guggenheim's Marty Mosby says, Bank of America and Citigroup (NYSE:C) both have 30% upside this year. Big dividend hikes, BAC to $0.05 quarterly from $0.01 and Citigroup to $0.25, should be a major catalyst. Last year the bank stocks soared in short order on the heels of the stress test results. See chart below.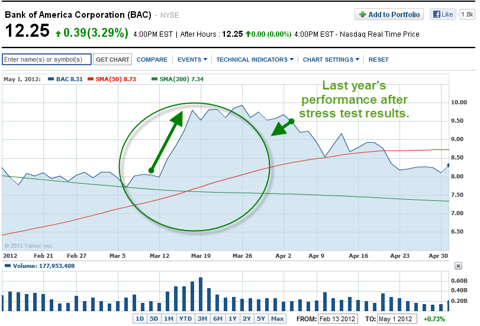 Now that we have determined the banks are a good investment going forward, why choose BAC over the rest?
Why BAC?
BAC Has The Most Room To Run
Currently, BAC is lagging way behind the other banks, creating a significant buying opportunity. Please review the chart below provided by Ycharts.com detailing my top five bank stock selections' year to date performance.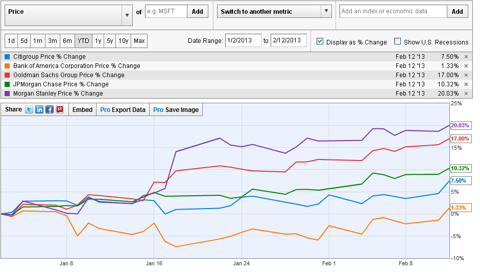 BAC is the laggard with a meager 1.3% gain year to date. Morgan Stanley (NYSE:MS) is leading the way with a gain of 20% while The Goldman Sachs Group, Inc. (NYSE:GS) is a close second at 17%. JPMorgan Chase & Co. (NYSE:JPM) and Citigroup Inc. round out the top four with gains for 10% and 7% year to date respectively.
BAC Still The Best Buy Based On Price To Book
BAC is trading for the lowest price to book ratio of the five major banks as well. BAC is currently trading for just over half of its book value. Historically, BAC has traded for closer to two times book. The bank has substantial upside left on the books.

Technically BAC Looks Solid
Technically, BAC looks good. The coveted golden cross was fulfilled earlier this year. The stock has been in a solid uptrend since mid-July. The stock recently pulled back to the midpoint of the uptrend channel. The stock has a beta of 2.40, which means it is extremely volatile as compared to the markets in general. BAC provides the most bang for your buck.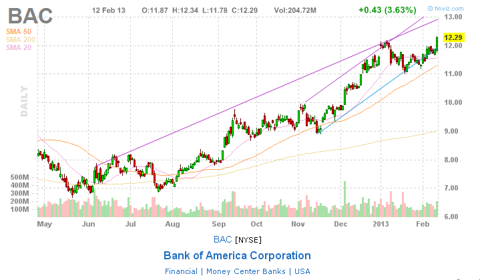 Fundamentals Are Improving
BAC is still a solid buy right now. Although the bank has doubled over the past year, BAC is still trading three times below its historical average price to book ratio. Moreover, earnings continue to increase. EPS is up over 100% this year and expected to grow by 30% next year, the most of all the banks under review. See chart below.

The Bottom Line
I posit this is the calm before the storm. The recent pullback in BAC was healthy for the stock. BAC still has considerable upside potential, strong fundamentals and catalysts for growth. BAC has a fortress balance sheet and strong cash flow providing the opportunity for an additional share buyback program and/or a dividend increase to be implemented when they pass the stress tests.
The stock is a solid buy at this level if the U.S. housing market continues to improve. BAC seems poised for solid growth. My target price is $20 within the next twelve months. If you choose to start a position in any stock, I suggest layering in a quarter at a time at a minimum to reduce risk. If you want to reduce risk even further, you can buy a basket of bank stocks.
Disclosure: I am long BAC. I wrote this article myself, and it expresses my own opinions. I am not receiving compensation for it (other than from Seeking Alpha). I have no business relationship with any company whose stock is mentioned in this article.
Additional disclosure: This is not an endorsement to buy or sell securities. Investing in securities carries with it very high risks. The information contained within this article is for informational purposes only and is subject to change at any time. Do your own due diligence and consult with a licensed professional before making any investment.