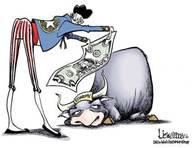 It's been a great beginning to the year coming out of the gate, largely stemming from an uneventful fiscal cliff settlement and better than expected earnings. This has brought a lot of investors out of their slumber, looking for higher yielding alternatives, and simply due to the fear of missing out. Yes, complacency is running high, and that is definitely a warning sign, for "when life looks like easy street there's danger at your door."
However, I have noticed a trend that I have written about and discussed on the radio, but have seen little of elsewhere. It's a little something I have dubbed the "Post-Earnings Nap." For the last few years, stocks have sold off heading into earnings season as investors prepare for disappointment, only to have earnings come in better than expected, consequently creating a nice little rally. Then, as we approach the end of earnings announcements, stocks have consolidated or sold off for a few weeks, and that is where we could be right now. This would coincide nicely with the sequester debate coming up on its March 1st deadline, which is going to be downright ugly and scare the bejesus out of investors.
However, in the bigger picture, Bernanke and the boys are printing and spending money like drunken sailors. Like it or not, that's good for the stock market, until, of course, all of a sudden it's not, and this bubble we are in bursts like the others the Fed has created. Although, you have to love the January Barometer, which is encouraging. As the saying goes, "How goes the month, so goes the year."
Looking back 63 years (starting with 1950), this indicator has a 90% accuracy rate. There have been 39 positive Januarys -- 35 were followed with positive gains. Only three years failed to follow January gains: 2001, 1994 and 1996, all of which ended with losses. Year 2011 had a positive January, but finished flat. The average gain for the full year following a positive January was 16.5%. Impressive. That is almost 2 times the average annual gain of 8.7% over the full 63 years. As you know, I love stats like this. The only problem is that when something is widely expected, it seldom occurs that way. Or, as my favorite saying goes, if it's obvious, it's obviously wrong!
Once we finish our "Post-Earnings Nap" and pass the sequester debate, and basically just get February behind us (February is traditionally the second worst-performing month after September), stocks will continue to resume their rally. During this consolidation period, investors can accumulate growth stocks, and particularly the high quality tech companies such as Apple (NASDAQ:AAPL), which is getting some bad press right now due to competition, but that is something it always seems to come back from; Google (NASDAQ:GOOG); Intel Corporation (NASDAQ:INTC); Qualcomm (NASDAQ:QCOM); Microsoft (NASDAQ:MSFT); Cisco Systems (NASDAQ:CSCO); Yahoo (NASDAQ:YHOO) and VMware Inc. (NYSE:VMW). The funds with more diversification and less individual company risk are also the ones to buy, like the SPDR S&P 500 (NYSEARCA:SPY), PowerShares QQQ Trust Series 1 (NASDAQ:QQQ), and iShares Russell 2000 (NYSEARCA:IWM).
Commodities and metals specifically lagged for the last few months, but are very attractive, as QE and federal stimulus are not going away anytime soon. More aggressive investors can play this sector through Goldcorp Inc. (NYSE:GG), Barrick Gold Corp. (NYSE:ABX), SPDR Gold Shares (NYSEARCA:GLD), Power Shares Double Gold (NYSEARCA:DGP), Market Vectors Gold Miners ETF (NYSEARCA:GDX), Newmont Mining Corp. (NYSE:NEM), Freeport-McMoRan Copper & Gold Inc. (NYSE:FCX), plus Silver Wheaton Corp. (NYSE:SLW), ProShares Ultra Silver (NYSEARCA:AGQ) and Fortuna Silver Mines (NYSE:FSM).
Disclosure: I have no positions in any stocks mentioned, and no plans to initiate any positions within the next 72 hours. I wrote this article myself, and it expresses my own opinions. I am not receiving compensation for it. I have no business relationship with any company whose stock is mentioned in this article.