On January 16th, H&R (OTCPK:HRUFF) came to an agreement by acquiring Primaris REIT (OTC:PMZFF) for the purpose of solidifying its position as the diversified Real Estate Investment Trust (REIT) leader in Canada. Details of the acquisition are available in PDF format here.
A Canadian REIT
The first question that comes to mind is why should investors consider putting their hard-earned money in a Canadian REIT? I will briefly show the benefits. Canada has proven itself time and time again as one of the safest financial climates for investors' money. Furthermore, the Canadian real estate market was not built on sub-prime leverage to the extent of the U.S. market. During and after the economic downturn, Canada managed to avoid most of the issues with the real estate market that the U.S. has struggled with. Thus, Canadian policies and regulations in the real estate market are more conservative and thereby more secured.
H&R Real Estate Investment Trust
H&R is a REIT owning a diversified portfolio of office, retail and industrial assets. As of September 30th, 2012, according to the latest available financial quarter, H&R has registered $214.4 million in revenue for $143.3 million in gross profit and $37.2 million in cash. However, the long-term debt grew to $5.5 billion from $4.2 billion last year. H&R mortgages payable were $4.2 billion versus $6.2 billion in real estate assets.
H&R Debt to Assets Percentage (%)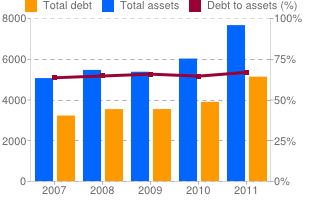 Source: Google Finance
Why should investors pick H&R REIT instead of a more reputed REIT? First of all, H&R owns 42 properties in its office portfolio. Properties are allocated in five provinces in Canada and five states in the U.S. The retail portfolio includes 46 Canadian properties in five provinces and 92 American properties in 23 different states. The industrial class is composed of 115 properties listed in eight provinces and ten states. Regrouping a total of 295 properties, H&R's portfolio is sorted by different class types and regions to diversify its assets and keep the risk to a minimal level.
Property Net Operating Income (NOI) by Geography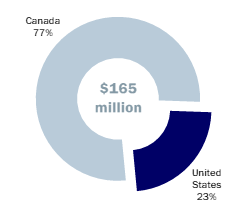 Source: H&R Real Estate Investment Trust
Property Net Operating Income by Asset Class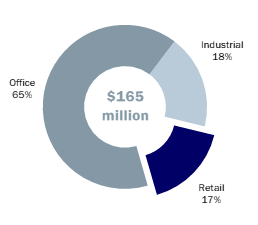 Source: H&R Real Estate Investment Trust
Furthermore, H&R portfolio's top ten tenants includes Encana (NYSE: ECA), Bell (OTC:BLIAF), TransCanada (NYSE: TRP), Telus (NYSE: TU), ScotiaBank (NYSE: BNS), Rona (OTC:RONAF) and Canadian Tire (OTC:CDNTF); famous and well-implanted Canadian companies. H&R has $4.8 billion in market capitalization with $10 billion fair value. Total debt percentage is acceptable at 52% and acquiring Primaris should lower it a bit. The occupancy rate is great with 98.5% on an average lease term of 11.4 years.
What makes Primaris acquisition so attractive?
Simply put, this REIT would become the largest REIT in Canada by fair value and by enterprise value. As of September 30th, 2012, Primaris recorded $102.3 million in revenue for $55.6 million in gross profit. The long-term debt grew to $1.6 billion from $1.3 billion last year. Primaris mortgages payable were $1.4 billion versus $3.8 billion in real estate assets.
Primaris Debt to Assets Percentage (%)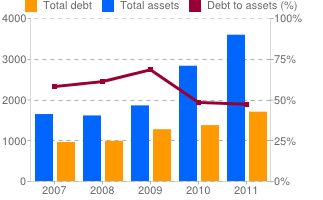 Source: Google Finance
To add some incentive, the acquisition of H&R would position the company as one of the best potential growth retail REITs in Canada. Primaris is currently the third largest owner-operator of enclosed shopping centers in Canada with an increased market cap of $6.9 billion. Enclosed shopping centers are the most popular type of shopping venue in Canada. Primaris has an excellent occupancy rate at 97.5% on 35 owned retail properties.
A challenge H&R was facing in recent years was to increase the proportion of the retail assets (17%) because office assets (65%) account for two-third of the entire portfolio. Office assets are characterized by their greater risk than retail properties. Acquiring Primaris would address this unbalanced proportion and improve the retail ratio from 17% to 39% and decrease office assets by 17% to 48%. But this is not the only benefit as we will see.
Property NOI by Asset Class with Primaris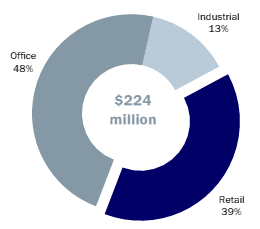 Source: H&R Real Estate Investment Trust
A new player in the sandbox
Adding Primaris premium assets would evidently enhance the overall value of H&R's retail portfolio. Furthermore, a new giant retailer is coming this year to the Canadian market, which will change the retail picture. Therefore, ten of Primaris' retail properties will receive the "new" retailer increasing customer traffic significantly. Target (NYSE: TGT) being this new player, perennial rival of Wal-Mart (NYSE: WMT). Target is set to open 126 stores allocated in 9 provinces starting in late March 2013, according to the company. This will change the Canadian retail industry for good, ending Wal-Mart's monopoly north of the border.
Who will benefit from this? REIT investors, of course. Being the landlord of Target stores will be profitable by increasing customer traffic and stability to the retail properties. Adding the second largest general merchandise retailer in America will ensure steady revenue and added value for years to come.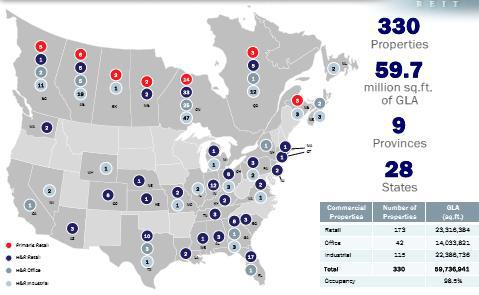 Source: H&R Real Estate Investment Trust
On the downside, H&R will face some headwinds. Included in their "friendly" offer are two questionable asset options. The Primaris Board granted H&R the right to acquire the Dufferin Mall shopping center and a parcel of land on Yonge Street at $36 million discount to the appraised value and $70 million in cash payment (~2.5% of Primaris equity value) for an effective $106.6 million break fee in the eventuality the deal would end. Getting a key asset as a break fee for a discounted price is clearly unfair for Primaris unitholders, to say the least. The break fee negotiated by H&R could become a sticking point in any counter proposal. The valuation of the asset option and its leverage in the option value are points of contention at this time which are clearly obvious for the average person.
A competing offer
Another challenge on the horizon is an investment group composed mainly of KingSett Capital (a private REIT), the Ontario Pension Board and RioCan REIT (OTCPK:RIOCF). The consortium is competing with H&R by proposing a $4.4 billion takeover of Primaris retail assets or $26 per unit share for their 35 retail properties across Canada. In the related transaction, RioCan has agreed to buy five regional malls and three other shopping centers owned by Primaris. Included in H&R negotiated break fee is the Dufferin Mall and the parcel of land on Yonge street which RioCan is also interested in. "None of the bidders in the prospective takeover consortium, KingSett Capital, the Ontario Pension Board or RioCan REIT had ever broached the topic of buying Primaris in the past," said John Morrison, the CEO of Primaris in a recent interview with the Globe and Mail newspaper when commenting on the hostile bid. It makes sense especially now that Target is adding value to the retail assets of the company by entering the Canadian market.
Primaris CEO finally assessed the consortium bid as insufficient. By accepting this hostile takeover, Primaris would be obliged to concede the assets coveted by RioCan to H&R as part of the break fee included in the first offer. The rejected bid from KingSett Capital was the only right decision to make by the Primaris Board. For unitholders of the company, it would have been very upsetting to see the Board thinking otherwise.
Bottom Line
Investing in Canada has never have been more exciting and rewarding. H&R stock is trading on the Toronto TSX market, but American investors can buy this stock through their usual broker in the over the counter market (OTC) with the American ticker OTCPK:HRUFF. Dividends have never been cut since inception of the company back in 2009. So you can expect steadily growing dividends for the long term.
The acquisition of Primaris by H&R is scheduled to be completed by the end of March 2013, conditioned on the approval of both REIT unitholders and Court approval. I recommend buying the stock before March 2013 to capitalize on Primaris added value once the deal is concluded. If you are looking to add some stability, diversification, low-risk and growth value to your portfolio, picking this stock would be rewarding. Time is key to act as now is the opportunity. Getting aboard?
Disclosure: I have no positions in any stocks mentioned, and no plans to initiate any positions within the next 72 hours. I wrote this article myself, and it expresses my own opinions. I am not receiving compensation for it (other than from Seeking Alpha). I have no business relationship with any company whose stock is mentioned in this article.