Sometimes small stocks hold large stories with varying translations. Such stocks tend to be either highly overvalued or highly undervalued, because they are traded on emotion rather than information. BGC Partners (NASDAQ:BGCP) is in that category, and I present the story in two chapters - the kerfuffle and the aftermath (perhaps afterglow).
The kerfuffle stage happened in November, when Hurricane Sandy pounded the parts of Manhattan where BGC Partners is at. Compounding this property loss and business discontinuity was the decline of the wholesale brokerage business due to investors staying out of a volatile stock market. Consequently, over two days you had the following unsubtle analyst head-to-head:
Table pounding buy. Right after Sandy, an analyst from Raymond James issued a strong buy on BGC Partners with a price target of $6.50. Patrick Shaughnessy of Raymond wasn't any old analyst, he was a StarMine 5-star rated analyst for this particular stock. On the day this upgrade was issued, BGCP went up from $3.33 to $3.84.
Table pounding sell. The very next day following the 'RayJay' upgrade, an independent analyst house, CLSA, came out and downgraded BGCP from underperform to sell, reducing their price target from $3.50 to $3.15. CLSA is small but by no means lacking in character. They are known to be independent, quirky and now ostensibly owned by the Chinese government.
The CLSA analyst was at least briefly vindicated, as BGCP encountered and briefly dipped below $3.15 towards the end of 2012. Through December 2012 and January 2013, they announced small acquisitions of reputable real estate names - Newmark-Grubb-Knight-Frank and Smith-Mack respectively.
BGC Partner's acquisition of real estate names leads to the next part of understanding BGC Partners, which I call the aftermath. The aftermath has been largely positive, and consists of the following points of note:
Core Business Intrigue. In the last analyst conference, BGCP outlined their business as (still) being 70/30, 30% real estate and 70% financial. You could argue that even good real estate moves may not make up for the erosion of the financial franchise. If you read between the lines of the CEO interview with Fox News, he seems to see a 0/100 end state (i.e. a real estate company). And real estate is anticipated to do quite well for some time to come.
Insider Buys. As can be seen in the figure below, there have been notable buys at significantly higher prices than BGCP's current trading price. Furthermore, the majority of these purchases were from grizzled veteran Albert Weis, an 85-year-old who was at one time the Chairman of the New York Board of Trade.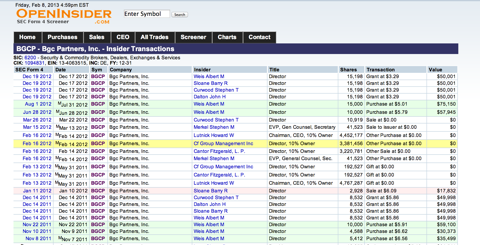 Improving Technicals. After a walk in the wilderness, BGCP has returned to the price it was at before Sandy hit (as you can see in the 3-month chart below). And if you look at the 5-year chart, it has seen substantially higher highs in good times (and to be fair, lower lows - but we've already covered that).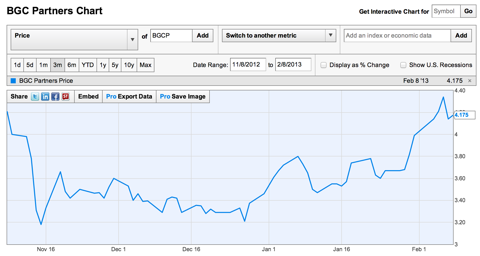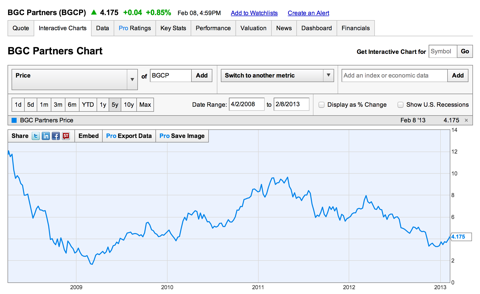 So what is one to make of all this? My take is that BGCP merits consideration for the speculative, 'high alpha' part of your portfolio. You're probably looking at a downside of about 20% to lows in the mid $3's and a double on the upside. Note that BGCP is volatile and not for the faint of heart, and consider the analysis above as input to your own conclusions.
P.S. - BGCP is scheduled to announce 4th quarter earnings on February 14th, at which point one of the analysts is going to be very right.
Disclosure: I am long BGCP. I wrote this article myself, and it expresses my own opinions. I am not receiving compensation for it (other than from Seeking Alpha). I have no business relationship with any company whose stock is mentioned in this article.