In a previous Seeking Alpha piece, I noted that Apple's (NASDAQ:AAPL) stock valuation was not demanding at the $500 level but that the company needed to be more proactive given reasonable but not accelerating earnings and revenue numbers. In the past, Apple stock would bounce - and bounce strongly - on an earnings release following a period of stock price weakness. Google (NASDAQ:GOOG) has also seen this pattern regarding stock price weakness and bounce-back action following a quarterly release in recent years. But despite falling almost 30% before the earnings announcement, Apple cratered a further 12% when it released earnings on January 23rd. Clearly, even with a low stock valuation and falling expectations, the Apple investor community did not expect as many negative or ambiguous points from the quarterly earnings and conference call.
Recently, a slew of analysts, commentators, and high-profile investors - most notably David Einhorn of Greenlight Capital - have begun more vocally agitating for Apple to do something with its monstrous cash hoard. I believe these savvy investors see what my previous articles talked about: that Apple stock is broken, but not the company or the products. Apple is still strongly positioned against the Google-Samsung Android Alliance, and neither BlackBerry (NASDAQ:BBRY) nor Nokia (NYSE:NOK) appear to have long-term staying power in terms of gathering market share. Android is given away free but people are paying a premium for Apple's software, apps, and products. iPads and iPods continue to generate cash for the company.
Let's be honest, it is an impossibility for any genius company or individual to have hit product after hit product. Einstein did not come out with a revolutionary idea in physics every year or every few years. There is randomness to genius or even consumer products. Beginning in the early-2000's, Apple came out with iTunes, the iPod, 1-piece iMacs, the iPhone, and then the iPad. That is 5 market-dominating products all created within 10 years. By comparison, Sony (NYSE:SNE) had 2 great inventions spanning 2 decades in the 1970's (the Trinitron color TV) and the 1980's (the Walkman). If you want to be generous, make it 3 for Sony if you include the Betamax (great technology, lousy marketing). Sony would go another 20 years before a hit technology product, Blu-Ray, and the market fears that Apple may head down a similar path. Apple's winning products record of the last decade is unlikely to be repeated, but neither is Sony's multi-decade sleepwalk, either.
Despite the huge drop after an already-sizeable decline in the previous 4 months, Apple's compelling thesis remains intact. Apple's major problem remains being caught in No Man's Land: not enough growth for the momentum crowd investors and skeptical value investors unwilling to pick up the slack. Margins are still at respectable levels; market share is falling mainly because the smartphone and other markets are growing faster than Apple's own growth within the product category.
Let's review the positives from the Apple Q1 FY2013 release:
The company continues to throw off huge amounts of cash earnings each quarter.
Cash is at $137 billion - and growing. $16 billion in cash was added during Q1.
Record smartphone share in the U.S. through the 2 major carriers, Verizon Wireless (NYSE:VZ) (63% of all smartphones sold) and AT&T (NYSE:T) (84%). With Sprint (NYSE:S), this likely is 5-6% market share gains in the lucrative U.S. market.
Consistent Growth: iPhone sales in the last 3 quarters have increased from 27 million units to 37 million to 48 million. Samsung (OTC:SSNLF) in the same period saw shipments go from 58 million to 36 million to 64 million. Apple is growing slower - but growing nonetheless and in a much less volatile fashion than Samsung.
Here's what scared the Street and the analyst community:
A loss of global market share of somewhere between 1-4% (depending on inventory and sell-throughs) for the iPhone 5.
Lack of a cheaper iPhone to compete in the lower-end (< $300) smartphone segment, which is now in the countries with the fastest per-unit growth. And a belief that if one is sold, it will cannibalize regular iPhone sales and reduce overall margins further.
Some cannibalization of iPad sales with the lower-priced iPad Mini. Again, a margin story.
Slowing iMac sales.
Robert W. Baird projects margins out a few quarters and note that the chart shows the recent decline and projections are within the last few years' range: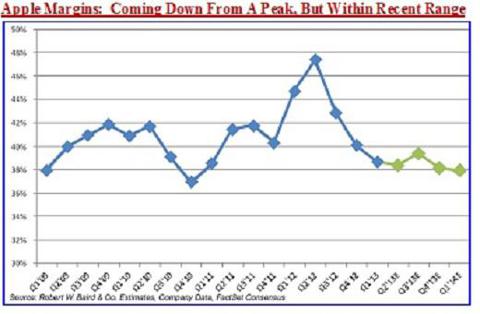 As the chart below shows, Apple is still growing - and probably fast enough to justify P/E expansion, not contraction - just not as fast as it was in previous years: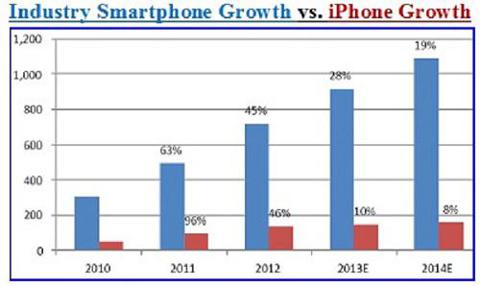 Even though Apple's stock is priced like a value stock with a low P/E valuation, the analyst community continues to judge it as if it were still a hyper-growth stock and the overall community sentiment reflects that. Even after the 38% stock price drop and mediocre earnings release, only 6 out of 60 analysts had Apple rated either Neutral or Sell. That reflects the inertia of a decade of accelerating revenue and earnings and Apple consistently beating conservative estimates. Analysts have come to expect Apple to low-ball their numbers and then beat them. Apple confessed this quarter that the numbers going forward are likely to be the actual expectations. Any beats - if that - will be marginal at best, unless consumer preferences gravitate towards Apple products in an unforeseen shift.
Here's what can help Apple going forward:
Addition of new iPhone carriers, including NTT DoComo (Japan), T-Mobile (U.S.), and China Mobile (NYSE:CHL) in either 2H 2013 or early-2014.
New iPhone, iMac, and iPad products scheduled to hit in 2013 and 2014. This includes a large-screen option to combat Samsung in this high-end niche.
Sub-$300 iPhone launch likely to expand market share without cannibalizing existing iPhone 5.
Gross margin deterioration likely to slow or reverse, especially if NAND pricing weakens and without the huge CAPX necessitated for the rollout of the touch-screen iPhone 5.
Apple TV: it's not in any of the analysts' models, so anything here is a major plus.
More proactive cash deployment on behalf of shareholders, as advocated by some analysts, investors, CNBC, and David Einhorn.
Component supply relief to the gross margin and the absence of a price war in handsets (the Street's main fear) should be alleviated soon. Neither BlackBerry nor Nokia are in a position to cut prices much further. Samsung faces price competition in memory chips and TVs and does not want to see deep price-cutting on its most profitable product line. So expect rational price behavior from the industry market share leader.
In the meantime, Apple stock is simply not vulnerable beyond the low-400's in a worst-case scenario. From the recent low of $440, we are talking about 5% downside, with upside to $600 easily achievable short-term as the stock appears washed-out. That is a 6-to-1 upside/downside ratio, an excellent risk-reward ratio that led me to add some Apple to some managed accounts near the recent bottom. I still believe Apple can trade back to $700 -- and then some -- but it will be a bit harder slogging and a few more quarters of results to get back to that level. Still, I can easily see a bounce-back and 'easy money' made on a move back to $600 as investors realize the sky isn't falling, Apple shares are cheap, the company will eventually be parting with more cash, and short-covering and new longs who turned bearish in the $650-$700 range re-enter the stock at current levels. Money manager and bond guru Jeff Gundlach was bearish and saying to short Apple at $650-$700, not in the $mid-400's.
For those wanting to hold on and wait for the tougher move back up to $700, gains made from today's depressed levels will make holding longer-term for the higher price a bit easier. To get back to the record highs, Apple investors will want to see 2013 developments in the tablet and smartphone arenas plus more capital management agitation (CEO Tim Cook throwing cold water on Einhorn & Co. at today's Goldman Sachs conference). With the rest of the market approaching 5-year highs and many other asset classes like junk bonds looking a bit 'bubbly', there is something to be said for buying a premier blue-chip company at 30% off the recent highs and at a 7x P/E ex-cash.
Apple shares may not be as green as they once were. But they're not rotten.
Disclosure: I have no positions in any stocks mentioned, and no plans to initiate any positions within the next 72 hours. I wrote this article myself, and it expresses my own opinions. I am not receiving compensation for it (other than from Seeking Alpha). I have no business relationship with any company whose stock is mentioned in this article.
Additional disclosure: The author has no personal position in AAPL but accounts under his control may have a position in the stock as of publication.