For everything which was said last night in the President's State of the Union address that the market could get excited about, there was more than enough to offset the enthusiasm with rhetoric which could certainly add uncertainty to the current weak economic recovery. Most of what is said during these speeches are for the benefit of one's base and this gives the President an excellent bully pulpit in which to lay out their plan for the upcoming year as they see fit. However, at the end of the day bills must pass both the House and Senate before arriving on the President's desk and rarely does one get exactly what they wish for. Our guess is that we see a deal on the debt ceiling first and then everyone comes together to negotiate on these other details.
Chart of the Day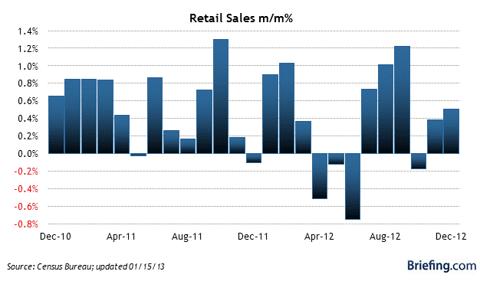 Chart courtesy of Briefing.
One would like this number to be higher, but growth is growth and we shall watch to see if the trend continues to be mostly positive. Comps are going to become more difficult for retailers to exceed and the names which were performing well early will see this issue creep up first. The laggards will obviously see it later on, but investors will already know based on the leaders and have this factored in.
We have economic news due out today, and it is as follows:
MBA Mortgage Index (7:00 AM EST): N/A
Retail Sales (8:30 AM EST): -0.4%
Retail Sales- ex-auto (8:30 AM EST): -0.3%
Export Prices- ex-ag (8:30 AM EST): N/A
Import Prices- ex-oil (8:30 AM EST): N/A
Business Inventories (10:00 AM EST): 0.3%
Crude Inventories (10:30 AM EST): N/A
Asian markets finished higher today:
All Ordinaries - up 0.86%
Shanghai Composite - CLOSED
Nikkei 225 - down 1.04%
NZSE 50 - up 0.08%
Seoul Composite - up 1.56%
In Europe markets are mixed this morning:
CAC 40 - down 0.13%
DAX - up 0.10%
FTSE 100 - down 0.24%
OSE - up 0.08%
Retail
If you want to talk about a company that knows only how to please investors and make analysts look silly, look no further than Michael Kors (NYSE:KORS) which has done nothing but blow away estimates since going public. It is part of the reason that the shares hit an all-time high yesterday and finished the day at $62.00/share after rising $5.00 (8.77%) on volume of 20.9 million shares. We find it surprising that more do not talk about the company, especially with earnings for Q3 2012 up by nearly 130%. Looking at the results a bit deeper, analysts had been expecting $0.41 EPS, but the company reported $0.64/share - a figure which smoked the estimate, plain and simple. The revenue was also higher than estimates coming in at $636.8 million versus the consensus of $540.3 million. The company was driven by strong results in North America, but also surprisingly strong results in Europe as the brand makes inroads with consumers on the continent.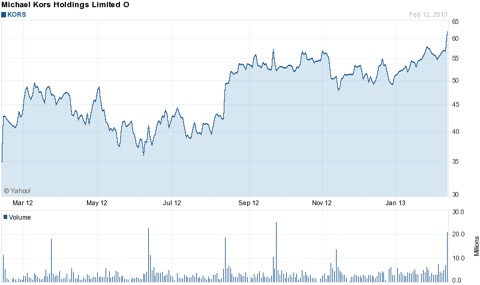 Chart courtesy of Yahoo Finance.
Financials
Regions Financial (NYSE:RF) traded as high as $7.97/share yesterday, once again falling short of taking out the $8/share level. The whole process is like waiting for Godot, except we would recognize when the feat was achieved although right now it seems that it shall be an endless task. Honestly though, joking aside, it looks like only a matter of time because for as many failed attempts as the stock has had trying to take out $8/share, it is still hanging in there rather strongly and most importantly there have been no sell-offs. Shares are consolidating here and it sure looks like they are building a base for the next leg up.
This one month is a decent depiction of Regions flatlining here at $8/share, however, we think that the shares eventually rally through this on high volume as discussed in previous articles.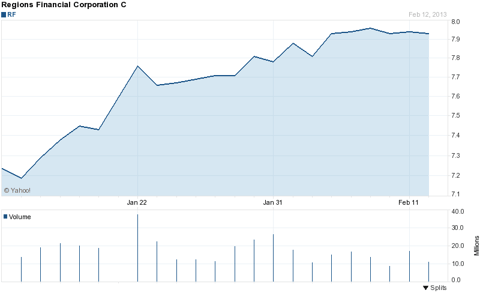 Chart courtesy of Yahoo Finance.
Consumer Goods
Whirlpool (NYSE:WHR) has long been our favorite and preferred way to play the recovery in the housing sector. Our thinking has been that as the housing market recovered it could come back either extremely strong or only somewhat so, and whether a lot of new housing was needed or it was a mix of new housing and an increase in sales of used homes that fueled demand it seemed clear to us that Whirlpool would be a beneficiary. This has indeed been the case and although the homebuilders have been the better investment based on returns, we could not be happier with the performance of Whirlpool since our recommendation of the stock to readers and friends who put it in their retirement account. The reward has not been as great, but neither was the risk and a decent dividend has been collected on the way up. For those wondering, even with the shares trading at over $110/share we still remain bullish although we admit we are now paying attention to the shares and working the numbers over to see how much more upside is left from our original upside now that the market has changed.
Homebuilders
Speaking of homebuilders, KB Homes (NYSE:KBH) saw shares rise $1.07 (5.76%) to close at $19.64/share on volume of 7.3 million shares. Investors saw the company hit a new 52-week high as the shares rallied along with the rest of the homebuilder segment. Comments made by President Obama during last night's State of the Union address would seem to be bullish for the homebuilders and the housing market in general as he appears interested in getting Americans the credit to get into houses they can afford which means there may be a push for banks to ease lending standards. That would be great for housing in regards to demand, but one has to recognize the irony of using a tactic which led to the previous collapse being redeployed in order to reinflate.
Entertainment
Comcast (NASDAQ:CMCSA) reported EPS after the bell of $0.52 versus the $0.53/share that analysts were looking for. The company was also a bit light on revenues missing the $16 billion figure analysts were looking for with their $15.94 billion actual. That was the bad news; the good news was that the company announced plans to raise the dividend by 20% and initiated a $2 billion share buy-back program while also agreeing to purchase General Electric's remaining 49% interest in NBCUniversal for $16.7 billion while also striking a separate deal to purchase NBCU's real estate properties in New York City and New Jersey for an additional $1.4 billion. This news had the shares up roughly 8% in after hours trading and should make the stock one of the more active issues in today's session.
Disclosure: I have no positions in any stocks mentioned, and no plans to initiate any positions within the next 72 hours. I wrote this article myself, and it expresses my own opinions. I am not receiving compensation for it (other than from Seeking Alpha). I have no business relationship with any company whose stock is mentioned in this article.