On Monday evening, February 11, 2013, Bernstein downgraded Facebook (NASDAQ:FB) from Outperform to Market Perform. This analyst action had such weight that it knocked FB down about 1% in after hours trading and the selling continued into the regular trading hours the following day. On relatively high volume of 93.4M shares, FB broke down below its 50-day moving average (DMA) and confirmed a growing downtrend from post-earnings highs.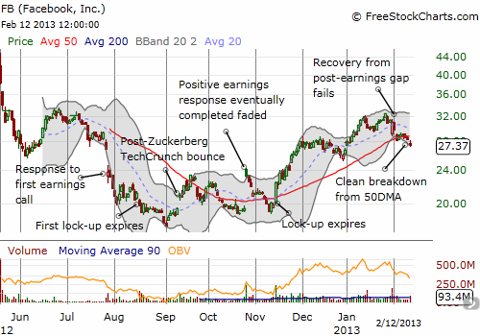 Facebook breaks down
Source: FreeStockCharts.com
In the downgrade, Bernstein cited concerns over ad pricing, revenue growth and valuation. Specifically, Bernstein is doubting that FB can grow fast enough to justify forward multiples to EBITDA. While the market seemed to respond to this critique, I think it is more important to judge FB on sentiment for now since it is hard to rationalize the current valuation in any other way (for example, when sentiment is strong, it is a lot easier to rationalize high valuations with high expectations). When I noted the extreme bullishness ahead of Facebook's January earnings announcement, I cited the following stats on analyst ratings:
According to Yahoo!Finance, three months ago, FB had 8 strong buy, 14 buy, 15 hold, 1 underperform, and 1 sell rating. Last month, the lowest rating was a hold with 10 analysts rating FB there. A total of 14 analysts rated FB a strong buy, and 11 analysts rated FB a buy. According to Schaeffer's Investment Research, FB is now up to 20 strong buy, 2 buy, and 7 hold ratings.
Bernstein's downgrade has helped turn these numbers southward ever so slightly. Yahoo!Finance currently cites the following analyst rating totals: 11 strong buys, 13 buys, and 11 holds. Schaeffer's Investment Research now counts 17 strong buys, 3 buys, and 9 holds (I use multiple sources since the roster of analysts can differ). These are very slight changes to the overall numbers. Indeed, the options trading on Tuesday did not demonstrate any particular negativity even as selling was firm in the stock. The following table shows the open interest (OI) versus the volume (Vol) put/call ratios by expiration month for all option strikes. I also include the ratio of options volume to the open interest (Vol/OI) to give a sense of scale. Months with at least 100K total options in open interest are highlighted in bold. (All data from Etrade.com)
Feb 16 - OI: 0.65, Vol: 0.98. Vol/OI: 0.24
Feb 22 - OI: 0.66, Vol: 0.66. Vol/OI: 0.24
Mar 01 - OI: 0.54, Vol: 0.84. Vol/OI: 0.30
Mar 08 - OI: 0.88, Vol: 0.42. Vol/OI: 0.79
Mar 16 - OI: 0.76, Vol: 0.53. Vol/OI: 0.09
Apr 20 - OI: 0.67, Vol: 0.61. Vol/OI: 0.20
May 18 - OI: 0.92, Vol: 0.65. Vol/OI: 0.50
Jun 22 - OI: 1.01, Vol: 2.49. Vol/OI: 0.05
Sep 21 - OI: 1.03, Vol: 0.55. Vol/OI: 0.11
Jan 18 (2014) - OI: 0.71, Vol: 0.22. Vol/OI: 0.04
Jan 17 (2015) - OI: 0.34, Vol: 0.47. Vol/OI: 0.07
The overall put/call ratio is 0.71 and still at the lows for FB. Note in the above list that June sticks out as particularly pessimistic but that in general, the trading volume did not exhibit any relative increase in put option trading. In fact, in some cases, call options remained heavily favored. Options expiring on Friday experienced a relative surge in put trading, but the remaining lifetime is too short to make much of it.
The marginal shift in sentiment is particularly notable given Facebook has reported earnings three times and each episode has suffered a negative reaction, albeit in different ways. In July, FB gapped down and continued its sell-off to its all-time lows. In October, the stock strongly gapped up but erased all those gains and then some by November. In contrarian fashion, November's massive lock-up expiration punched in a final bottom. Last month, FB gapped down after earnings, buyers stepped in to take the stock close to even, but it has sold off ever since.
These gyrations are understandable as there is plenty of uncertainty on Facebook's monetization prospects. The company is spending a lot of money to throw a lot of product and features at the wall and only time will tell what sticks and what pays off. Analyst valuation models have to utilize a LOT of assumptions. For example, Bernstein makes its best guess at FB's prospects for its ad network and other advertising inventory. As these questions get resolved, I am not surprised to see the stock lead sentiment to rapid extremes of optimism and pessimism. I am expecting more downside is yet to come until sentiment reaches its next crescendo (I still have a $20 downside target for "some point" this year).
From a trading standpoint, the current breakdown in the stock provides an opportunity to buy some "cheap" protection for short positions. Since short interest is at all-time lows of 20.5M (only 4.4% of float), I doubt much of Tuesday's call option trading was about protecting short positions. Indeed, short interest dropped another 25% in the two weeks going into earnings, producing an even greater pre-earnings extreme than I observed at the time of the last piece.
In the meantime, insiders are still unloading large quantities of stock to lock in profits (and certainly to balance out portfolios well over-weighted in FB riches). Since earnings, another $85M in shares have been sold in automatic trading plans, the vast majority of it by one director (James Breyer). Note well that these amounts are small potatoes compared to what insiders have already locked in since FB went public: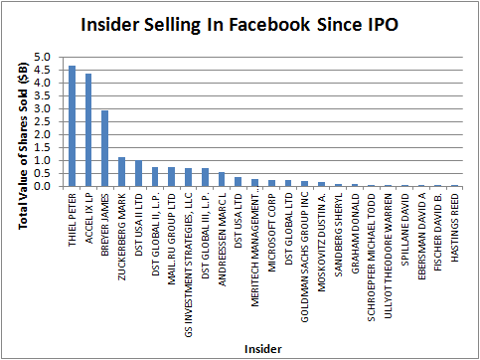 Insider Selling In Facebook Since IPO
Source: Yahoo!Finance
These awesome numbers are a healthy reminder that the primary purpose of an IPO is not to enrich the latecomers.
Be careful out there!
Disclosure: I am short FB. I wrote this article myself, and it expresses my own opinions. I am not receiving compensation for it (other than from Seeking Alpha). I have no business relationship with any company whose stock is mentioned in this article.