Since the elections in November, marijuana stocks have sky-rocketed, making anyone that invested early rich overnight. I bought Medical Marijuana (OTCPK:MJNA) about two months ago at .1250 cents and I am still holding today with over 300% gain.
I foresee this just being the tip of the iceberg. Marijuana is a multi-billion dollar industry that up until the 2012 elections was illegal in every state in the United States. As a Colorado resident observing all this first hand, it leads me to believe that in just a matter of years, marijuana could grow to exceed the tobacco industry, which is valued above $600 billion. This number seems astronomical, but the reality is marijuana is used worldwide, is less expensive to produce, and pound for pound marijuana is worth much more than tobacco (a pound of marijuana sells anywhere from $1,000 to $5,000, while a pound of tobacco goes for less than 20 dollars).
No one needs to sell the marijuana industry. It sells itself already in every town in every state. The demand is great, and often the supply is low. Washington and Colorado are just the first of many states bold enough to reap the tax benefits and job potential of marijuana. As more states follow, the legal marijuana industry will grow, replacing drug dealers and ripping business away from drug cartels. In theory, states that legalize marijuana will experience less crime, and less taxpayer dollars spent on jail time and prosecution of marijuana offenders. To put it in perspective, according to marijuanaarrests.com in 2010, 97.5 people were arrested per hour in the US for marijuana offenses.
Personally, I believe that marijuana legalization and the implementation of dispensaries is going to spread like wildfire, not just in the United States, but throughout the world. For example, Kentucky, a conservative republican state, recently introduced a bill for legalizing hemp. They believe this would create massive amounts of jobs and wealth for the state, and although hemp is not marijuana, it is a step.
The map below shows just how quickly marijuana laws are spreading throughout the country. Just months ago, there wouldn't even be any blue (legalized states) on the map. The growth the marijuana industry is experiencing right now is unparalleled to any other industry.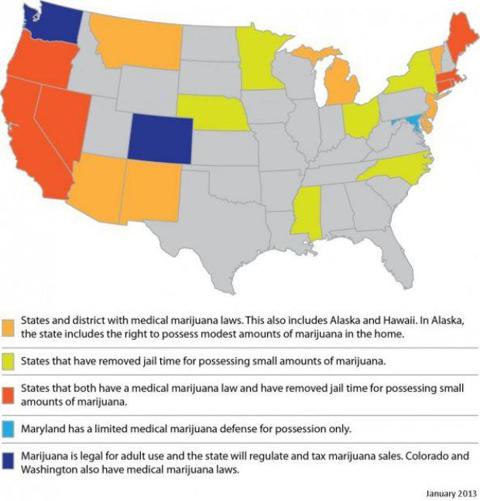 Before jumping head first into MJNA or any other marijuana stock, one must remember that these stocks are all penny stocks. This implies that the companies are highly volatile and unpredictable. Many stock gurus attempt to depict these stocks by observing past trends, and claim that this sort of growth is unsustainable. Their primary reason for this belief is that no other industry has experienced this rapid expansion. This is a fair observation, but what many neglect to observe is that marijuana is the first multi-billion dollar industry that has really ever gone through this illegal to legal transformation (excluding the prohibition of alcohol, which is not a great example because the stock market crash of 1929 skews the trend of alcohol growth directly after prohibition).
Regardless of what experts say, the growth of marijuana stocks is unpredictable. Barriers to enter are restricted by the government, and at the snap of their finger, the feds can shut down any operation. Obama has publicly stated he will not prosecute marijuana dispensaries, but the government has a bad habit of going back on its words.
Although there are many risks in this emerging industry, one must ask themselves, what do I have to lose. A mere thousand dollar investment could yield upwards of 100k if bought and sold at the right time.
The clock is ticking on these stocks to go long. If you get in soon, you stand to vastly increase your wealth. Going long on MJNA is a great bet to increase your portfolio 10+ times. MJNA fluctuates daily and that provides a great opportunity to not only go long, but to also day trade and short. Some days in the past months have seen gains over 65%. Timing is key as this stock is extremely volatile, so do your research and buy when it's low, preferably below 30 cents, but it's not going to stay low forever; don't miss out on the green rush!
Disclosure: I am long OTCPK:MJNA. I wrote this article myself, and it expresses my own opinions. I am not receiving compensation for it (other than from Seeking Alpha). I have no business relationship with any company whose stock is mentioned in this article.
Additional disclosure: This stock is highly volatile. Be cautious trading. Buy low, sell high.