Crocs (NASDAQ:CROX) is a consumer-oriented company and its performance should benefit in the long term from strong retail sales, improved consumer balance sheet from rising home prices and stock portfolios, and exposure to international markets, including Africa. Since my last optimistic article on Crocs in June of 2012, its common stock price has underperformed the index but has not declined as much as the common stock of a major competitor, Deckers Outdoors (NASDAQ:DECK) (see graph). Today, Crocs shares offer good value. If management does not make a major mistake and the economy stays out of another recession (risks for any company) they should outperform.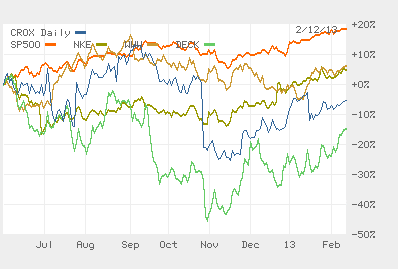 Valuation & Fundamentals
The company has 91 million shares outstanding for a market capitalization of $1.4 billion and an enterprise value of $1.1 billion. Its balance sheet has no debt and $313 million of cash and short-term investments or $3.44 per share. The cash on Crocs' balance sheet represents about 23% of its share price. For comparison, Apple's (NASDAQ:AAPL) cash, which has attracted the attention of hedge funds lately, is about 25% of its recent share price. Crocs, similar to Apple, will likely unlock share value if it returns a larger portion of its cash to shareholders. And Deckers (the maker of UGGs) has about $1.70 per share in cash or 4% of its recent share price. Credit should be given to Deckers for repurchasing $184.7 million worth of its own shares with another $115.3 million remaining under its repurchase plan as of September 30, 2012. Below is a table that compares different metrics of Crocs to those of Deckers and the S&P 500 Index.
| | | | |
| --- | --- | --- | --- |
| | CROX | DECK | S&P 500 |
| Dividend yield | 0.0% | 0.0% | 2.2% |
| Price-to-earnings (2013) | 9.7 | 11.7 | 12.6 |
| PEG | 0.9 | 1.2 | 1.9 |
| Beta | 1.5 | 1.3 | 1 |
| EBITDA margin | 17.4% | 18.0% | 20.3% |
| Price-to-sales | 1.3 | 1.1 | 1.4 |
| Price-to-book | 2.2 | 2.3 | 6.8 |
| 1-year total return | -24.0% | -45.6% | 12.2% |
| Price-to-CFO | 8.9 | 22.8 | n/a |
| 5-year sales growth | 23.1% | 35.2% | 7.7% |
| International sales as % of sales (2011) | 64.0% | 31.0% | 0.0% |
Source: Author's calculations, SEC filings, Reuters. PEG - price-to-earnings-to-growth. CFO - cash flow from operations.
It is clear from the above table that Crocs has cheaper valuation compared with Deckers and the S&P 500. Importantly, its PEG ratio, which is a price-to-earnings ratio after accounting for expected growth, is less than one. Further, its balance sheet has more flexibility and its sales are slightly more diversified globally.
Competitive Position
Crocs has a well-established competitive position in the U.S. and internationally. The company derives 41% and 16% of its revenues (year to date a/o September 30, 2012) from Asia (Asia, Australia, New Zealand, Middle East and South Africa) and Europe. In terms of selling channels, Crocs sells its products through its own stores and web sites, third- party retailers and wholesalers. As of September 30, 2012, it had 499 company operated locations (including 245 retail sores, 121 outlet stores, 99 store in store, and 34 kiosks) up from 410 a year ago. As a result year-to-date retail sales as of September 30, 2012 reached $285 million or 23% higher from the same period in 2011. Wholesale and internet revenue increased by 8% and 10%, respectively for the first nine months in 2012 compared with 2011.
Crocs is able to continue growing its sales due to its strong position in clogs and from developing new brands. While Crocs' clogs are not very appealing aesthetically, they come in attractive colors and are also durable, easy to maintain and easy to slip on and off. In addition, Crocs are suitable for different ages and genders. Deckers' most popular brand, UGG, for example, sells predominantly to women and teenage girls. The UGG brand generates about 75% of Deckers' revenues. In addition, UGGs are available at mostly high-end stores such as Nordstrom, Nieman Marcus, and Bloomingdale's in addition to Zappos.com. Crocs on the other hand are available at more stores including Dick's Sporting Goods, Famous Footwear, Academy, DSW, Nordstrom, Murasaki Sports, Centauro, as well as online retailers such as Zappos.com and Amazon.com.
Another source of competitive advantage is that Crocs has an established foothold in the African continent. The company has 27,000 square feet of wholesale and office facilities in Gordon's Bay, South Africa and manufacturing facility in Padova, Italy, which is near the Mediterranean Sea and offers easy access to Africa by boat. Crocs' most popular clogs are suitable for the climate on the African continent and appeal with their durability and easy maintenance. In addition, the continent has over 1 billion people in population and a growing middle class. Crocs should be able to capitalize on its easy access to the African market.
Conclusion
The word Crocs is synonymous with clogs around the world. However, Crocs is still able to grow at a fast pace as the company now offers a year-round collection of over 300 models for men, women, and kids that are sold in nearly 100 countries. Crocs is also licensing its brand to such products as hats, bags, sunglasses and socks. Importantly, Crocs' common stock trades at a discount compared with the S&P 500 and Deckers and at current levels it could easily double in a 52-week period.
Disclosure: I am long CROX. I wrote this article myself, and it expresses my own opinions. I am not receiving compensation for it (other than from Seeking Alpha). I have no business relationship with any company whose stock is mentioned in this article.