To quote the great Warren Buffett, "Be fearful when others are greedy and be greedy when others are fearful." But as the Standard and Poor's 500 ("S&P") - an index widely regarded as the barometer of large cap U.S. equity performance - approaches near record highs, which perspective is the right one to choose?
2012 proved to be an excellent year for U.S. equities with the S&P returning 16.0% on the year while other stock indices fared nearly equally as well. While the recent run up has provided a nice reward to those that were invested in equities over the previous year, it has left many wondering if now is the time to take gains and/or, for those that missed out on last year's run, if there is still time to take advantage of a further rally. As we breach the S&P's 1,500 level to the upside again, many recall reading this story before - in 2000 and 2007 - and if you're reading this article, chances are you remember the steep declines that followed each of those peaks. This time around, however, the surrounding economic environment paints a much different story.
Record Levels - Profits and Returns
The first chart measures the level of aggregate S&P corporate earnings over the previous 15 years (1998 - 2012) and the level of the S&P index over this same time period. As can be observed from the chart, when the S&P first approached the 1,500 level in the year 2000, corporate earnings per share were reported at approximately $56 (an implied price to earnings ratio of 27x). Over the next three years, we saw a sell-off of the S&P, reaching a low in late 2002 before again starting its upward march. When the S&P next approached the 1,500 level in 2007, corporate earnings per share totaled approximately $100 (an implied price to earnings ratio of 15x). Though corporate profits improved significantly over this time period, what we found was that the economy was severely overleveraged and that corporate profits were being generated by an economy that was outspending its income. What followed was one of the greatest, systematic economic collapses since the Great Depression. Now, again, we approach record highs in S&P but what we additionally observe is that: corporate profits have also grown to record levels, the implied price to earnings ratio of approximately 11x is below historical levels (especially when compared to levels at which the S&P previously hit its peaks), and this time around, the personal balance sheets of U.S. consumers are much healthier.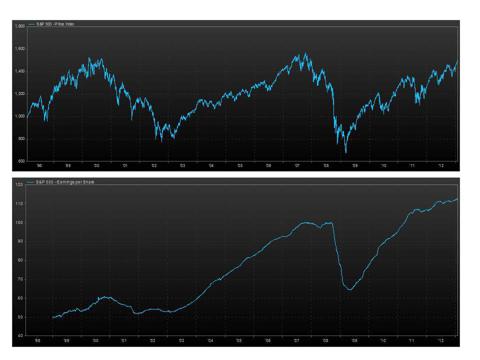 The Financially Healthy Consumer - Personal Savings Rates
The second chart measures the level of personal savings of U.S. households against the same S&P price index presented in the previous chart. What is interesting to note in comparing these two charts is that following a steep decline in savings rates near the beginning of 2005, from the period 2005 through 2007, the increase in the savings rate largely mirrored that of the growth of the S&P. When evaluated concurrently with the included bar chart, the data implies that much of the savings of U.S. households was being invested into the equity market. With the collapse in 2008 however, we see a very different trend begin to emerge. That is, U.S. personal savings spiked but the S&P index steeply declined -- savings rates began moving inversely to the level of the S&P.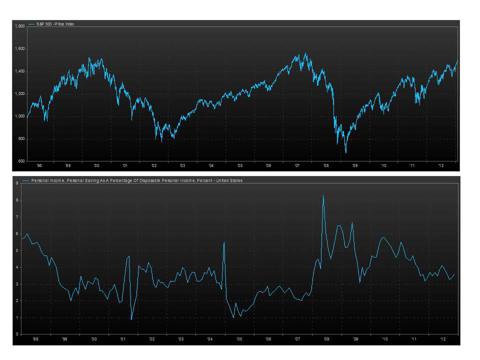 Where Did All of the Savings Go - Fixed Income
The third chart maps U.S. personal savings against the returns of high grade U.S. corporate (fixed income) securities. This chart demonstrates that there was an apparent "flight to safety" that coincided with the collapse of the S&P in 2008. That is, as the savings rate of U.S. households increased significantly, the dollars were parked in the perceived safety of cash and fixed income investments (as opposed to "riskier" equity investments). Over the past few years, such inflows have driven bond yields to record lows while fixed income indices (which move inversely to yields) have generated near record levels of returns. These charts also illustrate that both savings rate levels and fixed income returns are beginning to plateau. Of equal note and, as again demonstrated by the bar chart, subsequent to 2008, investors have been selling off stocks (as measured by net flows into and out of mutual funds and ETFs) while personal savings rates are at near 20 year highs. This implies that there is a large stockpile of cash that fled the equity market in 2008 and has still yet to return.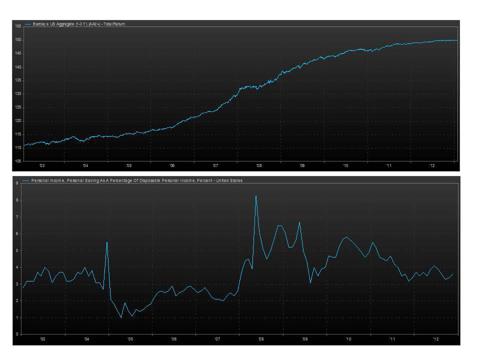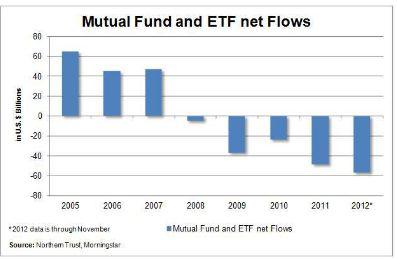 Summary
Corporate profits are at record highs while the ratio of the S&P to such profits is below historical levels.
Since 2008, mutual funds and ETFs have seen steady net outflows as investors sold their equity holdings and invested in fixed income instruments, driving yields to record lows and prices to near record highs.
Though today's consumer is more financially healthy (as measured by the ratio of personal savings to income), fixed income markets have reaped most of the recent cash inflows as investors have moved away from the equity markets and into the security of more stable return investments. However, as fixed income investments continue to yield record low interest returns, investors will need to look elsewhere to generate an adequate rate of return.
All taken together, the S&P is approaching the same record level as it did in the years 2000 and 2007, respectively, just prior to its large previous collapses. While the fear of a large market decline may again begin to creep into investors' minds as we approach and breach the 1,500 level (circa 2000 and 2007), the astute money may be wise to follow the advice noted at the beginning of this article.
Disclosure: I have no positions in any stocks mentioned, and no plans to initiate any positions within the next 72 hours. I wrote this article myself, and it expresses my own opinions. I am not receiving compensation for it. I have no business relationship with any company whose stock is mentioned in this article.