Business Development Companies (BDCs)) have been around for a while, but their popularity with investors took off over the past few years as they have sought yield alternatives. For those not familiar with them, they are partnerships that are able to pass through income without paying corporate tax, similar to the REIT structure. BDC Reporter published a great primer. Here are the main points:
Structure created in 1980 as amendment to the 1940 Act
At least 70% of total assets must be "qualifying"
90% of taxable earnings must be distributed
Assets must be diversified
Leverage is limited - total debt can't exceed total equity
Broadly speaking, these companies invest their assets primarily in loans to small and medium-sized businesses. I tend to think of them as "B" rated credits, though each BDC is somewhat different.
For those who choose to invest in the sector, there are some incredible resources here on Seeking Alpha, including Nicholas Marchi and Phil Mause. I took a deep look at the sector in late 2011, when I recommended the sector to income investors. I noted that not all BDCs are equal when it comes to management, and followed up with a series of articles focused on assessing management at each of the BDCs.
As popular as the sector has become, absent picking an individual BDC, investors have had limited choices. I am unaware of a public mutual fund devoted exclusively to the strategy. There is an ETN option, UBS ETRACS Wells Fargo Business Development Company (NYSEARCA:BDCS) and its leveraged (2X) version, UBS ETRACS 2X Leveraged Long Wells Fargo Business Development Company (NYSEARCA:BDCL). These vehicles force the investor to assume the credit risk of sponsor UBS.
Van Eck Global has just announced the first ETF, Market Vectors BDC Income ETF (NYSEARCA:BIZD). Here is a link to their website, from where you can view the fact sheet or the prospectus. Van Eck has capped the management fees at just 0.4% through August 2014, which is less than half the 0.85% expense ratio for BDCS.
While the diversification is adequate, it's interesting that the two largest positions are so quite larger than the rest of the constituents at about 15% each: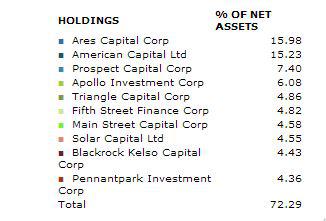 BDCS has assets of only $22mm after launching in April of 2011. Average daily volume has been just 18K, though it has picked up recently. Given the lower fee and ETF structure, I would expect BIZD to attract more investor attention.
Where we are in the economic cycle suggests that BDCs merit consideration, as they are credit-sensitive. Many of the BDCs invest in floating-rate loans or swap fixed-rate loans, which could help them to mitigate the risk of rising interest rates. Most of the stocks trade near book value, which makes sense, as BDCs will often sell stock to fund loan growth. Most are not permitted to sell stock below net asset value without shareholder approval.
So, if you have liked the concept but have been unwilling to pick among the 25 or so BDCs, BIZD offers what appears to be a solid ETF structure that is likely to resonate well with investors based on the diversification and low management fee.
Disclosure: I have no positions in any stocks mentioned, and no plans to initiate any positions within the next 72 hours. I wrote this article myself, and it expresses my own opinions. I am not receiving compensation for it (other than from Seeking Alpha). I have no business relationship with any company whose stock is mentioned in this article.