One item I track constantly in the market is short seller data. As someone who covers a lot of names that are short candidates, I always have to watch what short sellers in the overall market can do. Names that have high short interest can quickly jump on news, as a "short squeeze" pushes them higher. Every couple of weeks, NASDAQ updates its short interest page, and I like to report on what I'm seeing. Today, I'm covering five names that have seen significant short covering, not only since their last update on the site, but in the past couple of months as well. I'll not only cover the numbers, but give some analysis as to why these shorts are covering.
Google (NASDAQ:GOOG):
Google's short interest really spiked in the second half of September, which coincided with the launch of Apple's (NASDAQ:AAPL) iPhone 5. You may remember the battle between the two companies over Google Maps on the iPhone. Google shares actually were rising during that time, and more and more investors became skeptical. The second item that sent short interest higher was Google's troubling third quarter report in October. This was the earnings report that not only came out early, but was a huge disappointment as well. Google missed by a wide margin on revenues and earnings, sending shares down over $100.
As you can see from the chart below, the number of shares short in Google has come down by roughly 38.5% since that mid November high. I think you can attribute this to two factors. First, the struggles with Apple has pushed a lot of money into Google, and with Apple struggling, a lot of Google shorts now think Google may be better positioned going forward. The second item was that Google's fourth quarter earnings report was okay. Google beat on the bottom line, although they missed slightly on the top line, but by how much all depends on how you classify their revenues. Google reported a variety of numbers due to the sale of the Motorola Home business during the quarter.
Google shares are up more than 11% since that earnings report, and hit another new high on Tuesday. Being at a new high, I would not be surprised if some shorts return to this name. At the end of January, the number of shares short in Google was at its lowest point since mid April of 2012. The other item that might cause some short sellers to return is chairman Eric Schmidt's decision to sell 42% of his stake in the company, which represents nearly 1% of Google's outstanding shares, and 3.2% of their voting power. With such a large insider sale occurring, some may question Google's future.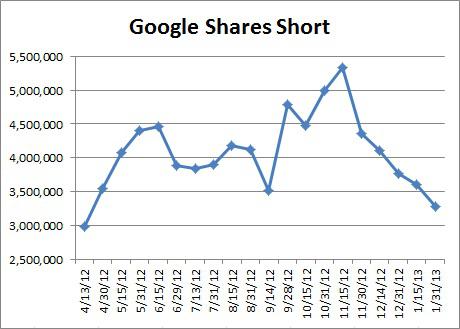 Netflix (NASDAQ:NFLX):
Netflix shares are up more than 92% so far in 2013, and that has sent a lot of short sellers scrambling. Netflix has inked a lot of new content deals so far this year, with the latest being one with Dreamworks Animation (NASDAQ:DWA) to produce a Netflix original series for children. It also helped that Netflix had a tremendous fourth quarter, and the company issued very strong guidance for the first quarter of 2013.
The Netflix short count hit a high of 17.2 million at the end of October, but we've seen almost half of those shares covered since. The two biggest reasons initially were Carl Icahn buying Netflix stock and the content deal with Disney (NYSE:DIS). Almost 3.5 million shares short in this company were covered during January, representing more than 26% of the shares short at the beginning of the month. The number of shares short at the end of January was just over 9.7 million, the lowest number since the end of March in 2012.
With Netflix producing solid results and inking content deals, the stock has more than tripled from its 52-week low. That has sent the shorts scrambling, but it will only take one piece of bad news to get them flooding back in. However, if shares start to make a run at $200, I would expect a lot more short covering. Those who have been short for a while can't hold on for too more pain. I would expect that only investors entering new short positions in Netflix could withstand the next leg of the rally.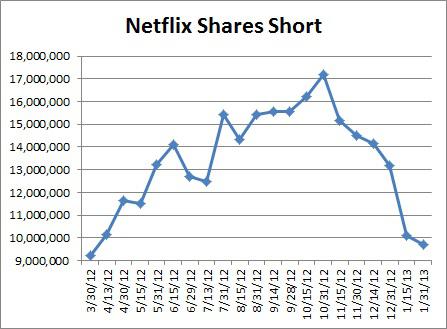 Facebook (NASDAQ:FB):
With another roughly 5 million shares covered in the second half of January, Facebook was down to just over 20.5 million shares short. That is a new low point since this company went public. Since the middle of November, about 75 million shares have been covered, which is about 78.5% of the total. Yes, nearly 80% of shares short in Facebook have been covered in the past two and a half months.
Facebook rallied about 60% from November to January on the promise of mobile monetization. Like Google above, I think Facebook was a beneficiary of Apple's fall. I recently stated that we are seeing rotation into Facebook, as Facebook may be the new large cap tech growth stock to be in. Investors are looking for growth, and Facebook provides that. Facebook shares are down about $5 since their recent high, which provides the opportunity for even more shorts to cover at lower prices. We've recently seen two analyst downgrades for Facebook, which might provide the emphasis for shorts to return to this name. Facebook stated that 2013 expenses would be high, so analyst estimates for the company's 2013 non-GAAP earnings per share have come down from $0.65 to $0.57 since the company reported its results. With that lower figure only representing four cent growth from 2012 levels, shorts may return until we get the Q1 results, to see if those costs are in fact impacting the bottom line.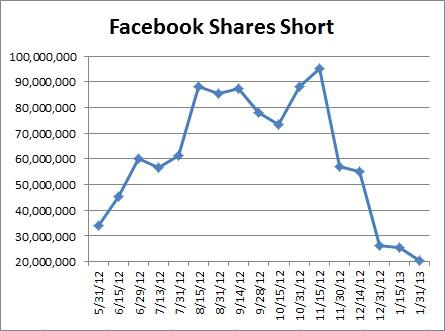 Green Mountain Coffee Roasters (NASDAQ:GMCR):
Green Mountain saw another roughly 4 million shares covered in the second half of January. At the end of January, roughly 27 million shares were short, compared to nearly 51.5 million in mid November. As Green Mountain has continued to buy back shares, the shorts have run for cover. Recently, shares topped $49 for the first time since the May 2012 fall, more than tripling from the roughly $15 low after an early August earnings report.
However, of the five names on this list, I think Green Mountain has the highest chance of seeing the short number go up when we get the next set of data. My reasoning is simple. The company's early February earnings report was mixed. While the company beat in terms of revenues and earnings, fiscal Q2 guidance was poor. Additionally, the company's large cash flow was due to a lack of inventory restocking and the company not paying its bills. I said after the earnings report that I think this name will trade down to $40, and we're most of the way there. I think the short sellers have returned a little, and I would not be surprised to see that reflected in the next round of data.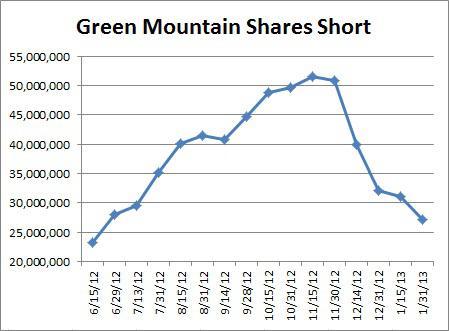 Deckers Outdoor (NASDAQ:DECK):
Deckers shorts have continued to cover as we get close to the company's fourth quarter report, which will contain the much anticipated 2013 forecast for the company. Deckers has not officially announced a date for the report yet, but they usually only do so about a week in advance, and they've reported in the last week of February every year in the past ten.
After a disappointing 2012 due to a warm winter and high sheepskin prices, Deckers bulls (and analysts) are looking for a rebound in 2013. Current estimates for Deckers are really low, with analysts only expecting 3.3% revenue growth in Q4, about half that of the 6% growth Deckers guided to. For the full year in 2013, analysts expect just 4.6% revenue growth after an expected 3.2% rise in 2012. Both those are well below the 20% and 30% rises we've seen in the past couple of years. However, Deckers has stated that sheepskin costs are coming down, and that their fall 2013 lineup will reflect that.
On Tuesday, Deckers shares topped $45 a share for the first time since mid September. With a cold winter and a huge snowstorm in the Northeast, investors are bidding up shares in the hope that Deckers flagship UGG brand will do well. More than 1.2 million shares short in Deckers were covered during the second half of January, marking the third straight decline in short seller data. Since the middle of December, almost 2.9 million shares short have been covered, or roughly 18%. Like the share price, the end of January short number was the lowest number we've seen since the middle of September. I'll be interested to see the middle of February update, to see what investors are thinking as we approach the upcoming earnings report.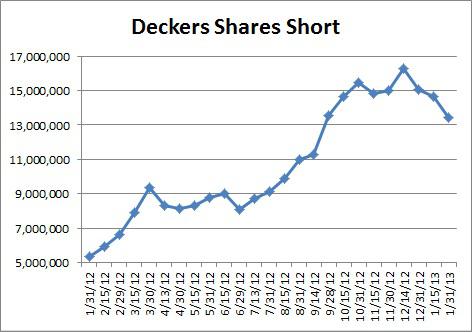 Final Thoughts:
All five of these names have seen significant short covering recently. Some have seen a large amount of short covering in the last few weeks, but all have seen larger short covering over a longer period. For most of these names, it is improving fundamentals and good quarterly reports that have been the culprit. For some, struggles in competitors and sector rotation have pushed short sellers away. For many of these names, the number of shares short is at their lowest point in several months. With markets pushing towards new highs, it is not a surprise that many short sellers have run away, realizing that the short trade just isn't working in this market.
Disclosure: I have no positions in any stocks mentioned, and no plans to initiate any positions within the next 72 hours. I wrote this article myself, and it expresses my own opinions. I am not receiving compensation for it (other than from Seeking Alpha). I have no business relationship with any company whose stock is mentioned in this article.
Additional disclosure: Investors are always reminded that before making any investment, you should do your own proper due diligence on any name directly or indirectly mentioned in this article. Investors should also consider seeking advice from a broker or financial adviser before making any investment decisions. Any material in this article should be considered general information, and not relied on as a formal investment recommendation.