Oracle (NASDAQ:ORCL) is currently trading at 18 times its 2012 earnings. Many would readily assume that a company at this valuation is anything but undervalued. But this isn't a case like that. Oracle is one of the few large cap companies in the market that have both high quality earnings and great growth prospects ahead. This is because of the two following factors:
Oracle's business is strongly protected against competition due to high customer switching costs. It's very difficult for a customer to leave Oracle and go to a competitor. As a result Oracle has stable and highly predictable recurring revenue.
Oracle's value to a reasonable private owner is almost double the one it trades at. The two main factors for this are its free cash flow and its anticipated growth.
Competitive Position
Oracle's competitive strength derives mainly from one simple fact: Its products are so entrenched within its customers' everyday business activities that it's seemingly impossible for them to leave Oracle without causing significant disruption to their day-to-day activities and/or incurring great training and transitions costs.
Let me give you an example. Coca-Cola (NYSE:KO) is using Oracle's solutions to manage its supply & distribution chain through one universal platform across the globe. If it decided to switch from Oracle to some other service provider it would have to re-train hundreds of its employees, losing thousands of working hours and make sure that the transition will neither slow down its operations nor create disruptions due to first-time implementations.
However, Oracle's future isn't as rosy as it may seem. Even though the switching costs will discourage a customer to ditch Oracle, it can't keep him tied forever. Oracle has to offer at least on-par services with its competitors, or else there will be a time when the cost-efficient thing for a customer to do is to go elsewhere.
As a matter of fact, a lot of clouds are already gathering over the horizon. The majority of IT execs are already considering to leave Oracle for a cloud SaaS (Software as a Service) provider. However, the battle has just begun and Oracle isn't going to give up without a fight. As a fellow contributor illustrates Oracle is massively updating its software and is changing its business model to SaaS to keep its customers happy and its competitors at bay.
I believe that the odds are that Oracle will keep its existing business and will continue to grow. This is mainly due to the fact that its switching costs delays customers from leaving while buying some time for Oracle to catch up with the features and the user interface its competitors offer.
Valuation
Let's start with the basics. Oracle is essentially debt free since it has $33.7 billion of cash and short-term investments versus only $18.5 billion of debt. This results to approximately $15 billion of surplus cash or $3 per share.
As you can see in the following charts Oracle has experienced enormous growth over the last decade. It compounded its revenue at an average 17% rate and its earnings per share at 19%.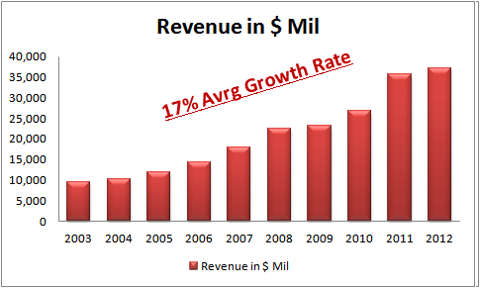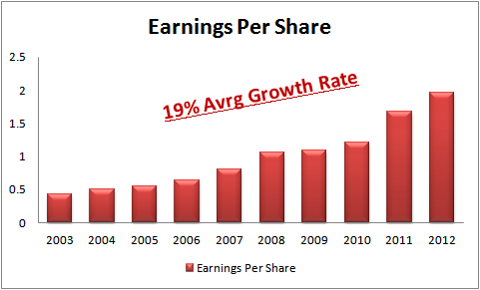 I expect that Oracle will adapt successfully to the new Software-as-a-Service business model and achieve at least an average 15% EPS growth rate for the next decade. This kind of growth deserves a 23 P/E multiple given that the company will generate more than twenty-fold its 2012 earnings over the next decade.
To find Oracle's fair value I used the above multiple with the company's earnings and free cash flow for 2012 which were $1.96 and $2.57 respectively. Its value range is $45 to $59 or 30% to 70% higher than Oracle's stock price.
Disclosure: I have no positions in any stocks mentioned, and no plans to initiate any positions within the next 72 hours. I wrote this article myself, and it expresses my own opinions. I am not receiving compensation for it (other than from Seeking Alpha). I have no business relationship with any company whose stock is mentioned in this article.