It was pretty obvious recently that something had been accelerating interest in marijuana focused companies such as Medical Marijuana (OTCPK:MJNA) and Cannabis Science, Inc (OTCPK:CBIS). Both stocks soared until it was officially revealed that U. S. Representatives Earl Blumenauer representing Oregon's 3rd congressional district and Jared Polis representing Colorado's 2nd congressional district would introduce legislation to legalize marijuana at the federal level. Then both stocks retreated. It was a classic "buy on the rumor and sell on the news" scenario. Now that the big news is out, traders and investors are trying to determine how to profit from this continuing socioeconomic transformation.
The days are now upon us where there is a real chance that marijuana reform will come to fruition. While some think that the prospect of passage will take several years, the outlook for the decriminalization of marijuana seems inevitable and will most likely not take as long as some critics would lead you to believe. This would create a huge first mover advantage for Medical Marijuana and Cannabis Science. The two bills that were introduced are only the beginning of what is thought to be 8 to 10 bills to repeal legislation and define how revenue would be collected. The legislation that was introduced is summarized below:
Blumenauer introduced the Marijuana Tax Equity Act

Levies a 50% Tax on Producers, both Agricultural and Pharmaceutical
Annual Taxes Include a "Occupation Tax" of $1000 and a $500 tax on Industry Participants
Polis introduced the Ending Federal Marijuana Prohibition Act

Removes marijuana from the Controlled Substances Act
Marijuana would be regulated under the new Bureau of Alcohol, Tobacco, Marijuana and Firearms [ATMF]
Other bills that will be introduced will likely focus on removing the ban on industrial hemp and reforming federal banking regulations to provide the same services to marijuana businesses that are provided to other types of businesses. Representative Blumenauer has a page on his website dedicated to marijuana titled A Federal Marijuana Policy for This Century. The page further links to and extensive document which was co-authored with Representative Polis called The Path Forward: Rethinking Federal Marijuana Policy. The document is very comprehensive and covers everything from the history of marijuana in the United States, public opinion on the subject, scientific analysis and the legal landscape of the different forms of legalization. The map below was taken from the document: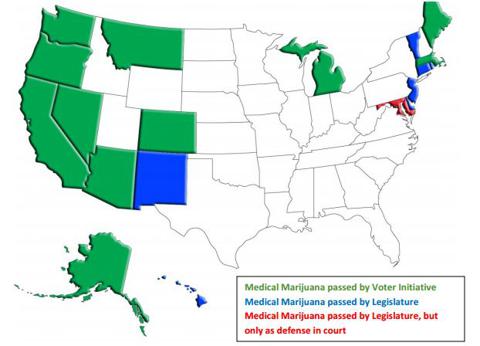 Of course, some politicians and government officials will still oppose changing current laws. These politicians will be supporting legislation that would cause their states to miss out on marijuana based tax revenues and new industrial bases from which jobs could be created. And, agencies such as the Drug Enforcement Agency [DEA] would be promoting actions that prevent them from directing resources to more serious drug enforcement activities.
It should be noted that the DEA's aversion to marijuana seems to be focused on smoked marijuana and not the medicinal aspects with alternate delivery methods. Keep in mind that any form of marijuana purported to be a medicine would still need to go through the US Food and Drug Administration (FDA) to insure proper dosage and quality. This makes me think that a transition to a new Bureau of Alcohol, Tobacco, Marijuana and Firearms is spot on. If you're wondering how I made this leap from a potential medicine controlled by the FDA to a new ATMF, just remember that whisky use to be a medicine.
I recently wrote about Medical Marijuana highlighting how they could legally profit from the THC market through licensing. This approach alone should provide some confidence for investors that are concerned about short term profitability. But with the prospect of removing regulation at the federal level on the horizon, we should now start to consider even more imaginative ways that marijuana usage can be monetized. As a portfolio company that is focused on multiple income streams, expansion into new territories that could provide income will most likely be exploited. So below are some areas in which Medical Marijuana could expand their business base that may not obvious to investors:
I could go on, but the point is to demonstrate that there are more opportunities in legalization that meets the eye for profits and growth. The projections shown below in my earlier article "Medical Marijuana, Inc: The Secret to Legally Tapping into the Market for THC" are very plausible especially when you consider the multitude of opportunities.

One of Medical Marijuana's biggest strengths is their Dixie Elixirs product line which offers alternatives to ingesting THC infused products. Products include offerings such as candies, drinks and breath mints. The company explained that the breath mints don't go through the liver and thus have a more intense effect when used. This should prove to be a very attractive alternative for consumers.
Cannabis Science is a developmental stage company that is focused on the pharmaceutical aspect of the industry. What's interesting about Cannabis Science is that they are realigning their business strategy by selling off businesses that distract from their pharmaceutical products. Getting medicines approved through the FDA is a long and difficult process. It's not likely that Cannabis Science will depart from their focus on medicine which they must be capable of producing and proving to deliver precise doses with predictable effects to users. Businesses that focus on their core competencies and divesting themselves of distractive operations can dramatically improve their potential for successful growth and success.
I'm most impressed with how the company has transformed itself into a legitimate pharmaceutical company. I believe that Cannabis Science will grow much slower than Medical Marijuana but experience accelerated growth as their products near maturity. This will be followed by the traditional huge pops as the milestones are achieved during medical trials. Success could come sooner than later as they have recruited some seriously well connected talent to their research and business development teams. Most recently they welcomed Harold C. Smith, Ph.D., Professor in Biochemistry, Biophysics and Oncology and a Member of the Center for RNA Biology at the University of Rochester, School of Dentistry and Medicine, to the Company's Scientific Advisory Board.
For those of you not familiar with RNA, it is the acronym for ribonucleic acid. Essentially, DNA makes RNA and RNA makes proteins, so the flow of genetic information is transferred from the DNA through the RNA to the proteins that create our structure. This type of information is important because it demonstrates that Cannabis Science is serious about research. Doctor Smith is also known to have received numerous federal and foundation research grants which will provide the company with more experience as they pursue more of these types of funding.
Cannabis Science is currently not profitable, but as mentioned above, the company is a "Developmental Stage Company'. The Q3 Consolidated Balance Sheet for Sep 2012 shows that the company has 850,000,000 shares authorized of which 686,020,573 have been issued. Of the issued shares, 305,420,574 are outstanding which would leave the company with 380,599,999 shares. At the 12 Feb closing price of .08 cents, that would provide the company with access to about $30.4M to finance operations and pay for their talent pool.
As micro caps stocks, both Medical Marijuana and Cannabis Science come with more risk than seasoned issues. The stocks are volatile because of their speculative nature. But just as you have the potential to lose money, you also have the potential to make a substantial contribution to your investment portfolio. The recent run-ups in both stocks have proved to be very lucrative for some investors. While there is no guarantee that federal laws against marijuana will be reformed, it is unlikely that the federal government will continue to wage war regarding this issue against its component states forever.
Disclosure: I am long OTCPK:MJNA, OTCPK:CBIS. I wrote this article myself, and it expresses my own opinions. I am not receiving compensation for it (other than from Seeking Alpha). I have no business relationship with any company whose stock is mentioned in this article.